Ryan Glenny, 23, who is known by his middle name Felix, was diagnosed with bowel cancer in November.
The father-of-two underwent chemotherapy, but after being told he only had months to live he and his girlfriend Cola Wella, 22, decided to get married at the Medway Maritime Hospital in Gillingham, Kent.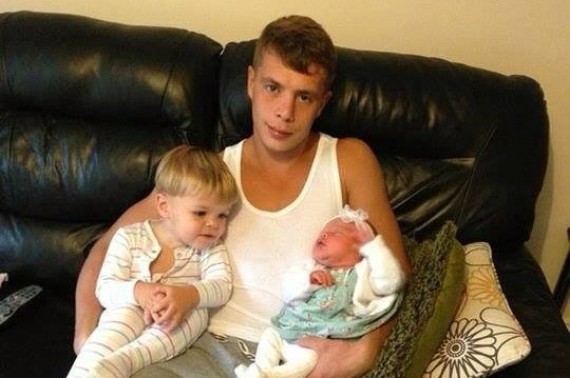 Ryan with Ralph, two, and Pearl, three months
Sharon Osbourne - who survived colon cancer - made a donation of £10,000 with the message: "Dear Felix, From a survivor, never give up the fight and hope. God Bless you and your family. Love, Sharon Osbourne."
The current fund total stands at over £58,000.
Mr Glenny's diagnosis came just three years after his mother died of the same disease, and his grandfather also died from bowel cancer last year, Kent Online said.
Tributes on Twitter... Tweets about "Ryan Glenny"
Speaking after they married, Cola said: "We got married because we are in love of course, but we had to do it as soon as possible before Ryan deteriorates and we found out there was nothing more the doctors could do.
"Ralph was a page boy and we found out about Ryan on his second birthday, but I can honestly say the last three years with Ryan have been the best of my life."
SUBSCRIBE TO & FOLLOW UK DAILY BRIEF