The world has been in no way rocked by allegations that a Frenchman may have had an affair.
Most people in France shrugged their shoulders and said "Bof" - while international watchers expressed absolutely no surprise at the news that a Frenchman might also be a lothario.
Even those who were slightly taken aback due to the Frenchman's lack of good looks immediately realised that his combination of power and being French might make the scenario possible.
Indeed, say insiders, the only person thought to have been shocked by the news is the partner of the Frenchman. She is now in hospital suffering from naïvety.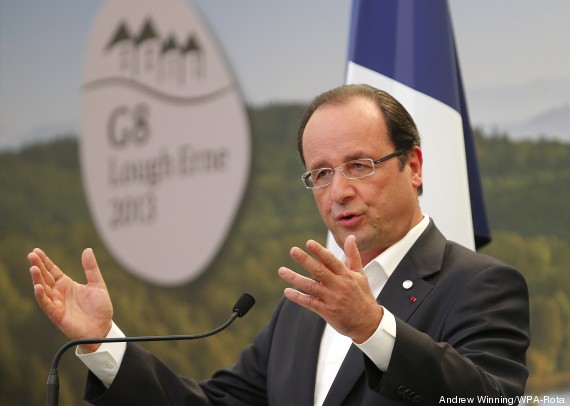 The Frenchman may have impressed women with the size of his deficit

MORE TOPICALOLS:


Also on HuffPost:
Loading Slideshow
Jacques Cousteau

Marine conservationist, explorer, Steve Zissou template.

Edith Piaf

The singing sparrow.

Simone de Beauvoir

Writer, philosopher, feminist pioneer.

Jacques Derrida

The father of deconstruction.

François Truffaut

New Wave filmmaker, actor and <a href="https://en.wikipedia.org/wiki/Close_Encounters_of_the_Third_Kind" target="_blank">alien-botherer</a>.

Jeanne Moreau

Actress, director, star of 'Jules Et Jim'.

Jean Reno

Hollywood's favourite Frenchman.

Philippe Starck

The ultimate designer <em>moderne</em>.

Brigitte Bardot

Actress, model, animal-lover.

Jean-Luc Godard

New Wave filmmaker, epic glasses-wearer.

Jean-Michel Jarre

Composer, electronic instrumentalist, <em>son et lumière</em> live show specialist.

Juliette Binoche

Actress, model, the French star of 'The English Patient'.

Eric Cantona

Footballer, actor, philosopher.

MIchel Roux, Jr

Anglo-French masterchef.

Colette

Scandalous, brilliant novelist.

Alain Delon

The male Brigitte Bardot.

Isabelle Adjani

Record-holder for the most César awards for Best Actress.

Jean Rochefort

Prolific actor, fine moustache-wearer.

Henri de Toulouse-Lautrec

Painter, illustrator, short man.

Marcel Proust

Novelist, essayist and <a href="http://www.huffingtonpost.co.uk/2013/05/22/conservative-party-venn-diagram_n_3319862.html?utm_hp_ref=uk-comedy" target="_blank">the Tories' worst nightmare</a>.

Lucie Aubrac

Teacher, French Resistance member, human rights campaigner.

Louis Malle

Transatlantic director, screenwriter and producer.

Yves Saint Laurent

Fashion designer and <em>prêt-à-porter</em> pioneer.

Yves Montand

Actor, singer, quintessential Frenchman.

Henri Cartier-Bresson

The father of modern photojournalism.

Berthe Morisot

Impressionist painter who wasn't a man.

Joséphine de La Baume

Actress, model, half of Singtank.

Air

Electronic pop duo and darlings of the Nineties.

Marguerite Duras

Writer, filmmaker, author of 'L'Amant'.

Serge Gainsbourg

Singer-songwriter, cigarette-smoker, father of...

Charlotte Gainsbourg

Anglo-French actress and singer.

Johnny Halliday

The French Tom Jones.

Daft Punk

Electronic pop duo and darlings of the Noughties.

Romain Duris

Actor, Heartbreaker, Mr Populaire. <a href="http://www.imdb.com/name/nm0244151/?ref_=fn_al_nm_1" target="_blank">And we mean those things literally.</a>

Julie Delpy

Actress, director, Ethan Hawke's dream woman.

George Sand

Novelist also known as Amantine Lucile Dupin.

Jean Cocteau

Poet, novelist, filmmaker, inspiration for the Cocteau Twins' name.

Luc Besson

Director, screenwriter, <em>cinéma du look</em> filmmaker.

Vanessa Paradis

Actress, model, singer of <em>Joe Le Taxi</em>.

Josephine Baker

American-born, French-naturalised dancer, singer, actress, muse, Civil Rights activist and helper of the French Resistance.

Claude Debussy

Composer, musical pioneer.

Catherine Deneuve

Actress, timeless beauty, star of more than 100 films.

Jean-Paul Gaultier

Fashion designer, Madonna bustier-creator.

Jean-Paul Sartre

Existentialist philosopher and Nobel Prize refuser.

Anaïs Nin

Writer, bohemian, erotic novelist.

Jean-Paul Belmondo

New Wave film star.

Mathieu Kassovitz

Director, actor, screenwriter, love interest to...

Audrey Tatou

'Amélie' star turned darling of every living cinema-goer.

Coco Chanel

Fashion designer, style innovator and creator of the brand Chanel.

Albert Camus

Writer, philosopher, purveyor of existential angst.

Vincent Cassel

Actor, Hollywood star, ruthless dance teacher (in 'Black Swan', at least).