What with the number of phones set to outnumber humanity sometime this year, the question of how we're going to charge them all is pretty significant where the climate is concerned.
But while scientists still fruitlessly attempt to get their heads around that whole nuclear fusion conundrum, there are a few other ideas floating around.
Researchers at UT Arlington in the States have invented a new form of 'micro windmill', which could theoretically make it possible to charge your phone using the wind.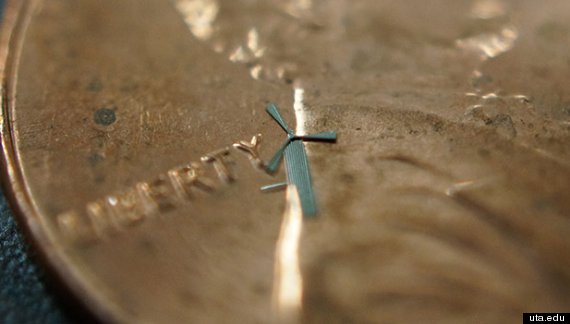 The tiny windmills (above) built by UT Arlington research associate Smitha Rao and engineering professor J.-C. Chiao are just 1.8mm at their widest point. That's small enough to put about 10 on a single grain of rice. And it might be possible to embed "hundreds" on the outside of a phone case.
Just waving the phone in the air could provide enough power to charge the phone's battery.
It sounds difficult to believe. But if we take a certain amount of this research at face value, it's an amazing concept:
"Rao's designs blend origami concepts into conventional wafer-scale semiconductor device layouts so complex 3-D moveable mechanical structures can be self-assembled from two-dimensional metal pieces utilizing planar multilayer electroplating techniques that have been optimized by WinMEMS Technologies Co., the Taiwanese fabrication foundry that took an initial interest in Rao's work."
WinMEMS now has exclusive rights to commercialising the tech, pointing out that a flat - or even solar - panel with thousands of the little blighters could be an incredible way to power homes in the future.
Loading Slideshow
iPhone 5S

With the same ultra-clear Retina display as the iPhone 5, but now with an <a href="http://www.huffingtonpost.co.uk/2013/09/10/iphone-5s-uk-pictures-release-date_n_3898775.html?1378818683&utm_hp_ref=uk-tech" target="_blank">added fingerprint sensor</a>, a seriously impressive 64-bit A7 chip, an improved camera and a new gold design option, this is the best iPhone ever made. And with its consistent market-leading app selection, easy-to-use OS and delightful design, it's hard to argue against it being one of the very best gadgets ever made too.

Google LG Nexus 5

The new Nexus 5 is based on the internals of the LG G2 - which means you get the same Snapdragon 800 processor, as well as the full version of Google's new Android 4.4 KitKat OS, which integrates SMS messages into Hangouts, freshens up the design and adds new features under the hood. The camera is still a little lacking, while the design is functional rather than beautiful, but at £299 off contract it's still a steal.

Samsung Galaxy Note III

The Note III is huge. It's got a 5.7-inch screen, though with the same 1080P resolution as the Note II. It adds a new leather back panel, which gives it an 'office' feel in line with the productivity-plus-stylus theme of the device. It also adds a Snapdragon 8000 quad-core processor, some new software enhancements and a few new S-Pen functions into the mix. If you're looking for a giant note-taking phone, this is still your best bet.

iPhone 5C

The 5C was rumoured to be Apple's 'budget' iPhone. It isn't - and not only because it isn't that cheap. The "proudly plastic" 5C comes in five colours (see what they did there) <a href="http://www.huffingtonpost.co.uk/2013/09/10/iphone-5c-uk-pictures-release-date_n_3899557.html?utm_hp_ref=uk-tech" target="_blank">but has the same internals, screen and camera as the iPhone 5.</a> It's essentially the same beautiful, high-end phone you already know and love, in a more colourful (and potentially divisive) design. As such it's hard to see how Apple won't sell a billion of them.

Samsung Galaxy S4

Though the S4 i<a href="http://www.huffingtonpost.co.uk/2013/04/24/samsung-galaxy-s4-review-_n_3145186.html?utm_hp_ref=uk-tech" target="_blank">s in some ways an evolutionary upgrade over its wildly successful S3</a>, it's an extremely attractive, lightweight and high quality phone with a 5-inch HD screen, the fastest processor ever seen in a phone and <a href="http://gdgt.com/samsung/galaxy/s/4/" target="_blank">some interesting new features</a>, including a measure of 'eye tracking' controls and gestures that don't require you to touch the screen.

HTC One

The HTC One is probably the most beautiful smartphone on the market - and is also the most intelligently designed. With twin, front-facing speakers it's the best choice for watching movies, and its 4MP 'Ultra Pixel' camera punches above its meagre pixel-count suggests.

Sony Xperia Z1

Sony's new flagship smartphone is an evolutionary development of the also-excellent Z. It keeps the same screen, the waterproof design and the nicely-tweaked version of Android, while upping the processor performance, improving the camera and smoothing out the rough (or rather sharp) edges of the Z's blocky design.

Nokia Lumia 925

<a href="http://gdgt.com/nokia/lumia/920/" target="_blank">The Nokia Lumia 925</a> has the same great design and attention to detail we've come to expect from Nokia, but with some crucial upgrades from the 920 including a thinner, all-metal design and an improved camera.

LG G2

The LG G2 is an extremely high-end 5-inch, 1080p Android 4.2.2 smartphone whose major distinguishing feature is that it has three buttons on the back of the device, which are normally found on the sides. The G2 has its camera button and volume rocker on the rear, which for many people is enough to justify the purchase alone. It also has excellent battery life for this class of device.