Russell Brand has continued his foray into politics, this time following an appearance at Cambridge Union, where he told students to "shut up you Harry Potter poofs".
Topshop boss Philip Green didn't escape Brand's sharp tongue either, with the comedian calling him "a c**t", according to The Cambridge Student.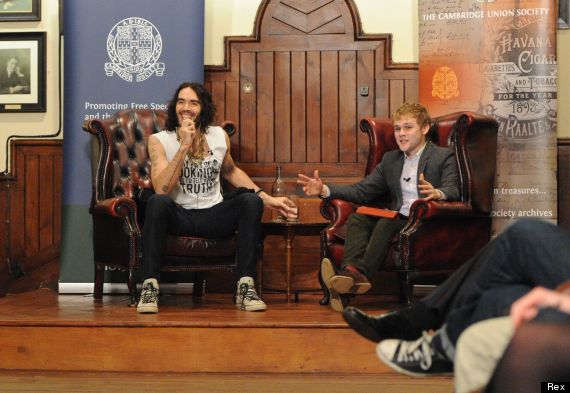 Look out for the Ad just below here
Brand speaks to the educated masses
Talking on a more series note, Brand told his audience: "Use this education that you are receiving to bring about ideas that can benefit not just you but all of us.
"Revolution is coming. It's happening instantaneously. It's happening now! It has to be peaceful - occasionally I get into all that violent shit and the romanticisation of revolution because I hate the power structure but that just wouldn't work."
SEE ALSO: Police Still Hunting For Thugs Who Attacked Cambridge Student For 'Harry Potter' Appearance
"We oughtn't be satisfied with some diluted version of democracy," Brand continued, according to student paper Varsity. "Be under no illusions the parliamentary system exists to sustain itself – it doesn't represent us. There needs to be a defiant stand against the corporates that are running our planet."
Brand also spoke frankly about his drug abuse, saying: "When I took drugs I felt lonely, alienated and disconnected. I felt that this culture isn't serving me. When I took heroin for the first time it was beautiful. It was a personal problem - I couldn't cope with being alive I needed to take drugs."
Story continues below
While in 2007, addressing the Union via satellite, Colonel Gadaffi issued a defiant call for Western powers to stay out of Africa Pictured here hugging Tony Blair in the same year.

Former News of the World news editor Neville Thurlbeck before addresses the Cambridge Union Society, at The University of Cambridge. Thurlbeck spoke on corporate espionage and phone hacking at News International, before launching a nationwide tour of universities

Reg Prentice addressing the Cambridge University Conservative Association at the Cambridge Union Society Chambers in Cambridge, 11th October 1977. He achieved political notoriety as the highest-ranking Labour figure ever to defect to the Conservative party.

Robert Murat speaks at the Cambridge Union Society debate, 'This House Believes the Tabloids Do More Harm Than Good.' Murat, who is in his mid 30s, was listed as an "official suspect" by police investigating the disappearance of three-year-old Madeleine McCann while she was on holiday with her parents in Praia da Luz in May 2007.

In 1990, at the end of the Cold War, US President Ronald Reagan gave a speech at the Union, in which he reflected on how he had steered the American course through the tense years of the 1980s.

Soon after the release of Nelson Mandela, both F W de Klerk and Archbishop Desmond Tutu were at the Union explaining the way ahead for South Africa.

Civil Rights Campaigner Jesse Jackson speaks at the Cambridge Union, University of Cambridge. He called for a "new global economic agenda" and urged a new generation to re-make the world's financial systems. Mr Jackson told students at Cambridge University that it was "time to pass a Robin Hood tax on financial speculation" and to "democratise capital".

Queen Noor and King Hussein of Jordan used their visit to talk about peace in the Middle East, just when negotiations between Israel and the Palestinians were at a critical phase.

The Dalai Lama called for the independence of Tibet and international action against human rights abuses

Princess Basma Bint Saud of Saudi Arabia addressing the students of Cambridge University on the 10th of October 2012 at the Cambridge Union Society, England
Amber Cowburn, the union's deputy press officer, said: "It was a really exciting talk by such a dynamic and energetic showman... It was a fantastic opportunity for the Cambridge Union Society to attract such a current high profile guest, who brings together the worlds of entertainment and politics.
"The huge turnout to see him, filling the Union to absolute capacity, and the widespread demand for live streaming is testament to that."