'I feel really fat today'; 'My bum looks massive in this'; 'I wish I had a flatter tummy' - all of these are examples of 'fat talk' that have been uttered by almost every woman we know, including ourselves.
This kind of talk may seem harmless, but a campaign by Special K last month demonstrated that not only do a large number of women do it with our friends and on social media, self-deprecation is actually damaging.
After all, how can we expect other people to stop using body image as a barometer of worth, when we do it to ourselves?
The brand has just signed Tyra Banks, a woman who has spent a lifetime in an industry that pivots around beauty and image, to be its spokesperson. It's something the supermodel and TV star feels very strongly about and refreshingly, she isn't peddling the 'you look fabulous no matter what' because that mantra isn't realistic.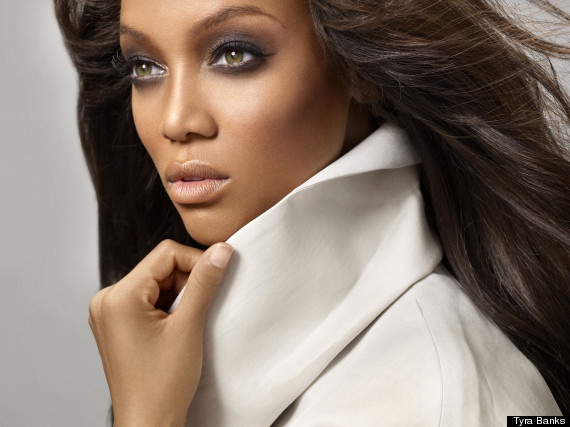 Self-acceptance, she says, doesn't come from saying 'I have no flaws', rather confronting what you're not happy about head on, and refusing to let it define you.
HuffPost UK Lifestyle caught up with her over the phone.
Why did you decide to get involved with the Fat Talk campaign?
I usually get a lot of requests like this that I normally say no to, but this was one that really spoke to me. About 93% of women 'fat talk' about themselves and that struck a chord. Women are doing it in front of their daughters - they're saying my body is disgusting, it makes me feel sick and so on. And I'm thinking, your daughter is probably your size and she's hearing that? That stuff is crazy.
SEE ALSO:

Beyoncé Pens Powerful Feminist Piece - What Does She Say?
Are we quite negative about our own body image in general?
I find that we women speak about our bodies in such a negative way – crazy negative I call it. Women look at themselves and 'My thighs are so fat, they're so disgusting, I want to vomit', and these women wouldn't even say that to their own enemy. For women to say that to themselves – that's damaging and you get caught up in that negativity. And that negativity gets in the way of managing your weight.
So should women love themselves no matter what?
I'm trying to change the conversation. It's about saying 'Hey, my ass is amazing, but maybe my legs need work, so I'll figure out how to do that." It's about acknowledging and being honest about the parts we like and the parts we don't like. I'm saying we need to help each other to be accountable.
If you want to lose weight, get a girlfriend to go with you to the gym and help each other out. Find something in the mirror that you do like – whether it's your shiny hair or your big beautiful eyes - and focus on what you'd like to do about the rest.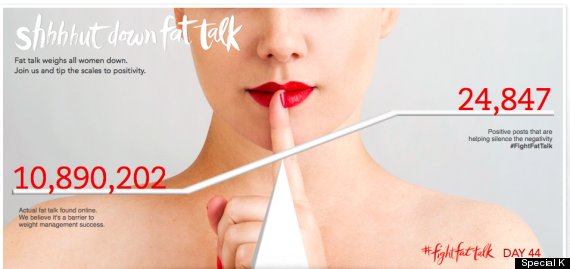 Where is all this negativity coming from though?
I think fuelling it is a pressure to look a certain way. There's a man pressure to make a certain amount of money and have power and success. Women have pressure to look a certain way – when you see a 20 year old woman with 70 year old man – his value is power, her value is beauty.
People say 'be who you are' or 'you're special the way you are' and those kinds of things aren't helpful. It doesn't help you to overcome what you're worried about. My message is 'don't let them win by saying you aren't good enough but if you don't like it, lets talk about how to make it better.' If you don't like your weight, there's nothing wrong with that and we have to stop making women feel guilty about that. Instead we need to say, okay, you don't like your thighs – so what would you like to do about that?
How do you feel about your body and the way you look?
I'm honest – when I wake up, with no make-up, I don't feel like I'm the most beautiful thing in the world. But, I can put on hair and makeup – that is my gift – and use the smoke and mirrors to create this dream version of myself. When I look at my butt, I have cellulite – I wish I had a magic cream that would get rid of it. But I don't, so instead I don't wear a… tight white skirt that will show up all those dimples.
How can women be kinder to themselves?
I think one of the most important things is feeling good about yourself and I learnt that from my mom. When she started to gain weight – my cousins and family come over – she'd bend over and pretend to use her waist to start playing the accordion. We would laugh and laugh. Her message was, don't beat yourself up about how you look.
As women, we're used to a lot of in-fighting when it comes to our looks and that's something that begins in the playground. What is your take on it?
Yes, there is a lot of in fighting with women, a lot of jealousy and a lot of putting other women down. Perhaps it's from the biological standpoint of when women wanted to nail a partner and a mate and so to make themselves better they would do peacocking. But we aren't birds, we're human beings.
So when you notice Miss Pretty – whether that's in your office or at school – compliment her, even if you're feeling like crap. Say something positive about a woman who's looking great instead of whispering behind her back and you'll feel better for much longer than if you'd been mean about her. You giving that love to her is good – Miss Pretty might end up complimenting you back and making your day.
Do we think only of weight loss when we exercise, not our health?
I told myself for years that when I exercise, I'm trying to look good. I'm not thinking about my heart or my health.
Then I realised that the way I like to exercise is with my mind, body and spirit. I like to close my eyes and hear that music pumping – I like being in a dance class. I don't care if you recognise me and ask me for a photo – working out with other people energises my spirit and my soul. It was a lightbulb moment for me. But it's very difficult to tell people that you should exercise for your health when it's this amorphous thing that people don't quite understand because they feel invincible.

Tyra Banks has partnered with Kellogg's Special K to encourage women to think more positively this New Year. Visit www.myspecialk.co.uk
Earlier on HuffPost:
Loading Slideshow
Cécile Kyenge, Politician

Cécile Kyenge is by far one of the bravest women in politics today. Italy's only black cabinet minister, she has been likened to a prostitute, and had racists insults hurled at her - including, unimaginatively, a banana. She is originally from the Democratic Republic of Congo and moved to Italy 30 years ago - but remains stoical and dignified in the face on such onslaught. Her star continues to rise in 2014 as Italy's cabinet now represents more women than ever before.

Anat Hoffman, Founder Of Women Of The Wall

Women have only been allowed to pray at the most Holy site in Judaism, the Western Wall in Jerusalem, in a small, segregated area, without access to any scrolls. She is a real champion of gender equality in religion, and of religious pluralism, and has been arrested countless times with her group for praying at the wall. This year, the government granted them equal rights to pray at the wall. She also campaigns against moves by the ultra-Orthodox to make women sit on the back of the bus in Jerusalem, and even against attempts by some to enforce some gender-segregated streets.

Sam Williams, Head Chef

Sam Williams used to work at top chef Angela Hartnett's restaurant Murano, starting off by running the pasta section. Two years on, she has clearly flourished under Hartnett's hand - she is currently the head chef at newly opened Cafe Murano. In a review of the restaurant, <a href="http://metro.co.uk/2013/12/12/angela-hartnett-is-back-for-good-at-londons-truly-delicious-cafe-murano-4226565/" target="_blank">Metro's Andy Lynes described Sam as being "every bit as talented</a> as her boss."

Katie Dippold, Scriptwriter

Katie's biggest work to date has been on The Heat, starring Sandra Bullock and Melissa McCarthy - before that she was a stand-up comic and writer and producer on NBC's Parks and Recreation. Katie, alongside Kristen Wiig, is part of a phalanx of strong female writers, writing - crucially - for women. She's currently writing The Heat 2.

Rachel Reeves, Politician

Shadow Treasury chief secretary Rachel Reeves is the first female Labour MP in Leeds in 40 years. Speaking against the government budget cuts in 2011 she wrote: "Women must no longer be the shock absorbers for the government's agenda". Tessa Jowell speculated last year that she could be the party's first female leader, and <a href="http://www.theguardian.com/politics/2013/sep/14/rachel-reeves-felt-humiliated-newsnight" target="_blank">The Guardian added if "Alistair Darling doesn't return to the shadow cabinet after next year's Scottish independence referendum</a>, that will leave Reeves looking like the only plausible alternative to Ed Balls as shadow chancellor."

Elizabeth Truss, Politician

Education minister Liz Truss managed to get over her typo tweet with a <a href="http://www.huffingtonpost.co.uk/2013/10/20/education-minister-elizabeth-truss-spelling-twitter_n_4131429.html" target="_blank">good-natured joke</a>. But what she is known for is her attempt to try and overhaul the childcare system. Blogger<a href="http://www.huffingtonpost.co.uk/anna-claeys/gender-gap-in-the-uks-leading-roles_b_1951252.html" target="_blank"> Anna Claeys wrote: British families spend almost a third of their income on childcare, compared with 4.6% in Sweden or 8% in Germany - a crippling amount in the current economic climate, which forces many women to stay at home. Elizabeth Truss MP</a> ...called for an overhaul in the childcare system in a report for CentreForum, aiming to increase the number of childminders and make childcare more affordable."

Neelam Johal, Model

Neelam Johal is at the forefront of change in the fashion industry, after Burberry announced it was signing her at the end of 2013, making her the first Indian model representing the label. Neelam is one of a growing number of models who are creating a more diverse fashion industry that reflects all colours. We're expecting big, Jourdan Dunn-like things from Neelam!

Hillary Rodham Clinton, Politician

2014 is the year that former secretary of state Hillary will decide <a href="http://www.politico.com/story/2013/12/hillary-clinton-2016-election-decision-101318.html" target="_blank">whether she is</a> going to run for president in 2016, giving Barack Obama a run for his money. There's not a huge amount more we can say about one of the most powerful women in the world, apart from the incredible achievement it would be to have America's first female president at its helm. A book written by her about her <a href="http://www.huffingtonpost.com/2013/04/05/hillary-clinton-president_n_3022058.html" target="_blank">years in the Obama administration is due out in 2014 too.</a>

Stella Creasy, Politician

Labour MP for Walthamstow, Stella Creasy earns her place on this list for having the courage to ask David Cameron on Prime Minister's Questions whether or not he'd back the No More Page 3 campaign lobbied against The Sun. The Sun's political editor Tom Newton Dunn then reacted by tweeting a comment about her PVC skirt. Which indicated that having a logical debate with The Sun is about as likely as talking politics with a banana. In 2014, Creasy will be taking her strong, pro-women brand of politics one step further. Speaking at an event she said that she was warned to steer clear of women's issues which she found "frightening" adding that MPs need to confront their own attitudes to women.

Caroline Criado-Perez, Founder Of The Women's Room

At the beginning of 2013 Caroline, co-founder of <a href="http://www.huffingtonpost.co.uk/2013/03/15/co-founder-of-the-womens-room-caroline-criado-perez_n_2882480.html" target="_blank">The Women's Room UK</a> (a networking site designed to raise the profile of female experts) and a Gender Studies student at London School of Economics, was relatively unknown. Fast-forward to a few months and the Londoner is one of the strongest feminist voices in the UK, with a growing and increasingly dedicated Twitter following. In 2013, her campaign to Keep A Woman On British Banknotes garnered widespread support resulting in the <a href="http://www.huffingtonpost.co.uk/2013/07/23/jane-austen-bank-notes_n_3639582.html" target="_blank">Bank of England putting Jane Austen on the £10 bank note</a> and she hit the headlines after standing strong against to <a href="http://www.huffingtonpost.co.uk/2013/07/29/caroline-criado-perez-twitter-rape-threats-feminist_n_3671001.html" target="_blank">misogynistic rape threats on Twitter</a>.

The Meringue Girls, Bakers

Trained chefs Alex Hoffler, 27, and Stacey O'Gorman, 23, <a href="http://www.huffingtonpost.co.uk/2013/11/15/meringue-girls-women-in-business_n_4191832.html" target="_blank">are going stellar with their meringue business, with appearances</a> on TV (including Paul Hollywood's Pies and Puds), countless print interviews and a supply deal with Harvey Nichols and Selfridges. They have just released a cookbook and have been confirmed for a second deal - Meringue Girls Bakery.