American and British spies have collected hundreds of millions of text messages from UK citizens in a secret operation, according to the latest leak by NSA whistleblower Edward Snowden.
America's National Security Agency (NSA) has created a secret database called Dishfire which stores messages for future use and British spies, who face tough British laws, have been given a back door to exploit that information, it was claimed.
The claims are made by Channel 4 News and the Guardian who have seen a classified April 2011 presentation which discusses Dishfire, a database that collects nearly 200 million texts everyday from around the world.
Dishfire traces people when take their mobile phone abroad by capturing the welcome text message from your phone company that is triggered by your arrival overseas, telling agents where you were and when you got there.
It is claimed the texts help the NSA to track people's whereabouts, their contacts, their banking details and their movements if they travelled from country to country.
Under US law, the American spies had to delete the data for its own citizens but texts coming to and from international mobile phones - including Britons, were fair game and could be spied upon at will.
On British soil, spy agencies can only access text message data of specific targets with permission under the Regulation of Investigatory Powers Act (RIPA), and if they want to see the content of the message they must get a warrant from a secretary of state.
By contrast Dishfire collects data on everyone so by accessing the system, British spies can pull off information they wouldn't be entitled to under strict British laws.
Communications giant Vodafone told Channel 4 News they were "shocked and surprised" by this potential for exploitation while former Interception Commissioner Sir Swinton Thomas said he would have been concerned about this kind of use of foreign intelligence agency data.
Loading Slideshow
Fingerprint Gel

The Japanese government counter-terrorism practice of <a href="http://www.reuters.com/article/2007/11/20/us-japan-fingerprinting-idUST23858020071120" target="_hplink">fingerprinting foreigners who enter the country</a> may have inspired Doctor Tsutomu Matsumoto to invent "fingerprinting gels", a way of <a href="http://cryptome.org/gummy.htm" target="_hplink">faking fingerprints for scanners</a>. <a href="http://www.dansdata.com/uareu.htm" target="_hplink">Learn how</a> to make your own here.

White Noise Generator

Worried someone around you is <a href="http://articles.businessinsider.com/2011-07-28/strategy/29998051_1_bank-employee-consent-conversation" target="_hplink">secretly recording everything you do?</a> No fear! There's a relatively low-tech way to defeat such snoops, via white-noise-producing <a href="http://www.amazon.com/Productive-Home-Security-Prducts-Jammer/dp/B002PJ7PYS" target="_hplink">audio jammers</a>. These tiny devices use white noise to blur the sound picked up by hidden microphones and other surreptitious recording devices.

LED-Lined Hat

Hidden cameras got you down? Blind them all with a simple baseball cap lined with infrared LEDs. <a href="http://creator.wonderhowto.com/amiehold/" target="_hplink">Amie, a hacker on WonderHowTo</a>, shows the world <a href="http://mods-n-hacks.wonderhowto.com/how-to/make-infrared-mask-hide-your-face-from-cameras-201280/#" target="_hplink">how to make one</a>, while <a href="http://translate.google.com/translate?u=http%3A%2F%2Fwww.oberwelt.de%2Fprojects%2F2008%2FFilo%2520art.htm&langpair=de%7Cen&hl=en&ie=UTF8" target="_hplink">this German art exhibition</a> lays out how these ingenious devices work.

Bug Detector

These receivers reveal the telltale electronic crackle of hidden mics and cameras. Strangely enough, they were around long before "surveillance culture" became a <a href="http://digitalcommons.law.yale.edu/ylsspps_papers/64/" target="_hplink">common phrase</a>. Today they're sold in all sorts of <a href="http://www.gadget-playground.com/bug-detection.html" target="_hplink">shops for surveillance paranoids</a>.

Camera Map

Sometimes hiding your face isn't enough; sometimes you don't want to be seen at all. For those days, there's camera maps. The <a href="http://www.mediaeater.com/cameras/locations.html " target="_hplink">NYC Surveillance Camera Project</a> in the US is currently working to document the location of and working status of every security camera in New York City. <a href="http://bigbrotheriswatching.co.uk/Anpr_Camera_Locations.html" target="_blank">A similar project</a> is also in progress in the UK.

Dazzle Camouflage

Credit to artist <a href="http://ahprojects.com/" target="_hplink">Adam Harvey</a> for this one. Inspired by the <a href="http://www.bobolinkbooks.com/Camoupedia/DazzleCamouflage.html" target="_hplink">"dazzle camouflage" </a>used on submarines and warships during World War I, he designed a series of face paint principles meant to fool the facial recognition schemas of security cameras. Check out <a href="http://dismagazine.com/dystopia/evolved-lifestyles/8115/anti-surveillance-how-to-hide-from-machines/ " target="_hplink">The Perilous Glamour of Life Under Surveillance</a> for some tips on designing your own camera-fooling face paint.

Throwaway Phones

Disposable mobile phones <a href="http://www.amazon.co.uk/Pre-Pay-Mobile-Phones-Communication/s?ie=UTF8&page=1&rh=n%3A10394961" target="_blank">are more expensive than you think</a>, but they don't require personal information when you sign up.

RFID-Blocking Wallet

Radio-Frequency Identification (RFID) chips are now <a href="http://electronics.howstuffworks.com/gadgets/high-tech-gadgets/rfid.htm" target="_hplink">regularly implanted</a> in passports, ID cards, credit cards and travel papers. These tiny chips make machine-reading your documents easier -- but could also let anyone with the right type of scanner <a href="http://articles.cnn.com/2006-07-10/tech/rfid_1_rfid-industry-rfid-journal-rfid-chips?_s=PM:TECH " target="_hplink">scrape your information <em>and</em> track your whereabouts</a>. Luckily, gadget geeks have come to the rescue again, this time with<a href="http://www.thinkgeek.com/product/8cdd/" target="_hplink"> RFID-blocking wallets</a>. These wallets create a Faraday cage around your items, keeping their data secure until you take them out to be scanned where they're supposed to be scanned. Destroying the chip is simpler: <a href="http://www.instructables.com/id/How-to-blockkill-RFID-chips/" target="_hplink">just nuke it in the microwave for five seconds</a>. Of course, whatever you're microwaving might <a href="http://www.youtube.com/watch?v=4_5UYcyO3Pg" target="_hplink">burst into flames</a> first...

Use Skype

The progress of the government's so-called 'Snooper's Charter' is currently stalled in Parliament, but using Skype may be a way to avoid officials tracking your phone calls. <a href="http://www.techweekeurope.co.uk/comment/how-to-avoid-gchq-snooping-use-skype-71410">Tech Week Europe suggests that Skype users have less cause to be worried about their data</a> being intercepted. The reasons are pretty technical, and any system is fallible, but it may be worth looking into.

The NSA has stated that Dishfire does exist and that it lawfully collects SMS data. It also stated that privacy protections are in place for US citizens, according to Channel 4 News.
GCHQ said: "All of GCHQ's work is carried out in accordance with the strict legal and policy framework which ensures that our activities are authorised, necessary and proportionate and that there is rigorous oversight."
Snowden, is a former NSA contractor, who is now hiding in Russia after leaking classified government documents.
He has become a hero for civil liberty campaigners in Europe and the US for whistleblowing about the reach of surveillance activities by the US, including on its closest allies.
Nick Pickles, director of Big Brother Watch which campaigns on privacy, civil liberties, levels of surveillance, said he was concerned by any suggestion that foreign agencies could be used "to get around British laws".
He said: "If an interception warrant for an individual is not in place, it is illegal to look at the content of a message. Descriptions of content derived metadata suggest the content of texts is being collected and inspected in bulk and if this is the case GCHQ has serious questions to answer about whether it is operating under a perverse interpretation of the law cooked up in secret.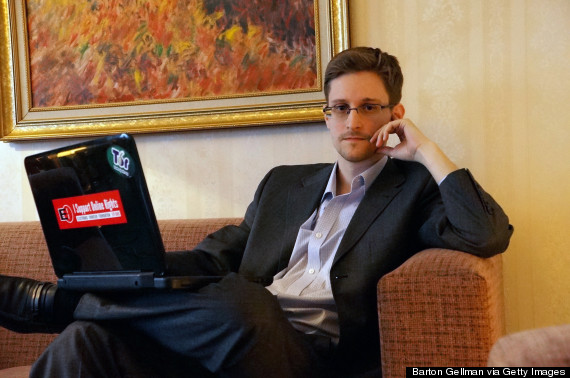 Above: Former intelligence contractor Edward Snowden
"The telecoms companies providing our mobile phone services need to urgently reassure their customers that they are not handing over our data in bulk to the UK or US governments."
Prime Minister David Cameron and US president Barack Obama discussed the controversy over data privacy in a phone call shortly before the latest revelations became public.
Obama is expected to announce new restrictions to the collection of phone records by American intelligence in a much-anticipated speech on the issue tomorrow.
In a statement about the two leaders' conversation, a Number 10 spokeswoman said: "The president updated the Prime Minister on the US signals intelligence review ahead of setting out tomorrow his administration's response to the review.
"The two leaders welcomed the unique intelligence sharing relationship between their two countries."
Loading Slideshow
Apple Macbook Air 13 Inch

<a href="http://www.apple.com/uk/" target="_blank">A light but powerful compromise</a> between the heavier-duty Macbook Pro, the new 13-inch Macbook Air has an incredible 12-hour battery, a new Intel Haswell chip and is just as light and portable as ever. A stunning machine.

Google Chromebook Pixel

<a href="http://www.google.com/intl/en_uk/chrome/devices/chromebook-pixel/" target="_blank">Google's ChromeBook Pixel</a> has the best screen we've ever seen on a laptop - and features stunning hardware design. It only runs the browser-based Chrome OS, however, and as such is severely limited in what it can actually do. But for the right kind of user, it's a wonderful machine.

Apple Macbook Pro 15-Inch With Retina Display

The Macbook with Retina display is just a beautiful, capable machine in every respect. WIth its elegant OS X software, stunning looks and lightweight, portable design, <a href="http://store.apple.com/uk/buy-mac/macbook-pro" target="_blank">it's an all-around classic.</a>

Samsung Series 7 Ultra

Samsung makes thin, beautiful, hard-wearing laptops, and this is no exception. It has an i% chip , a brilliant 1080P touchscreen and runs the always-improving Windows 8.1 OS. It starts at £1,000 and if you want a Windows machine at the same price-point as a Macbook Air, it's a good place to start.

Lenovo IdeaPad Yoga 13-inch

<a href="http://www.laptopmag.com/review/laptops/lenovo-ideapad-yoga.aspx#review">Laptop Magazine said</a> "the IdeaPad Yoga is an able contortionist, blurring the line between laptop and tablet, while enabling users to explore the full capabilities of Windows 8". We agree. With a bright touchscreen, an 180-degree rotating display and an all-important sturdy hinge, it's a decent bridge between tablet and laptop.

HP Chromebook 11

Like the bigger, and much more expensive Pixel, the Chromebook 11 only runs Google's very limited browser-based OS. But it also costs just £229, has a genuinely excellent screen and keyboard, and charges via MiniUSB rather than a traditional laptop charger. It's a storming machine for the price, as long as you're able to live within Google's walled garden.

ACER Aspire S7

The S7 is the same weight as the Macbook Air, has a great 1920 x 1080 pixels (touch) screen and is actually a little thinner than Apple's signature laptop. It has a lower-quality battery, though, and while it's cheaper by about £60 you might want to make sure Windows is that crucial for your workflow before making your choice.

Alienware M17X

For gamers you can't go far wrong with the <a href="http://www.dell.com/uk/p/alienware-17/pd?ST=alienware%20m17x&dgc=ST&cid=41141&lid=1069630&acd=239715600820560" target="_blank">Alienware M17x</a>. It's hefty, yes - you're not going to want to carry this around on the Tube too often. But it has a brilliant graphics card, as you'd expect, a 1080p 17-inch screen and runs an Intel Core i7. (Starts at around £1315)

Sony Vaio Pro

Sony's Vaio Pro line-up has all the basic high-quality features you want: they're light and thin, with decent battery life and excellent displays. They also have Sony's trademark black-ninja design and a few decent extras. They're not perfect - <a href="http://www.theverge.com/2013/6/4/4395926/sony-vaio-pro-review-were-going-to-war-with-the-macbook-air" target="_blank">The Verge notes they tend to feel a bit "flexible" in the middle</a> - but they're an excellent pro laptop range.