Man Claims FBI Interrogated Him For Wearing Google Glass At Movie Theatre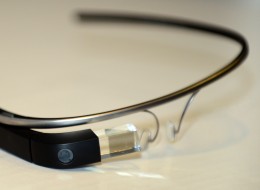 A man in the United States claims he was interrogated by the FBI after he wore prescription Google Glasses into a movie theatre.
The man told Gadgeteer that he and his wife were asked to leave by police, before being questioned for "hours" over fears he was trying to record or broadcast the film.
"I kept telling them that I wasn't recording anything – my Glass was off, they insisted they saw it on. I told them there would be a light coming out the little screen if Glass was on, and I could show them that, but they insisted that I cannot touch my Glass for the fear "I will erase the evidence against me that was on Glass."
For their part the cinema claimed piracy had been a problem before, and that management had ordered staff to contact the FBI in the event of similar incidents.
Take a look at how the story unfolded below.
The Z3 Tablet Compact is Sony's somewhat delayed reaction to the success of the iPad Mini. The Z3 Compact is an astonishing 6.4mm thin. It's waterproof -- like its smartphone counterparts -- and it comes with the same Full-HD display. With a massive 4,500mAh battery as well Sony's hoping that the premium features and impressive build-quality will dissuade you from buying with Apple.

The Tab S 8.4 and 10.5 are Samsung's first real attempt at beating the iPad Aid and the iPad Mini Retina. With incredible 2560 x 1600 Super AMOLED displays these tablets definitely trump Apple's efforts in terms of resolution. They also both include fingerprint sensors, a feature yet to appear on Apple's tablets. Yes they'll feature the same design as the Galaxy S5 but whilst some may dislike that plastic body it keeps the Tab S ultra-light whilst retaining strength.

The Surface Pro 3 is an entirely new type of tablet from Microsoft. Designed as a rival to both the Apple iPad Air and the MacBook Air this stunningly thin tablet hybrid will sport a huge new 12-inch display and will run the latest version of Windows 8.1. The only tablet to come running Intel's hugely powerful i7 processor the Surface Pro 3 is all about power and creation with a new smart pen letting you use the screen as a virtual notepad or canvas.

The new iPad Air from Apple is an incredible new upgrade to the tablet you know and love. It's far lighter and thinner, has an upgraded processor, and in our review we called it nothing short of a "masterpiece". If you have more than £399 to spend on a tablet, spend it on this.

The new Nexus 7 has a higher resolution display (at 323 pixels per inch), a quad-core Snapdragon S4 processor and a thinner bezel on both sides of the screen. It's also the first device to run the new version of Android, 4.3 Jelly Bean, and a 5-megapixel screen at the same bargain-basement price.

At £319, the iPad Mini with Retina display isn't cheap. But on the other hand, it has the same screen resolution, processor and other internals as the larger iPad Air, but it's also smaller, lighter and cheaper by £80. It's a stunning tablet, and though it's pricier than other 7-inch devices it's got the benefit of Apple's amazing apps selection.

The new Kindle Fire HDX tablet comes in both a 7- and 8.9 inch version, and both are tasty upgrades. The 7-inch has a 1920 x 1200 display, a quad-core processor, LTE, all the Amazon services you'd expect plus a new 'Mayday' support service for new users. It starts at £199. The 8.9-inch is pricer at £329, but has an even more impressive 2560x1600 display - and still comes in lighter than an iPad Air.

The Samsung-built Nexus 10 has an excellent display, runs the latest version of stock Android (which has never been better for tablets) and is less expensive than the iPad - while also being quite a bit lighter. With Google Play's ever improving list of tablet-enabled apps and the availability of many options for watching and consuming media, there is nothing you want to do on a tablet you can't do with this. That said, it suffers from a less-developed app ecosystem, and the design of the machine is far clunkier than you might hope with a thick bezel being a noticeable downside.

Tesco's Hudl tablet is a budget affair, but it looks as though in terms of the fundamentals - particularly media playback - it's not a terrible choice. In a recent review Engadget said: "Despite all of its failings, this meagre slate became our go-to piece of hardware for responding to emails and browsing Twitter. We had it playing movies on Netflix while we worked, and we rocked out to a playlist while cooking dinner. While its original purpose was to coax technophobes into the future, the Hudl is easy to use and, dare we say it, charming."