A decade since the launch of their 'Campaign For Real Beauty', Dove is challenging women to redefine what it means to be beautiful - by taking empowering selfies to disrupt the body image status quo.
It's the kind of film designed to make people feel fuzzy inside - and judging by the Youtube comments many did feel inspired - but we were left feeling unfulfilled.
'Selfie', Dove's film, asks mothers and daughters to take honest self-portraits (that means no filters or editing whatsoever, *gasps*) and feature in an public exhibition.
In said exhibition, visitors are encouraged to leave Post-It notes on the portraits, which (predictably) compliment the very features the women are self-conscious of.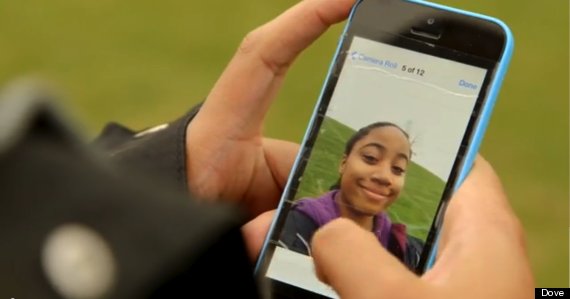 In theory there are good elements to come out of the video. So we shouldn't scoff at Dove's efforts.
Rather than consuming beauty trends decided by editors of women's magazines, say Dove, social media has put the power in the people's hands.
And with 51% of Brits taking regular selfies, according to HTC, we're wielding a pretty strong army in the war against negative body image.
See Also:

Dove Releases New 'Camera Shy' Video But How Does It Compare To Controversial 'Real Beauty Sketches'?

Dove 'Real Beauty' Campaign: Artist Sketches Women As They See Themselves
But, sadly, the gulf between a creative meeting in Dove HQ and the reality for many teens (and indeed adult women) who are inundated with cookie cutouts of big-breasted beauty, is pretty large.
How much autonomy does a young person have on deciding what's hot and what's not in terms of selfies? With celebrities, models and fashion magazines collectively amassing millions of followers, social media is often just another medium to make normal people feel aesthetically inferior.
The campaign underestimates the power of current harmful trends such as the Bikini Bridge hoax and the Thigh Gap (which is sadly a reality).
We applaud Dove for taking the first steps, but with the volume of doctored selfies plaguing social media, we fear this campaign may be just a drop in the ocean.
What do you think? Join the conversation at #BeautyIs
Speaking to US Elle for their December issue, Jennifer Lawrence pioneer for positive body image in Hollywood and all-round breath of fresh air says: "I'm never going to starve myself for a part. I don't want little girls to be like, 'Oh, I want to look like Katniss, so I'm going to skip dinner'…I was trying to get my body to look fit and strong—not thin and underfed."

After the media focused on her alleged weight gain in September 2012, Gaga hit back at critics by baring her body in photographs, sharing her struggles with an eating disorder, and inviting her fans to join her in a "body revolution."

Adele says she tries not to worry about her body image and doesn't want to be a "skinny minnie." "The first thing to do is be happy with yourself and appreciate your body -- only then should you try to change things about yourself."

"I am always in support of someone who is willing and comfortable in their own skin enough to embrace it," the singer said in a recent interview.

At the 2012 New Yorker Festival, the magazine's TV critic, Emily Nussbaum, asked Lena Dunham, producer, creator and star of the hit HBO show "Girls," why Dunham is naked in so many scenes. Dunham responded, "I realized that what was missing in movies for me was the presence of bodies I understood." She said she plans to live until she is 105 and show her thighs every day.

Chung responded to critics who suggested that her slight frame made her a bad role model for young women, saying: "Just because I exist in this shape doesn't mean that I'm, like, advocating it."

The NYU student started the amazing Body Love Blog, where she posted this picture of herself and wrote an open letter to those who feel entitled to shame others for the size or look of their bodies.

This 5-foot-tall, 200-pound singer spoke openly about her weight to The Advocate, saying, "I feel sorry ... for people who've had skinny privilege and then have it taken away from them. I have had a lifetime to adjust to seeing how people treat women who aren't their idea of beautiful and therefore aren't their idea of useful, and I had to find ways to become useful to myself."