Sony has announced that its slimmer, lighter new PS Vita will be released in the UK on February 7.
The new model is 20% thinner and 15% lighter than the old PS Vita.
The slimmer Vita, released as the PS Vita 2000 in Japan last year, swaps out the old (and excellent) five-inch OLED screen with a slightly cheaper, though still high quality LCD panel.
But it includes a built-in 1GB of storage, a refined rear touch panel and a sleek new look - currently only in black in the UK, it appears.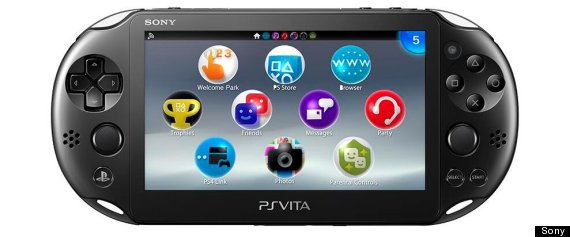 It also has a 6-hour battery, and switches the old proprietary charging cable for a standard micro USB port.
It will cost about £180 when it is released next week, with pre-orders starting immediately. That price is about £50 lower than the original PS Vita cost at launch, but more than current Vitas can be found for online.
Sony's UK product manager Ben Law said that the older Vita will be replaced as stock runs dry.
He added that Sony had seen a boost in demand for the Vita handheld since the release of the PS4 - partially because the Vita can play PS4 games vita 'Remote Play' when connected to the same WiFi network.
Loading Slideshow
Mario Kart 8

The Koopalings have been revealed on the February 13th Nintendo Direct to be playable characters in Mario Kart 8.

Watch Dogs

Ubisoft has revealed just how long it'll take the average player to finish the upcoming hack-centric open world adventure.

Drive Club

Drive Club is the exclusive racing game the PS4 needed at launch, but lacked. It's certainly beautiful, and detailed, but we're hoping for subtly enhanced gameplay from the pretty staid title we played at Gamescom.

Bayonetta 2

Bayonetta was a ridiculous, combo-filled romp that divided people for its "enthusiastic" (arguably sexist) aesthetic, but thrilled with its fast-paced gameplay. The Wii U exclusive sequel promises more of the same - and a welcome shot in the Gamepad for Nintendo's console.

The Division

The developers of Ubisoft's upcoming shooter The Division discuss the amazing capabilities of the Snowdrop Engine.

Assassin's Creed V: Unity

We don't know much about this yet - but it's set in the French Revolution, and it's beautiful.

Alien: Isolation

We gather together industry experts from Official PlayStation Magazine, PC Gamer and CVG to preview upcoming survival horror game Alien: Isolation. Can the team at Creative Assembly mend the damage previously done the revered sci-fi franchise?

EverQuest Next

Check out this time lapse trailer showing off how you can build in EverQuest Next.

The Order: 1886

Venture into the neo-Victorian London fog with Ready at Dawn's PlayStation 4 exclusive The Order: 1886.