Sony has announced that its slimmer, lighter new PS Vita will be released in the UK on February 7.
The new model is 20% thinner and 15% lighter than the old PS Vita.
The slimmer Vita, released as the PS Vita 2000 in Japan last year, swaps out the old (and excellent) five-inch OLED screen with a slightly cheaper, though still high quality LCD panel.
But it includes a built-in 1GB of storage, a refined rear touch panel and a sleek new look - currently only in black in the UK, it appears.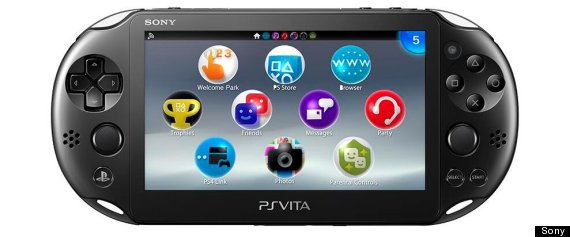 It also has a 6-hour battery, and switches the old proprietary charging cable for a standard micro USB port.
It will cost about £180 when it is released next week, with pre-orders starting immediately. That price is about £50 lower than the original PS Vita cost at launch, but more than current Vitas can be found for online.
Sony's UK product manager Ben Law said that the older Vita will be replaced as stock runs dry.
He added that Sony had seen a boost in demand for the Vita handheld since the release of the PS4 - partially because the Vita can play PS4 games vita 'Remote Play' when connected to the same WiFi network.
Loading Slideshow
Titanfall

The upcoming Xbox One and 360 shooter features massive, hulking mechs, wall-running soldiers and the most intense multiplayer we've tried all year.

Destiny

For sheer scale and depth, no upcoming game can match Destiny - the open-world shooter from the minds behind Halo.

Thief

The original 'Thief' was one of the classic stealth FPS games, and the reboot due on current and next-gen consoles 25 February looks to be carrying on that fine legacy.

Watch Dogs

Think GTA V meets George Orwell's 1984, set in Chicago, through the filter of The Matrix.

Mario Kart 8

Nintendo would have to do something astonishing to screw up this instalment of Mario Kart, which so far looks like a riot.

Super Smash Bros

Sonic fighting Mega Man, the woman from Wii Fitness and the villager from Animal Crossing. What else do you need to know?

X

We don't know a huge amount about this mysterious open-world action adventure for the Wii U. But the trailer is pretty enticing - and the development team at Monolith rarely do anything but deliver the goods.

Drive Club

Drive Club is the exclusive racing game the PS4 needed at launch, but lacked. It's certainly beautiful, and detailed, but we're hoping for subtly enhanced gameplay from the pretty staid title we played at Gamescom.

Dark Souls 2

Dark Souls has the hardest-core fanbase you can imagine - this endless, massively difficult questing game is not for everyone, but if you love it you'd probably die for it. The sequel looks immense.

Bayonetta 2

Bayonetta was a ridiculous, combo-filled romp that divided people for its "enthusiastic" (arguably sexist) aesthetic, but thrilled with its fast-paced gameplay. The Wii U exclusive sequel promises more of the same - and a welcome shot in the Gamepad for Nintendo's console.