When, 30 years ago this weekend, Apple broadcast an advert for its new Macintosh computers during the Super Bowl, it changed the world of advertising.
Director Ridley Scott's clip - which portrayed an Orwellian dystopia of drudging workers, who are set free by a blonde woman in orange shorts throwing a hammer at Big Brother - was a landmark achievement.
While broadcast only once on TV, it earned Apple untold replays on news stations and column inches, and secured its place at the heart of the Silicon Valley revolution.
Then, a year later, it tried to do it again.
Only this time… It failed. Massively.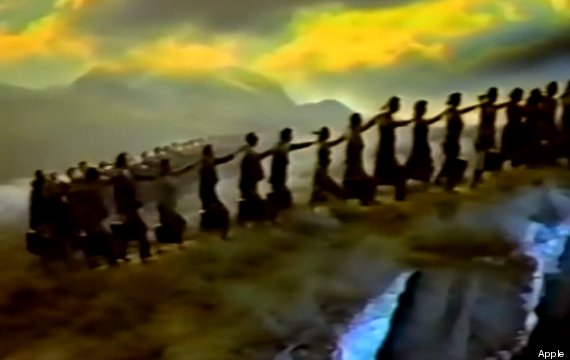 Wired has an interesting write-up of the 1985 follow-up, titled 'Lemmings', which attempted to advertise an upcoming produced called Macintosh Office. This time Apple portrayed legions of workers in suits walking blindfold up a hill only to plummet off a cliff to their deaths. That is until one takes off his blindfold and realises he has to buy a Mac, or something, at which point it's all fine.
The problem? The advert is horrifying, scary and mean. And the reaction to the clip, for which Apple paid $900,000, was apparently worsened by the fact that the product was delayed, and took two more years to arrive.
According to this write up of the ad's reception Steve Jobs was in the front seat of the stadium when it was played to "stunned silence". Afterwards one the creative team threatened to run a full page apology in the Wall Street Journal - only for another member to respond that he would run an apology for the apology, in the same paper, if he did so.
Take a look at the horrifying spectacle, below.
Loading Slideshow
Steve Jobs "Crazy Ones"

This never before aired version of the "Crazy Ones" <a href="http://www.huffingtonpost.com/2011/10/06/steve-jobs-think-different_n_998003.html?ncid=edlinkusaolp00000003" target="_hplink">commercial is narrated by Steve Jobs</a>.

Henry Ford

Print ad from 1981 foreshadowing Apple's use of famous historical figures in their 1990s "Think Different" campaign.

"A Is For Apple"

Print ad from 1977, prior to the launch of Apple's Macintosh.

"1984"

This now critically acclaimed commercial by Ridley Scott, which aired on January 22, 1984 during Super Bowl XVIII, was the world's introduction to the Apple Macintosh Personal Computer.

"Introducing Macintosh"

Print ad from April 1984 explaining the inner workings of the Macintosh.

"Lemmings"

This 1985 commercial was a less successful follow up to "1984." It first aired during Super Bowl XVIV

"The Computer For The Rest Of Us"

"The computer for the rest of us" campaign of the late 1980s continued to build on Apple's brand "by portraying the Mac as embodying the values of righteous outsiderism and rebellion against injustice," <a href="http://www.wired.com/gadgets/mac/commentary/cultofmac/2002/12/56677" target="_hplink">wrote <em>Los Angeles Times</em> columnist Charles Pillar</a>.

"Who Needs A Computer Anyway?"

Little known circa 1989 Apple campaign featuring cartoons from <em>The Simpsons</em> creator Matt Groening.

"What's On Your Powerbook?"

This early 1990s campaign continued to emphasize individuality by having seeming opposites in the same ad both using a Powerbook.

"Crazy Ones"

This ad featuring narration from actor Richard Dreyfuss first aired in 1997 in conjunction with Apple's "Think Different" print campaign.

"Think Different"

This campaign launched September 28th, 1997 and featured photos of visionaries, thinkers, leaders, artists and inventors including Albert Einstein, Bob Dylan, Martin Luther King, Jr., John Lennon, Martha Graham, Muhammad Ali, Alfred Hitchcock, Mahatma Gandhi, Jim Henson, Maria Callas, Picasso and others.

iMac Colors

iMac print ad from the late 1990s.

"Switch"

This campaign launched June 10th, 2002 intended to get people to "switch" to Apple by featuring a series of "real people" explaining they preferred their Mac over PCs.

"Get A Mac"

This is the first ad from the now famous "Get a Mac" campaign. <a href="http://www.adweek.com/adfreak/apples-get-mac-complete-campaign-130552?page=1" target="_hplink">It first aired in May 2006.</a>

"Thanks A Billion"

iPhone print ad from 2009.

"Get A Mac"

A "Get A Mac" spot from October 2009.

"Facetime"

This commercial from 2010 accompanied the launch of iPhone 4 and Facetime, allowing users to video chat from practically anywhere.