Western Australia's government is taking the step to try to prevent attacks on swimmers which have killed six people in two years.
Opponents argue the cull will make no difference to the number of sharks and breaches international obligations to protect Great Whites.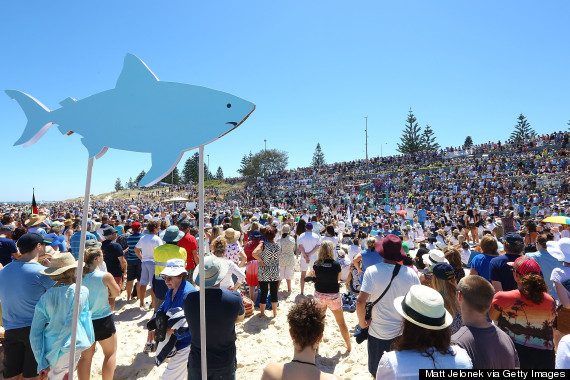 Protesters against shark culling in the Western Australian Coast line hold up signs at Cottesloe Beach
The cull will involve 72 baited hooks close to the shore off Perth and any sharks over three metres in length will be destroyed.
Conservationists also suggest other marine life such as dolphins and turtles could suffer.
Story continues after slideshow...
Around 2,000 people gathered at Manly Beach in Sydney and 6,000 are expected at Cottesloe Beach in Perth.
Katherine Cook at Many Beach said: "I'm really angry and incensed that we can't coexist with anything," reports the Telegraph.
"We are going into their (sharks) environment. Why can't we coexist?"
"If it were a cull we would be out catching sharks the length and breadth of the state," he said.
Tony Abbott's government has come under fire in recent weeks for its apparent lack of concern for the environment.
SUBSCRIBE TO & FOLLOW UK DAILY BRIEF