Most of us think heart health is something we need to be concerned with only at middle age or worse - when something has actually gone wrong with our hearts.
But heart disease isn't just something that affects the elderly, and it is the UK's biggest killer.
"It's not an old man's disease anymore," said Dr. Siddharth Gandhi, an interventional cardiologist at Advocate BroMenn Medical Center. "Heart disease affects men and women and now, unfortunately, at younger ages."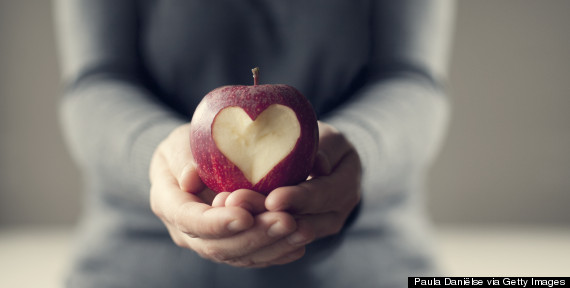 The British Heart Foundation, which is running a Ramp Up The Red campaign this month, says: "It kills nearly one in six men and more than one in ten women and is responsible for almost 74,000 deaths in the UK each year, an average of 200 people each day. There are currently 2.3 million people in the UK living with coronary heart disease."
High blood pressure, excessive drinking and sedentary lifestyles are to blame, but the BHF also revealed that the number of people with atrial fibrillation has rocketed. "It's a dangerous heart rhythm disorder that increases the risk of stroke five-fold," they say.
HuffPost UK Lifestyle spoke to Dr Paul Zollinger-Read, chief medical officer for Bupa, who revealed: that in the UK, it is responsible for almost 74,000 deaths each year - an average of 200 people every day.
"Coronary heart disease begins with damage to the lining and inner layers of your coronary arteries. Your coronary arteries supply essential oxygen-rich blood to your heart. Several factors can contribute to this damage, such as smoking, high cholesterol, poor diet, a sedentary lifestyle and diabetes. Plaque builds up where the arteries are damaged – this may even start in childhood – and over time, plaque can harden narrowing your coronary arteries and reducing the flow of blood to your heart."
There are risk factors, he says, such as family history of early heart disease, or if you have diabetes and/or are overweight.
Story continues below the slideshow:
Worst Foods For Your Heart
Hot dogs, bacon, sausage and deli meats -- even lean ones like turkey -- are made with loads of sodium and preservatives, often including nitrates and nitrites, both of which have been linked to heart problems. "With processing, you lose control over the quality of the ingredients," says Cynthia Thaik, M.D., a Los Angeles-based cardiologist. Processed meats are also higher in saturated fat and lower in protein than any red meat you could prepare yourself, writes director of the Yale Prevention Research Center and HuffPost blogger, David Katz. Not convinced to stay away? Processed meats have also been linked to a higher risk of diabetes and pancreatic cancer.

Yes, the processed picks are worse for your heart, but that doesn't mean you should go wild for steak. Instead, consider it more of a treat than a staple in your diet: It's still high in saturated fat, even when it's unprocessed. "I don't want to suggest that we have to go [completely] plant-based," says Thaik, "but moderation is always the key." If you're not planning on changing your carnivore ways anytime soon, at the very least pick a lean cut of beef, which, according to the USDA, contains less than 10 grams of total fat and 4.5 grams of saturated fat. Or opt for extra-lean, with 5 grams of total fat and less than 2 of saturated fat. Of the 29 cuts that meet these regulations, five are extra-lean, according to the Mayo Clinic, including eye of round roast or steak, sirloin tip side steak, top round roast and steak, bottom round roast and steak and top sirloin steak.

That cheesy slice may contain as much as two thirds of your daily recommended limit of saturated fat, according to Real Age, which is found mostly in animal products like beef, pork, butter, cream and milk. The American Heart Association recommends getting no more than 7 percent of total daily calories from saturated fat. (Based on a 2,000-calories-a-day diet, that totals out to about 15 grams a day of saturated fat). And even though you may think it's "just cheese," many dairy products are actually highly processed, says Thaik. To lighten up, skip extra cheese and top with veggies instead of pepperoni or sausage.

When you consider that the ingredients in this heavy sauce are butter, cream and cheese, it's easy to see why serving up this pasta dish would pose saturated fat problems -- especially if you're dining out where sauce is ladled over piles of noodles. If you really love an alfredo dish every now and again, ask for the sauce on the side and stick to just a tablespoon or two. If you're making your own at home, try a lightened-up recipe, like this one from SparkPeople, which replaces butter with olive oil, cream with skim milk and cuts down on the amount of cheese.

These fatty acids are created through processes that make vegetable oils more solid, according to the American Heart Association. They're cheap to produce, are used to make packaged and prepared foods last longer and can be re-used in frying. But trans fats raise LDL or "bad" cholesterol while also lowering HDL or "good" cholesterol, thereby putting your heart at risk. While a number of manufacturers have cut back on trans fat use in light of these health risks, packaged snacks, baked goods and some margarines may still contain it, according to EatingWell. Look for hydrogenated or partially hydrogenated oils on ingredients lists and beware the "zero trans fat" labels -- many are hiding .5 grams and rounding down to zero. But considering that the AHA recommends getting no more than 2 grams a day, that adds up, and fast!

As restaurants use their frying oil over and over again, the fat becomes more and more saturated, according to Live Science. And, as mentioned previously, trans fats are often lurking. Even though some restaurants may have cut back in the face of mounting health concerns, a number of joints still fry with solid oils like shortening, says Thaik. However, a 2012 found that how you fry makes a big difference. Among 41,000 Spanish adults, researchers found no link between fried food consumption and heart problems, likely because cooking with heart-healthy olive oil is more common than in the U.S, Time.com reported.

"When we think of heart disease, a lot of people think cholesterol and fat, but we know that sugar, as it relates to obesity and the effect it has on insulin, has a lot to do with the development of artherosclerosis," says Thaik. In fact, drinking one sugary beverage a day leads to a 20 percent increase in a man's risk of having a heart attack, according to a 2012 study, even if those empty calories aren't causing weight gain, CNN reported. Soda has previously been linked to increased rates of heart disease in women, as well. And diet soda isn't any better. A 2012 study found that a daily diet soda increased risk for stroke, heart attack and death, although the exact cause is not yet fully understood.

There's little on the drive-thru menu that isn't loaded with saturated fat, trans fat, sugar or sodium, making most of your orders recipes for disaster. And the consequences for the heart are nearly immediate. A 2012 study examined the effects of fast food on the arteries after just one meal and found that the ability of the blood vessels to dilate dropped by 24 percent, YouBeauty reported. "Not just fast food but processed food in general has a very high sodium content just by the pure nature of having to do the preservation," says Thaik. Soups and soy sauce are obvious culprits, she says, but saltwater sushi and even bread can be more surprising sources of salt.
The London Bridge Hospital says that one of the biggest contributors to rising levels of heart disease is stress.
Dr Tom Stevens, consultant psychiatrist says: "I believe most 'mental' stress today in urban societies is a result of the rise in complex human communication we encounter and the associated demands on our brains as opposed to the rest of our body.
"Stress can be difficult to measure, but in my opinion, technology, including mobile phones, emails and social media, is one of the key leading causes. This can impact on your ability not only to concentrate, but can also lead to fatigue, sleep disturbance and mood swings."
But the good news is that a lot of heart disease is preventable, and the younger you are when you start making changes, the better.
Dr Zollinger-Read says: "Most cardiovascular diseases can be prevented by leading a healthy lifestyle. Not smoking, eating a healthy, balanced diet and keeping physical active are all key to greatly reducing your risk."
If you think you've read it all before, it's still worth taking seriously. Dr Zollinger-Read says that even one risk factor doubles your risk for coronary heart disease.
"Two increases your risk four-fold and three, more than tenfold. Talk to your GP if you think you may be at high risk of heart disease."
Nutritionist Henrietta Norton, founder of Wild Nutrition recommends that a good way of getting healthy isn't just to avoid processed foods, but to actively eat foods that support the heart.
"The omega 3 fatty acids found in oily fish and nut and seed oils such flaxseed and walnut are have been shown to be especially beneficial for cardiovascular health," she says.
"Oatmeal also contains omega 3 but has the advantage of important minerals such as magnesium, calcium, Vitamin B3, B12 and Folate all of which also play an important role in heart health."
Robyn Coetzee, specialist dietician at London Bridge Hospital also mentions the importance of managing cholesterol levels.
"Foods rich in fibre have been shown to help lower blood cholesterol levels. They are low in fat and are filling, so eating these foods also help to control your weight.
"High fibre foods include fruit and vegetables, wholegrain cereals and breads, wholemeal flour, brown pasta, brown rice, breakfast cereals based on wheat and bran, oats and pulses like, beans, peas, and lentils. Aim for at least five servings of fruit and vegetables per day and try to incorporate other high fibre foods such as breads, cereals and legumes into your diet on a daily basis."
How do you check your pulse properly?

Put one of your hands out so you're looking at your palm.
Use the index/first finger and middle finger of your other hand and place the pads of these fingers on the inside of your wrist.


You should place them at the base of your thumb near where the strap of a watch would sit.
Press lightly and feel the pulse. If you can't feel anything press slightly harder or move your fingers around until you feel your pulse
Once you've found your pulse, continue to feel it for about 20-30 seconds. Feel the rhythm of the pulse and check if it's regular or irregular

SOURCE: BHF
At present, there is an ongoing debate about what's worse for you: sugar or fat?
On that subject, Henrietta says: "Research suggests that when these two are combined, for example in pastries and many convenience foods, unwanted cholesterol can rise and good cholesterol can decrease. This combination has also been shown to contribute to atherosclerosis, the furring of the arteries and ultimately restriction of blood flow to the heart. The key is a healthy diet eating foods as close to nature as possible."
Her seasonal recommendations for heart health foods in February include: "This is the month of the carrot and the recent publication of results from a 10-year study demonstrated that those orange or yellow fruits and vegetables were the most protective for the heart and cardiovascular system. The carotenoid content of carrots is what gives them their lovely orange hue and is also the plant chemical shown to reduce oxidative stress in the body."
It may be hard to take all of this information on board, but Dr Zollinger-Read pragmatically says: "Your heart is designed to last a lifetime so think carefully about what changes you can make to support your heart health. My overaching advice is to quit smoking if you smoke, reduce the amount of salt in your diet, eat plenty of fruit and vegetables, stay as active as possible and drink alcohol in moderation."