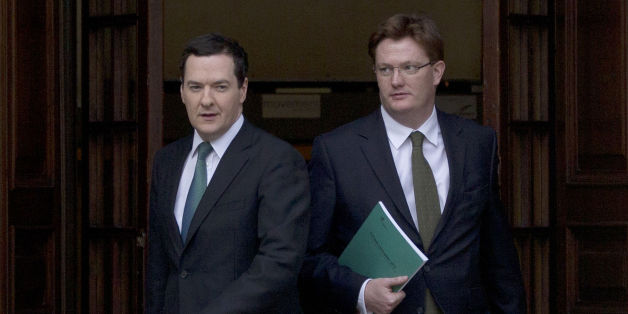 Nick Clegg is worried that the Lib Dem chief secretary to the Treasury, Danny Alexander, has "gone native" in the Tory run department, a close ally of George Osborne has revealed.
Speaking to a small group of Tory activists in Westminster on Monday evening, Conservative MP Rob Wilson said the deputy prime minister often "complained" about Alexander.
Wilson, who described himself as the chancellor's "wingman" in the speech heard by the Huffington Post UK, serves as Osborne's parliamentary private secretary (PPS) - his link to backbench Tory MPs.
"The Treasury team gets on famously well," Wilson said. "Everybody is friends. The relationship between George [Osborne] and Danny Alexander is very, very good."
He added: "I think Nick Clegg complains quite often that Danny Alexander has gone native in the Treasury. I think there is some truth in the fact he has gone native in the Treasury. The relationship is very good within the Treasury team."
Wilson's precise choice of words are likely to have been influenced by a complaint last week in The Independent from left-wing Lib Dem activists that Alexander was too willing to sign up to post-2015 Tory spending plans.
Wilson, the MP for Reading East, who was appointed by Osborne to be his PPS in October, refused to be persuaded by Tory activists to divulge any more Whitehall gossip.
"I am what George would describe as his wingman, his right-hand man, I do get to see a lot of what is going on, I do a lot of work on his behalf as you would expect. But most of it will remain confidential for obvious reasons," he said.
The notion that Alexander, one of the most senior Lib Dems in government, has been ideologically captured by Osborne and the Tories will not go down well with the party's MPs and grassroots. Neither would the idea that they are best of friends.
With the general election just over a year away, the Lib Dems are increasingly keen to prove to voters that they have been a block on, rather than the accomplices to, Tory policies.
When the initial criticism of Alexander emerged, he sought to counter the impression he was too close to Osborne by telling the Daily Mirror that the government would only be able to reduce the top rate of tax to 40p over his "dead body".
Speaking at an meeting organised by the modernising Conservative 'Bright Blue' think-tank on Monday evening, Wilson also said it would be "foolish" for the party to consider forming an electoral pact with Ukip in 2015.
He warned: "I don't think we should have any truck with a pact with Ukip. because by doing so we'll lose more votes in the centre ground than we would gain on the right-wing. A Ukip pact would be foolish politics for the Conservative Party."
And he said while this May's European elections, which Nigel Farage hopes to win and use a spring board to securing Westminster MPs, would be "bumpy" for the Tories - the party should not panic.
"People see the European elections as a free hit unfortunately," he said. "That they can vote without any real responsibility for the outcome.
"At the moment we have a situation where Nigel Farage is the funny bloke down the pub that people like, a bit of comedy value. But in my view that could quickly turn into him becoming the pub bore.
He added: "People do tend to regard European elections as a bit of a free hit, at the end of the day, we shouldn't read too much into what happens there."
Wilson also sought to reassure the activists that the party had not alienated the immigrant population with its recent harsher, more eurosceptic, rhetoric.
"I'm not sure we have done anything that has deterred them from voting Conservative," he said, before adding: "I do think that maybe we could have made our message on free movement in the European community a little bit more positive at times."
But Wilson defended the work of Cameron's top strategist, Lynton Crosby, who has been credited with focusing the party's message as well as encouraging the prime minister to shift to the right to see off the threat from Ukip.
"I think Lynton Crosby is doing a great job. I think the message discipline within the party is much better than it was and it's getting better all the time. We need to make sure we continue to do that," he said.
"We have sometimes let ourselves down a bit by some of the things we have done to distract attention in parliament. But there's a unity within the Conservative Party in parliament that is better than anything I have seen in my time there. People desperately want to win the general election."
Having stressed the importance of delivering on the party's economic message, Wilson alluded to the frequent eruptions of rebellion on the backbenches.
He said: "Obviously you have a very small number of people who have a slightly different view of the world than the mainstream of the party, but you have that in every single political party."
SUBSCRIBE AND FOLLOW
Get top stories and blog posts emailed to me each day. Newsletters may offer personalized content or advertisements.
Learn more