When snaps of a secretive Adele emerging from one of Prince's London gigs emerged last week we thought she was just being a fan girl.
However, The Sun reports the 'Someone Like You' singer was actually making a rare public outing to talk serious business with his Purple Highness.
A source said the pair are discussing a collobaoration for Adele's highly-anticipated new album.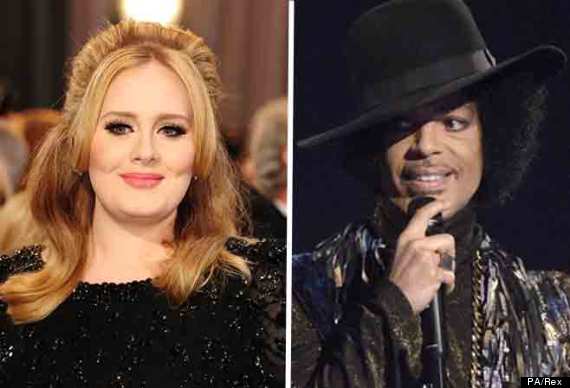 Adele and Prince
"The reason Adele only stayed a short time at Prince's gig at Ronnie Scott's in London was because it was just a business meeting and she had to get home," they said.
Adding: "They want to work together for a track on her next album."
The last time we saw Adele in public she was hanging out with a very different Prince...
Adele picked up her MBE from The Prince Of Wales at Buckingham Palace in December, adding another trophy to her cabinet full of Oscars, Grammys and Brits.
The songbird has kept a low profile since giving birth to her son Angelo last October.
She is rumoured to be back in the studio now, recording the follow up to her multi-platinum album, '21'.
Adele's 30 Greatest Achievements... So Far
Winning an Oscar for 'Skyfall'

Her performance of 'Someone Like You' at the 2011 Brits, when she managed to silence the entire 10,000 strong audience at London's O2 arena

She was signed at 16, just three days after finishing school, all because one of her friends posted one of her performances on MySpace.

For making the cover of both the UK and US editions of fashion bible, Vogue (and not being a size 00).

Having her very own waxwork created by Madame Tussauds in London. The completed figure is expected to be unveiled late 2013.

Her famous friends.

Winning six Grammy Awards in 2012 including Album of the Year, equalling the record for most Grammy Awards won by a female artist in one night.

She is responsible for one of the best Bond themes in years with 'Skyfall'

Her son, Angelo (well, at least we think that's the little blighter's name, Adele still hasn't confirmed what she's called him)

For owning the most fabulous collection of black designer dresses in the celeb universe.

Flipping the bird to the music industry suits after she was cut off, mid-acceptance speech at the 2012 Brit Awards

Her refusal to be a size zero like the rest of celebland, saying: "I would only lose weight if it affected my health or sex life."

Cracking the US with a double platinum debut album ('19')

Her stunning performance of 'Skyfall' at the Oscars

For not giving a stuff what people think.

For not selling pictures of her baby son.

For not deserting the UK and moving to Lala land.

She is the first female in the history of the Billboard Hot 100 to have three singles in the top 10 at the same time.

Keeping her feet on the ground despite being the biggest selling female artist on the planet.

Being the first artist EVER to sell more than 3 million copies of an album in a year in the UK.

Having her second album, '21' certified 16 times platinum in the UK.

Selling 26 million copies of her second album, '21' worldwide.

Winning a Golden Globe for 'Skyfall'

Being named one of the most influential people in the world by Time magazine.

Being the first living artist to achieve the feat of having two top 5 hits in both the UK Official Singles Chart and the Official Albums Chart simultaneously since the Beatles in 1964.