'Avatar' star Sam Worthington has been arrested in New York, following a scuffle with a photographer outside a bar.
The incident, though, has ignited a bit of intrigue surrounding the status of his relationship with assumed girlfriend, Australian underwear model Lara Bingle.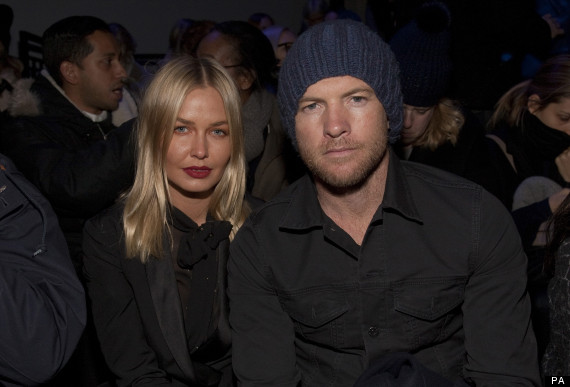 Lara Bingle was the course of a fight between actor Sam Worthington and a photographer in New York
The Australian actor reportedly attacked a snapper at the Cubbyhole bar in the West Village, after accusing the pap of kicking his partner.
And, during the fisticuffs, Sam was overheard shouting, "you kicked my wife."
There is no report of the pair being wed, although there were reports earlier this year that they had secretly married in Australia, and both happen to wear matching rings on their wedding fingers.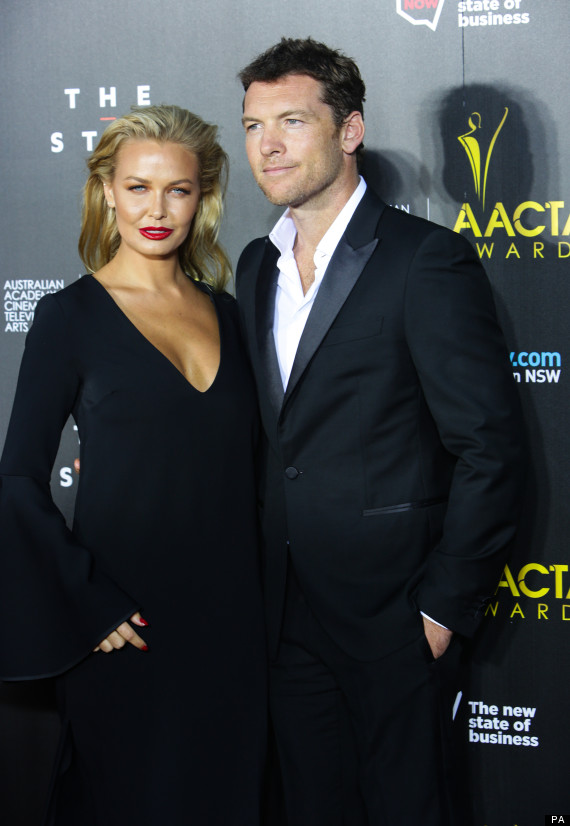 Lara and Sam are usually happy to pose for the cameras
A friend of the model's has told the Daily Mail, "He would have been speaking figuratively. They are definitely not married, as far as I know."
Lara has been happy to share loved-up selfies posing with new love Sam on her Instagram account, but has also complained of being harassed in her hometown of Sydney, and mentioned the idea of moving to New York for more "space". She was previously engaged to Australian cricket captain Michael 'Pup' Clarke.
Sam has been bailed to appear in court in New York on Wednesday, while the snapper has been charged with assault, reckless endangerment and harassment.
Paul Dano, Jane Fonda, Harvey Keitel, Rachel Weisz and Michael Caine.

Aisleyne Horgan-Wallace

Cara Delevingne

Harry Styles

Helena Bonham Carter

Cameron Diaz

Lorraine Kelly

Alexa Chung

Ariana Grande

Jesy Nelson

Kim Kardashian

Keira Knightley

Kate Moss

Britney Spears

Lorraine Kelly

Julianne Moore

Arnold Schwarzenegger

Fearne Cotton

Sharon Stone

Brad Pitt

Carol Vorderman

Louie Spence and Amy Childs

Laura Whitmore

Alec Baldwin and Neil Patrick Harris

Jade Jagger

Louis Walsh

Mel B

Eva Longoria

CeeLo Green celebrates the opening of his new show 'Loberace' at Planet Hollywood, Las Vegas, by wearing an entire baby leopard. Looks like he should have gone for the size up.

Is that a beer belly we can see there Eddie Murphy?!

What are you supposed to wear to a baby shower? We're not sure, but a pair of giant fluffy angel wings surely ain't it...

Oh Jude. Where's the tux? Where's the smooth smile? More importantly - where's the comb?

Is Justin trying to disguise himself as Eminem following his late London concert controversy?

We have no idea what Kanye West and Kim Kardashian have just spotted in this photo, and frankly, we don't want to know. Unless it's a giant talking frog. Then we definitively want to know.

While on the set of '90210' in Los Angeles, La Toya suffers from a classic case of the wind changing at the worst possible moment...

We all know the feeling: jet-lagged after a long journey, you find yourself struggling with an armful of bags while doing the zombie walk. Someone get Lily Allen a coffee, quick.

The actress and her mother Myfawny recently decided to take the kids to the LA zoo. Lovely idea Naomi, but why are you wearing your Granddad's pajamas?

Oh dear. You're a music legend Paul, but really, the time for striking a 'rock pose' is long gone...

Spotted here leaving the Ritz, the Britain's Got Talent overlord looked typically smug. But Simon, please - you're not in one of your boy bands. Do the shirt up mate.

Has Susan finally truly lost it?! Don't worry - she's in costume here as she films her acting debut in 'The Christmas Candle.' Not that she looks very pleased about it, mind.

Someone needs to tell the 'Shawshank Redemption' star his quiff is getting dangerously out of control...

The Fonz would never have lost his cool like this, Henry...

We have a feeling Joey got dressed all by himself today.The poor lamb can't even tell his left from his right.

Dougie McFly really REALLY needs to leave this photo opp, like, yesterday.

Josh Duhamel: 40 going on 4.

This snap of Cheryl really reminds us something available in certain shops in the backstreets of Soho.

X Factor's Lucy whips fellow contestant Jade into shape.

Can we suggest a slightly lower slit next time, Em?

'Just keep smiling, nobody will notice'. Tess and Claudia think gurning like loons will distract from the fact that Claudia's face is stuck to Tess' hair.

Ryan Phillippe is looking pumped.

Jessie Wood: 'I don't know who you are but get your mitts of my missus'.

Brian suffers every presenter's worst nightmare: getting your mic stuck in your flies. Well, it can happen to anyone.

Errrrm , do you want to tell Harry he's sprouted a mini arm out of his back or shall we?

Yep, if we were Miranda Kerr we'd be constantly feeling ourselves up too.

We're really not sure that look's going to catch on Louie.

Not your best look Bey.

...Or yours Cheryl.

It's only a puddle, Katie love. Sheesh.

We don't what we're more surprised about... the fact supermodels eat white bread or the fact that Cara chose to wear that hat.

Anna is the latest celeb victim of the FBF. That'll be a Flash Bulb Flash.

Tim Minchin auditions for his next lead role as... Dracula. Mel C doesn't look too bothered though.

'OMG! It ain't even no pop-up'. TOWIE's Lauren tries to mask her disappointment.

Nice to see Jessica Alba's hubby Cash Warren checking that his wife's dress is still in place. What a gent!

So that's how Peter Andre hits those high notes.

No, it's not that child from The Exorcist, it's Cara Delevingne - you know, the supermodel.

Smooooooooth Mischa Barton, smoooooooth.

Either they'd run out of paper towels in the club or George has just been caught short. EIther way, he seems oblivious.

Now we can see what Penelope Cruz saw in Javier Bardem.

How's that lemon going down, Ange?