Fat-busting seaweed could be the future of weight loss, new research suggests.
Scientists have identified a natural seaweed fibre that prevents the body absorbing fat.
Tests show that alginate, found in sea kelp, can suppress the digestion of fat in the gut.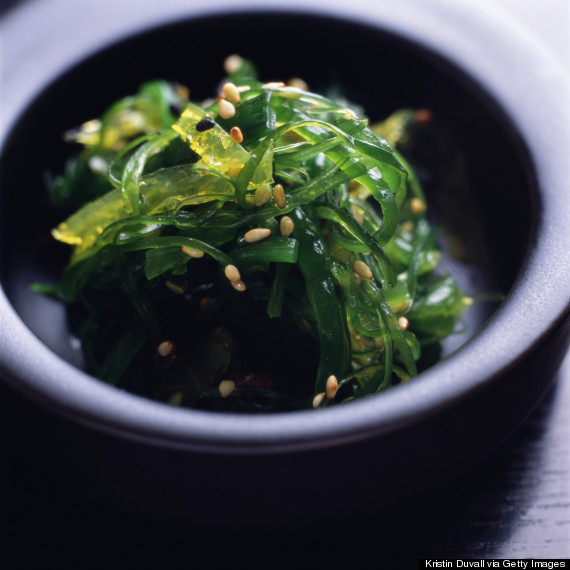 Researchers investigated the ability of alginate to reduce fat break-down by a digestive enzyme, pancreatic lipase.
Blocking the action of the enzyme results in lower amounts of fat being absorbed by the body.
Lead scientist Professor Jeff Pearson, from the University of Newcastle's Institute for Cell and Molecular Biosciences, said: "We have already added alginate to bread and initial taste tests have been extremely encouraging.
Story continues below the slideshow:
How To Lose Weight Healthily
Listen to your body rather than count the calories, eat slowly and stop eating when you stop feeling hungry, keep portion sizes under control – meals shouldn't be larger than your cupped hands put together. Your stomach is only around the size of your fist!

White pasta, white rice and white bread provide very few nutrients and are quickly broken down in the body to sugar, this will leave you hungry and craving sugar as a pick-me-up.

When we are tired we eat more and reach for instant energy fixes from caffeine, sugar and fat. Try to get to bed early or deal with sleep problems should you have any. A good night's sleep is really important for overall health as well as weight loss.

There are good fats and bad fats. Good fats are essential for the body to function well and support the weight loss process e.g. fat from oily fish, avocados or unsalted nuts. Bad fats on the other hand should be avoided, especially trans fats found in many biscuits and cakes and other baked goods with a long shelf life.

Have three healthy meals and two or three healthy snacks a day, this will give you sustained nutrients and energy for the day, keep hunger pangs at bay. Choose unprocessed, low sugar snacks such as a small handful of unsalted nuts, hummus with carrot and celery sticks or oat cakes.

Protein is essential for the body to grow and repair, it also keeps you feeling fuller for longer keeping hunger pangs at bay - leaving you less tempted to snack. Choose protein-rich fish, chicken and lean meats or beans, pulses and nuts with your meals and snacks.

It wreaks havoc with hormones slowing down your metabolism and making the body store more fat – especially around the middle. Did you know that stress has the same impact on your body as eating sugar? Stress causes cravings for the wrong foods, particularly salty, high fat and sugary snacks. Try to relax when you eat, chew your food and focus on what you are eating rather than reading, watching TV or using the computer.

Ideally don't drink coffee or black tea, but if you do keep it to one cup a day and have it on a full stomach. Stimulants like tea, coffee and cola consumed for an energy boost actually have the opposite effect. They give you a blood sugar rush, but then a corresponding dip, leaving you lacking energy and looking for your next caffeine 'fix'. Choose water, herbal tea and the occasional diluted fresh fruit juice as healthier options.

This is important for overall health, energy and mood as well as a support to maintaining a healthy weight. Start slowly with a brisk walk in the park, take the stairs instead of the lift or get off the bus a few stops earlier than normal and walk the rest of the way.

The body needs a regular supply of fuel, if you skip meals it sends your blood sugar and energy plummeting leaving you tired, hungry and tempted by sugary snacks or caffeine to re-energise.
"Now the next step is to carry out clinical trials to find out how effective they are when eaten as part of a normal diet."
The researchers found that alginates containing more of a sugar molecule called guluronate were best at blocking fat digestion.
They compiled a list of the most promising seaweeds, including a brown sea kelp known as "tangle" or "cuvie", bladderwrack, and bull kelp.
LIKE HUFFPOST UK LIFESTYLE ON FACEBOOK | FOLLOW US ON TWITTER
The findings, published in the journal Food Chemistry, showed that a four-fold increase in one type of tangle alginate boosted anti-fat absorption activity by 75%.
Dietary fibre avoided the side effects of conventional anti-obesity drugs that inhibit enzyme activity, said the researchers.
They wrote: "The inclusion of an alginate into foods.. has the potential to reduce the intake of dietary triacylglycerol (fat) and could greatly help in weight management."