Oscars 2014: Benedict Cumberbatch Photobombs U2 On The Academy Awards Red Carpet (PICTURE)
Just when we thought we couldn't possibly love Benedict Cumberbatch any more than we already do (we are fully paid up Cumberbitches seeing as you're asking) he goes and does this at Sunday night's Oscars…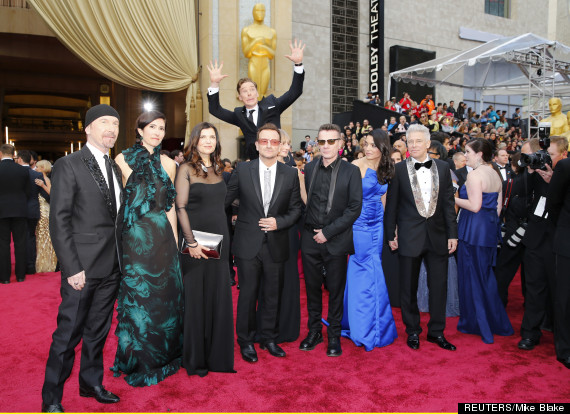 Benedict Cumberbatch photobombs U2. Amazing.
Yes that is Bono and co AKA rock royalty U2 posing on the Oscars red carpet and yes that is the 'Sherlock' star attempting - and we think you'll agree succeeding - in upstaging the band.
Ooooh there's always one, isn't there? But still... Best. Photobomb. Ever.
Oscars 2014 After Parties
WEST HOLLYWOOD, CA - MARCH 02: Television personalities Kim Kardashian (L) and Kourtney Kardashian attend the 22nd Annual Elton John AIDS Foundation Academy Awards Viewing Party at The City of West Hollywood Park on March 2, 2014 in West Hollywood, California. (Photo by Jamie McCarthy/Getty Images for EJAF)

LOS ANGELES, CA - MARCH 02: TV personality Kim Kardashian attends the 22nd Annual Elton John AIDS Foundation's Oscar Viewing Party on March 2, 2014 in Los Angeles, California. (Photo by Frederick M. Brown/Getty Images)

LOS ANGELES, CA - MARCH 02: TV personality Kim Kardashian attends the 22nd Annual Elton John AIDS Foundation's Oscar Viewing Party on March 2, 2014 in Los Angeles, California. (Photo by Mark Davis/Getty Images for EJAF)

WEST HOLLYWOOD, CA - MARCH 02: (L-R) TV personalities TV personality Diana Madison and Kim Kardashian attends the 22nd Annual Elton John AIDS Foundation Academy Awards Viewing Party at The City of West Hollywood Park on March 2, 2014 in West Hollywood, California. (Photo by Dimitrios Kambouris/Getty Images for EJAF)

WEST HOLLYWOOD, CA - MARCH 02: Kim Kardashian attends the 22nd Annual Elton John AIDS Foundation Academy Awards viewing party with Chopard at the City of West Hollywood Park on March 2, 2014 in West Hollywood, California. (Photo by Dimitrios Kambouris/Getty Images for EJAF)

WEST HOLLYWOOD, CA - MARCH 02: Television personalities Kim Kardashian (L) and Kourtney Kardashian attend the 22nd Annual Elton John AIDS Foundation Academy Awards Viewing Party at The City of West Hollywood Park on March 2, 2014 in West Hollywood, California. (Photo by Jamie McCarthy/Getty Images for EJAF)

LOS ANGELES, CA - MARCH 02: TV personalities Khloe Kardashian, Kourtney Kardashian and Kim Kardashian attend the 22nd Annual Elton John AIDS Foundation's Oscar Viewing Party on March 2, 2014 in Los Angeles, California. (Photo by Frederick M. Brown/Getty Images)

WEST HOLLYWOOD, CA - MARCH 02: Sir Elton John, Kourtney Kardashian, and Kim Kardashian attend the 22nd Annual Elton John AIDS Foundation Academy Awards Viewing Party at The City of West Hollywood Park on March 2, 2014 in West Hollywood, California. (Photo by Jamie McCarthy/Getty Images for EJAF)

LOS ANGELES, CA - MARCH 02: TV personality Kim Kardashian attends the 22nd Annual Elton John AIDS Foundation's Oscar Viewing Party on March 2, 2014 in Los Angeles, California. (Photo by Mark Davis/Getty Images for EJAF)

WEST HOLLYWOOD, CA - MARCH 02: Kim Kardashian attends the 22nd Annual Elton John AIDS Foundation Academy Awards viewing party with Chopard at the City of West Hollywood Park on March 2, 2014 in West Hollywood, California. (Photo by Dimitrios Kambouris/Getty Images for EJAF)

LOS ANGELES, CA - MARCH 02: TV personalities Khloe Kardashian, Kourtney Kardashian and Kim Kardashian attend the 22nd Annual Elton John AIDS Foundation's Oscar Viewing Party on March 2, 2014 in Los Angeles, California. (Photo by Frederick M. Brown/Getty Images)

WEST HOLLYWOOD, CA - MARCH 02: Singer Melanie Brown (L) and model Heidi Klum attend the 22nd Annual Elton John AIDS Foundation Academy Awards Viewing Party at The City of West Hollywood Park on March 2, 2014 in West Hollywood, California. (Photo by Dimitrios Kambouris/Getty Images for EJAF)

WEST HOLLYWOOD, CA - MARCH 02: Singer Melanie Brown (L) and model Heidi Klum attend the 22nd Annual Elton John AIDS Foundation Academy Awards Viewing Party at The City of West Hollywood Park on March 2, 2014 in West Hollywood, California. (Photo by Dimitrios Kambouris/Getty Images for EJAF)

LOS ANGELES, CA - MARCH 02: Actress/singer Melanie Brown attends the 22nd Annual Elton John AIDS Foundation's Oscar Viewing Party on March 2, 2014 in Los Angeles, California. (Photo by Frederick M. Brown/Getty Images)

WEST HOLLYWOOD, CA - MARCH 02: Model Heidi Klum (L) and singer Melanie Brown attend the 22nd Annual Elton John AIDS Foundation Academy Awards Viewing Party at The City of West Hollywood Park on March 2, 2014 in West Hollywood, California. (Photo by Dimitrios Kambouris/Getty Images for EJAF)

LOS ANGELES, CA - MARCH 02: Actress/singer Melanie Brown (L) and producer/director Stephen Belafonte attend the 22nd Annual Elton John AIDS Foundation's Oscar Viewing Party on March 2, 2014 in Los Angeles, California. (Photo by Mark Davis/Getty Images for EJAF)

WEST HOLLYWOOD, CA - MARCH 02: Recording artist Melanie Brown attends Patron Tequila at 22nd Annual Elton John AIDS Foundation Academy Awards Viewing Party at The City of West Hollywood Park on March 2, 2014 in West Hollywood, California. (Photo by Jonathan Leibson/Getty Images for Patron)

LOS ANGELES, CA - MARCH 02: Actress/singer Melanie Brown attends the 22nd Annual Elton John AIDS Foundation's Oscar Viewing Party on March 2, 2014 in Los Angeles, California. (Photo by Frederick M. Brown/Getty Images)

LOS ANGELES, CA - MARCH 02: Model Irina Shayk attends the 22nd Annual Elton John AIDS Foundation's Oscar Viewing Party on March 2, 2014 in Los Angeles, California. (Photo by Frederick M. Brown/Getty Images)

LOS ANGELES, CA - MARCH 02: Model Irina Shayk attends the 22nd Annual Elton John AIDS Foundation's Oscar Viewing Party on March 2, 2014 in Los Angeles, California. (Photo by Frederick M. Brown/Getty Images)

LOS ANGELES, CA - MARCH 02: Model Irina Shayk attends the 22nd Annual Elton John AIDS Foundation's Oscar Viewing Party on March 2, 2014 in Los Angeles, California. (Photo by Frederick M. Brown/Getty Images)

LOS ANGELES, CA - MARCH 02: Model Irina Shayk attends the 22nd Annual Elton John AIDS Foundation's Oscar Viewing Party on March 2, 2014 in Los Angeles, California. (Photo by Frederick M. Brown/Getty Images)

LOS ANGELES, CA - MARCH 02: Model Irina Shayk attends the 22nd Annual Elton John AIDS Foundation's Oscar Viewing Party on March 2, 2014 in Los Angeles, California. (Photo by Frederick M. Brown/Getty Images)

LOS ANGELES, CA - MARCH 02: Recording artist Lady Gaga attends the 22nd Annual Elton John AIDS Foundation's Oscar Viewing Party on March 2, 2014 in Los Angeles, California. (Photo by Mark Davis/Getty Images for EJAF)

LOS ANGELES, CA - MARCH 02: Singer Lady Gaga attends the 22nd Annual Elton John AIDS Foundation's Oscar Viewing Party on March 2, 2014 in Los Angeles, California. (Photo by Mark Davis/Getty Images for EJAF)

LOS ANGELES, CA - MARCH 02: Singer Lady Gaga attends the 22nd Annual Elton John AIDS Foundation's Oscar Viewing Party on March 2, 2014 in Los Angeles, California. (Photo by Mark Davis/Getty Images for EJAF)

WEST HOLLYWOOD, CA - MARCH 02: (L-R) Musicians Elton John, Lady Gaga and designer Donatella Versace attend the 22nd Annual Elton John AIDS Foundation Academy Awards Viewing Party at The City of West Hollywood Park on March 2, 2014 in West Hollywood, California. (Photo by Dimitrios Kambouris/Getty Images for EJAF)

WEST HOLLYWOOD, CA - MARCH 02: Singer Lady Gaga (L) and designer Donatella Versace attend the 22nd Annual Elton John AIDS Foundation Academy Awards Viewing Party at The City of West Hollywood Park on March 2, 2014 in West Hollywood, California. (Photo by Dimitrios Kambouris/Getty Images for EJAF)

WEST HOLLYWOOD, CA - MARCH 02: Designer Donatella Versace (L) and recording artist Lady Gaga attend the 22nd Annual Elton John AIDS Foundation Academy Awards Viewing Party at The City of West Hollywood Park on March 2, 2014 in West Hollywood, California. (Photo by Dimitrios Kambouris/Getty Images for EJAF)

LOS ANGELES, CA - MARCH 02: Fashion designer Donatella Versace and recording artist Lady Gaga attend the 22nd Annual Elton John AIDS Foundation's Oscar Viewing Party on March 2, 2014 in Los Angeles, California. (Photo by Mark Davis/Getty Images for EJAF)

LOS ANGELES, CA - MARCH 02: (L-R) Actor Nolan Gerard Funk, fashion designer Donatella Versace and recording artist Lady Gaga attend the 22nd Annual Elton John AIDS Foundation's Oscar Viewing Party on March 2, 2014 in Los Angeles, California. (Photo by Mark Davis/Getty Images for EJAF)

WEST HOLLYWOOD, CA - MARCH 02: Actors Jillian Murray and Lydia Hearst attend Neuro at the 22nd Annual Elton John AIDS Foundation Academy Awards Viewing Party at The City of West Hollywood Park on March 2, 2014 in West Hollywood, California. (Photo by Charley Gallay/Getty Images for Neuro)

WEST HOLLYWOOD, CA - MARCH 02: Actors Jane Fonda and Paz Vega attend Neuro at the 22nd Annual Elton John AIDS Foundation Academy Awards Viewing Party at The City of West Hollywood Park on March 2, 2014 in West Hollywood, California. (Photo by Charley Gallay/Getty Images for Neuro)

LOS ANGELES, CA - MARCH 02: TV personality Kourtney Kardashian attends the 22nd Annual Elton John AIDS Foundation's Oscar Viewing Party on March 2, 2014 in Los Angeles, California. (Photo by Frederick M. Brown/Getty Images)

WEST HOLLYWOOD, CA - MARCH 02: Sir Elton John performs on stage at the 22nd Annual Elton John AIDS Foundation Academy Awards Viewing Party at The City of West Hollywood Park on March 2, 2014 in West Hollywood, California. (Photo by Dimitrios Kambouris/Getty Images for EJAF)

WEST HOLLYWOOD, CA - MARCH 02: Sir Elton John performs on stage at the 22nd Annual Elton John AIDS Foundation Academy Awards Viewing Party at The City of West Hollywood Park on March 2, 2014 in West Hollywood, California. (Photo by Dimitrios Kambouris/Getty Images for EJAF)

WEST HOLLYWOOD, CA - MARCH 02: Sir Elton John performs on stage at the 22nd Annual Elton John AIDS Foundation Academy Awards Viewing Party at The City of West Hollywood Park on March 2, 2014 in West Hollywood, California. (Photo by Dimitrios Kambouris/Getty Images for EJAF)

LOS ANGELES, CA - MARCH 02: Actress Shannon Elizabeth (L) and actress/singer Melanie Brown attend the 22nd Annual Elton John AIDS Foundation's Oscar Viewing Party on March 2, 2014 in Los Angeles, California. (Photo by Mark Davis/Getty Images for EJAF)

LOS ANGELES, CA - MARCH 02: Actress Rumer Willis attends the 22nd Annual Elton John AIDS Foundation's Oscar Viewing Party on March 2, 2014 in Los Angeles, California. (Photo by Frederick M. Brown/Getty Images)

WEST HOLLYWOOD, CA - MARCH 02: Singer Melanie Brown (L) and model Heidi Klum attend the 22nd Annual Elton John AIDS Foundation Academy Awards Viewing Party at The City of West Hollywood Park on March 2, 2014 in West Hollywood, California. (Photo by Dimitrios Kambouris/Getty Images for EJAF)

WEST HOLLYWOOD, CA - MARCH 02: Model Heidi Klum (L) and singer Melanie Brown attend the 22nd Annual Elton John AIDS Foundation Academy Awards Viewing Party at The City of West Hollywood Park on March 2, 2014 in West Hollywood, California. (Photo by Dimitrios Kambouris/Getty Images for EJAF)

WEST HOLLYWOOD, CA - MARCH 02: Singer Melanie Brown (L) and model Heidi Klum attend the 22nd Annual Elton John AIDS Foundation Academy Awards Viewing Party at The City of West Hollywood Park on March 2, 2014 in West Hollywood, California. (Photo by Dimitrios Kambouris/Getty Images for EJAF)

WEST HOLLYWOOD, CA - MARCH 02: Actress Vanessa Hudgens attends Neuro at the 22nd Annual Elton John AIDS Foundation Academy Awards Viewing Party at The City of West Hollywood Park on March 2, 2014 in West Hollywood, California. (Photo by Charley Gallay/Getty Images for Neuro)

WEST HOLLYWOOD, CA - MARCH 02: Actress Vanessa Hudgens attends Neuro at the 22nd Annual Elton John AIDS Foundation Academy Awards Viewing Party at The City of West Hollywood Park on March 2, 2014 in West Hollywood, California. (Photo by Charley Gallay/Getty Images for Neuro)

WEST HOLLYWOOD, CA - MARCH 02: Actress Jessica Lowndes attends Neuro at the 22nd Annual Elton John AIDS Foundation Academy Awards Viewing Party at The City of West Hollywood Park on March 2, 2014 in West Hollywood, California. (Photo by Charley Gallay/Getty Images for Neuro)

WEST HOLLYWOOD, CA - MARCH 02: TV personality Louise Roe attends Neuro at the 22nd Annual Elton John AIDS Foundation Academy Awards Viewing Party at The City of West Hollywood Park on March 2, 2014 in West Hollywood, California. (Photo by Charley Gallay/Getty Images for Neuro)

WEST HOLLYWOOD, CA - MARCH 02: Caroline D'Amour attends Neuro at the 22nd Annual Elton John AIDS Foundation Academy Awards Viewing Party at The City of West Hollywood Park on March 2, 2014 in West Hollywood, California. (Photo by Charley Gallay/Getty Images for Neuro)

WEST HOLLYWOOD, CA - MARCH 02: Model/actress Carmen Electra attends Neuro at the 22nd Annual Elton John AIDS Foundation Academy Awards Viewing Party at The City of West Hollywood Park on March 2, 2014 in West Hollywood, California. (Photo by Charley Gallay/Getty Images for Neuro)

WEST HOLLYWOOD, CA - MARCH 02: Actors Cara Santana (R) and Jesse Metcalfe attend Neuro at the 22nd Annual Elton John AIDS Foundation Academy Awards Viewing Party at The City of West Hollywood Park on March 2, 2014 in West Hollywood, California. (Photo by Charley Gallay/Getty Images for Neuro)

WEST HOLLYWOOD, CA - MARCH 02: Actress Vanessa Hudgens attends the 22nd Annual Elton John AIDS Foundation Academy Awards Viewing Party at The City of West Hollywood Park on March 2, 2014 in West Hollywood, California. (Photo by Jamie McCarthy/Getty Images for EJAF)

WEST HOLLYWOOD, CA - MARCH 02: Actor Kellan Lutz attends the 22nd Annual Elton John AIDS Foundation Academy Awards Viewing Party at The City of West Hollywood Park on March 2, 2014 in West Hollywood, California. (Photo by Jamie McCarthy/Getty Images for EJAF)

LOS ANGELES, CA - MARCH 02: TV Personality Sharon Osbourne and Global Brand President of MAC Cosmetics Karen Buglisi attend the 22nd Annual Elton John AIDS Foundation's Oscar Viewing Party on March 2, 2014 in Los Angeles, California. (Photo by Mark Davis/Getty Images for EJAF)

WEST HOLLYWOOD, CA - MARCH 02: Model/actress Carmen Electra attends the 22nd Annual Elton John AIDS Foundation Academy Awards Viewing Party at The City of West Hollywood Park on March 2, 2014 in West Hollywood, California. (Photo by Dimitrios Kambouris/Getty Images for EJAF)

WEST HOLLYWOOD, CA - MARCH 02: Model/actress Carmen Electra attends the 22nd Annual Elton John AIDS Foundation Academy Awards Viewing Party at The City of West Hollywood Park on March 2, 2014 in West Hollywood, California. (Photo by Dimitrios Kambouris/Getty Images for EJAF)

WEST HOLLYWOOD, CA - MARCH 02: Actress Analeigh Tipton (R) and producer Aaron McManus attend the 22nd Annual Elton John AIDS Foundation Academy Awards Viewing Party at The City of West Hollywood Park on March 2, 2014 in West Hollywood, California. (Photo by Jamie McCarthy/Getty Images for EJAF)

LOS ANGELES, CA - MARCH 02: TV personality Sharon Osbourne (L) and Global Brand President of MAC Cosmetics Karen Buglisi attend the 22nd Annual Elton John AIDS Foundation's Oscar Viewing Party on March 2, 2014 in Los Angeles, California. (Photo by Frederick M. Brown/Getty Images)

WEST HOLLYWOOD, CA - MARCH 02: TV personality Kristin Cavallari (L) and model/actress Carmen Electra attend the 22nd Annual Elton John AIDS Foundation Academy Awards Viewing Party at The City of West Hollywood Park on March 2, 2014 in West Hollywood, California. (Photo by Dimitrios Kambouris/Getty Images for EJAF)

WEST HOLLYWOOD, CA - MARCH 02: TV personality Kristin Cavallari (L) and model/actress Carmen Electra attend the 22nd Annual Elton John AIDS Foundation Academy Awards Viewing Party at The City of West Hollywood Park on March 2, 2014 in West Hollywood, California. (Photo by Dimitrios Kambouris/Getty Images for EJAF)

WEST HOLLYWOOD, CA - MARCH 02: TV personality Kristin Cavallari attends the 22nd Annual Elton John AIDS Foundation Academy Awards Viewing Party at The City of West Hollywood Park on March 2, 2014 in West Hollywood, California. (Photo by Dimitrios Kambouris/Getty Images for EJAF)

WEST HOLLYWOOD, CA - MARCH 02: Actors Vanessa Hudgens (L) and Austin Butler attend the 22nd Annual Elton John AIDS Foundation Academy Awards Viewing Party at The City of West Hollywood Park on March 2, 2014 in West Hollywood, California. (Photo by Jamie McCarthy/Getty Images for EJAF)

WEST HOLLYWOOD, CA - MARCH 02: Blogger Jared Eng attends the 22nd Annual Elton John AIDS Foundation Academy Awards Viewing Party at The City of West Hollywood Park on March 2, 2014 in West Hollywood, California. (Photo by Jamie McCarthy/Getty Images for EJAF)

LOS ANGELES, CA - MARCH 02: Model Mayra Veronica attends the 22nd Annual Elton John AIDS Foundation's Oscar Viewing Party on March 2, 2014 in Los Angeles, California. (Photo by Mark Davis/Getty Images for EJAF)

WEST HOLLYWOOD, CA - MARCH 02: Model Jessica White attends the 22nd Annual Elton John AIDS Foundation Academy Awards Viewing Party at The City of West Hollywood Park on March 2, 2014 in West Hollywood, California. (Photo by Dimitrios Kambouris/Getty Images for EJAF)

WEST HOLLYWOOD, CA - MARCH 02: Models Karolina Kurkova (L) and Angela Lindvall attend the 22nd Annual Elton John AIDS Foundation Academy Awards Viewing Party at The City of West Hollywood Park on March 2, 2014 in West Hollywood, California. (Photo by Dimitrios Kambouris/Getty Images for EJAF)

WEST HOLLYWOOD, CA - MARCH 02: TV personality Kelly Osbourne (L) and actor Alex Pettyfer attend the 22nd Annual Elton John AIDS Foundation Academy Awards Viewing Party at The City of West Hollywood Park on March 2, 2014 in West Hollywood, California. (Photo by Jamie McCarthy/Getty Images for EJAF)

WEST HOLLYWOOD, CA - MARCH 02: Actress Cassie Scerbo attends the 22nd Annual Elton John AIDS Foundation Academy Awards Viewing Party at The City of West Hollywood Park on March 2, 2014 in West Hollywood, California. (Photo by Jamie McCarthy/Getty Images for EJAF)

WEST HOLLYWOOD, CA - MARCH 02: Model Nina Senicar attends the 22nd Annual Elton John AIDS Foundation Academy Awards Viewing Party at The City of West Hollywood Park on March 2, 2014 in West Hollywood, California. (Photo by Dimitrios Kambouris/Getty Images for EJAF)

WEST HOLLYWOOD, CA - MARCH 02: Model Nina Senicar and Dominic Adam attend the 22nd Annual Elton John AIDS Foundation Academy Awards Viewing Party at The City of West Hollywood Park on March 2, 2014 in West Hollywood, California. (Photo by Dimitrios Kambouris/Getty Images for EJAF)

LOS ANGELES, CA - MARCH 02: (L-R) Actor Nolan Gerard Funk, fashion designer Donatella Versace and recording artist Lady Gaga attend the 22nd Annual Elton John AIDS Foundation's Oscar Viewing Party on March 2, 2014 in Los Angeles, California. (Photo by Mark Davis/Getty Images for EJAF)

WEST HOLLYWOOD, CA - MARCH 02: Actress Nikki Reed and blogger Jared Eng attend the 22nd Annual Elton John AIDS Foundation Academy Awards Viewing Party at The City of West Hollywood Park on March 2, 2014 in West Hollywood, California. (Photo by Dimitrios Kambouris/Getty Images for EJAF)

WEST HOLLYWOOD, CA - MARCH 02: Model Nina Senicar attends the 22nd Annual Elton John AIDS Foundation Academy Awards Viewing Party at The City of West Hollywood Park on March 2, 2014 in West Hollywood, California. (Photo by Dimitrios Kambouris/Getty Images for EJAF)

WEST HOLLYWOOD, CA - MARCH 02: TV personality Whoopi Goldberg attends the 22nd Annual Elton John AIDS Foundation Academy Awards Viewing Party at The City of West Hollywood Park on March 2, 2014 in West Hollywood, California. (Photo by Jamie McCarthy/Getty Images for EJAF)

WEST HOLLYWOOD, CA - MARCH 02: Sir Elton John performs on stage at the 22nd Annual Elton John AIDS Foundation Academy Awards Viewing Party at The City of West Hollywood Park on March 2, 2014 in West Hollywood, California. (Photo by Dimitrios Kambouris/Getty Images for EJAF)

WEST HOLLYWOOD, CA - MARCH 02: (L-R) New England Patriots owner Robert Kraft, Ricki Noel Lander, Dee Hilfiger, designer Tommy Hilfiger, Archie Drury and model Karolina Kurkova attend the 22nd Annual Elton John AIDS Foundation Academy Awards Viewing Party at The City of West Hollywood Park on March 2, 2014 in West Hollywood, California. (Photo by Dimitrios Kambouris/Getty Images for EJAF)

LOS ANGELES, CA - MARCH 02: DJ Caroline D'Amore attends the 22nd Annual Elton John AIDS Foundation's Oscar Viewing Party on March 2, 2014 in Los Angeles, California. (Photo by Mark Davis/Getty Images for EJAF)

LOS ANGELES, CA - MARCH 02: DJ Caroline D'Amore attends the 22nd Annual Elton John AIDS Foundation's Oscar Viewing Party on March 2, 2014 in Los Angeles, California. (Photo by Mark Davis/Getty Images for EJAF)

LOS ANGELES, CA - MARCH 02: Actress Shannon Elizabeth attends the 22nd Annual Elton John AIDS Foundation's Oscar Viewing Party on March 2, 2014 in Los Angeles, California. (Photo by Mark Davis/Getty Images for EJAF)

LOS ANGELES, CA - MARCH 02: Actress Nikki Reed attends the 22nd Annual Elton John AIDS Foundation's Oscar Viewing Party on March 2, 2014 in Los Angeles, California. (Photo by Mark Davis/Getty Images for EJAF)

LOS ANGELES, CA - MARCH 02: Actress Nikki Reed attends the 22nd Annual Elton John AIDS Foundation's Oscar Viewing Party on March 2, 2014 in Los Angeles, California. (Photo by Mark Davis/Getty Images for EJAF)

LOS ANGELES, CA - MARCH 02: Actress Nikki Reed attends the 22nd Annual Elton John AIDS Foundation's Oscar Viewing Party on March 2, 2014 in Los Angeles, California. (Photo by Frederick M. Brown/Getty Images)

WEST HOLLYWOOD, CA - MARCH 02: CEO and founder of Neuro Diana Jenkins and actor Neil Patrick Harris attend Neuro at the 22nd Annual Elton John AIDS Foundation Academy Awards Viewing Party at The City of West Hollywood Park on March 2, 2014 in West Hollywood, California. (Photo by Charley Gallay/Getty Images for Neuro)

LOS ANGELES, CA - MARCH 02: Actress Shannon Elizabeth attends the 22nd Annual Elton John AIDS Foundation's Oscar Viewing Party on March 2, 2014 in Los Angeles, California. (Photo by Frederick M. Brown/Getty Images)

LOS ANGELES, CA - MARCH 02: Actress/singer Melanie Brown attends the 22nd Annual Elton John AIDS Foundation's Oscar Viewing Party on March 2, 2014 in Los Angeles, California. (Photo by Frederick M. Brown/Getty Images)

LOS ANGELES, CA - MARCH 02: Model Kelly Bensimon attends the 22nd Annual Elton John AIDS Foundation's Oscar Viewing Party on March 2, 2014 in Los Angeles, California. (Photo by Frederick M. Brown/Getty Images)

LOS ANGELES, CA - MARCH 02: Actress Rumer Willis attends the 22nd Annual Elton John AIDS Foundation's Oscar Viewing Party on March 2, 2014 in Los Angeles, California. (Photo by Mark Davis/Getty Images for EJAF)

LOS ANGELES, CA - MARCH 02: Actress Lydia Hearst attends the 22nd Annual Elton John AIDS Foundation's Oscar Viewing Party on March 2, 2014 in Los Angeles, California. (Photo by Mark Davis/Getty Images for EJAF)

LOS ANGELES, CA - MARCH 02: Group President, The Estee Lauder Companies Inc. John Demsey (L) and model Kelly Bensimon attend the 22nd Annual Elton John AIDS Foundation's Oscar Viewing Party on March 2, 2014 in Los Angeles, California. (Photo by Frederick M. Brown/Getty Images)

LOS ANGELES, CA - MARCH 02: TV personality Kourtney Kardashian attends the 22nd Annual Elton John AIDS Foundation's Oscar Viewing Party on March 2, 2014 in Los Angeles, California. (Photo by Frederick M. Brown/Getty Images)

LOS ANGELES, CA - MARCH 02: Group President, The Estee Lauder Companies Inc. John Demsey (L) and model Kelly Bensimon attend the 22nd Annual Elton John AIDS Foundation's Oscar Viewing Party on March 2, 2014 in Los Angeles, California. (Photo by Frederick M. Brown/Getty Images)

LOS ANGELES, CA - MARCH 02: Recording artist/actor Dwight Yoakam (L) and Emily Joy attend the 22nd Annual Elton John AIDS Foundation's Oscar Viewing Party on March 2, 2014 in Los Angeles, California. (Photo by Frederick M. Brown/Getty Images)

LOS ANGELES, CA - MARCH 02: (L-R) Actor Nolan Gerard Funk, fashion designer Donatella Versace and recording artist Lady Gaga attend the 22nd Annual Elton John AIDS Foundation's Oscar Viewing Party on March 2, 2014 in Los Angeles, California. (Photo by Mark Davis/Getty Images for EJAF)

LOS ANGELES, CA - MARCH 02: Author Sandra Lee attends the 22nd Annual Elton John AIDS Foundation's Oscar Viewing Party on March 2, 2014 in Los Angeles, California. (Photo by Mark Davis/Getty Images for EJAF)

LOS ANGELES, CA - MARCH 02: Author Sandra Lee attends the 22nd Annual Elton John AIDS Foundation's Oscar Viewing Party on March 2, 2014 in Los Angeles, California. (Photo by Mark Davis/Getty Images for EJAF)

WEST HOLLYWOOD, CA - MARCH 02: Musician Sheryl Crow (R) and guest attend the 22nd Annual Elton John AIDS Foundation Academy Awards Viewing Party at The City of West Hollywood Park on March 2, 2014 in West Hollywood, California. (Photo by Dimitrios Kambouris/Getty Images for EJAF)

WEST HOLLYWOOD, CA - MARCH 02: Designer Tommy Hilfiger (R) and wife Dee Ocleppo attend Neuro at the 22nd Annual Elton John AIDS Foundation Academy Awards Viewing Party at The City of West Hollywood Park on March 2, 2014 in West Hollywood, California. (Photo by Charley Gallay/Getty Images for Neuro)

LOS ANGELES, CA - MARCH 02: Fashion blogger Marissa Montgomery attends the 22nd Annual Elton John AIDS Foundation's Oscar Viewing Party on March 2, 2014 in Los Angeles, California. (Photo by Frederick M. Brown/Getty Images)

LOS ANGELES, CA - MARCH 02: Actress Paz Vega attends the 22nd Annual Elton John AIDS Foundation's Oscar Viewing Party on March 2, 2014 in Los Angeles, California. (Photo by Frederick M. Brown/Getty Images)

LOS ANGELES, CA - MARCH 02: Actress Paz Vega attends the 22nd Annual Elton John AIDS Foundation's Oscar Viewing Party on March 2, 2014 in Los Angeles, California. (Photo by Frederick M. Brown/Getty Images)

LOS ANGELES, CA - MARCH 02: Actress Alexandra Daddario attends the 22nd Annual Elton John AIDS Foundation's Oscar Viewing Party on March 2, 2014 in Los Angeles, California. (Photo by Frederick M. Brown/Getty Images)

LOS ANGELES, CA - MARCH 02: Actress Alexandra Daddario attends the 22nd Annual Elton John AIDS Foundation's Oscar Viewing Party on March 2, 2014 in Los Angeles, California. (Photo by Frederick M. Brown/Getty Images)

LOS ANGELES, CA - MARCH 02: Model Anne Vyalitsyna attends the 22nd Annual Elton John AIDS Foundation's Oscar Viewing Party on March 2, 2014 in Los Angeles, California. (Photo by Mark Davis/Getty Images for EJAF)

LOS ANGELES, CA - MARCH 02: Model Anne Vyalitsyna attends the 22nd Annual Elton John AIDS Foundation's Oscar Viewing Party on March 2, 2014 in Los Angeles, California. (Photo by Mark Davis/Getty Images for EJAF)

LOS ANGELES, CA - MARCH 02: Actress Alexandra Daddario attends the 22nd Annual Elton John AIDS Foundation's Oscar Viewing Party on March 2, 2014 in Los Angeles, California. (Photo by Frederick M. Brown/Getty Images)

LOS ANGELES, CA - MARCH 02: Socialist Lady Victoria Hervey and designer Donatella Versace attend the 22nd Annual Elton John AIDS Foundation's Oscar Viewing Party on March 2, 2014 in Los Angeles, California. (Photo by Mark Davis/Getty Images for EJAF)

LOS ANGELES, CA - MARCH 02: Model Anne Vyalitsyna attends the 22nd Annual Elton John AIDS Foundation's Oscar Viewing Party on March 2, 2014 in Los Angeles, California. (Photo by Mark Davis/Getty Images for EJAF)

WEST HOLLYWOOD, CA - MARCH 02: Musician Lady Gaga attends the 2014 Vanity Fair Oscar Party hosted by Graydon Carter on March 2, 2014 in West Hollywood, California. (Photo by Pascal Le Segretain/Getty Images)

WEST HOLLYWOOD, CA - MARCH 02: Actress Evan Rachel Wood attends the 2014 Vanity Fair Oscar Party hosted by Graydon Carter on March 2, 2014 in West Hollywood, California. (Photo by Pascal Le Segretain/Getty Images)

WEST HOLLYWOOD, CA - MARCH 02: Musician Lady Gaga attends the 2014 Vanity Fair Oscar Party hosted by Graydon Carter on March 2, 2014 in West Hollywood, California. (Photo by Pascal Le Segretain/Getty Images)

WEST HOLLYWOOD, CA - MARCH 02: Musician Lady Gaga attends the 2014 Vanity Fair Oscar Party hosted by Graydon Carter on March 2, 2014 in West Hollywood, California. (Photo by Pascal Le Segretain/Getty Images)

WEST HOLLYWOOD, CA - MARCH 02: Actress Evan Rachel Wood attends the 2014 Vanity Fair Oscar Party hosted by Graydon Carter on March 2, 2014 in West Hollywood, California. (Photo by Pascal Le Segretain/Getty Images)

WEST HOLLYWOOD, CA - MARCH 02: Actress Evan Rachel Wood attends the 2014 Vanity Fair Oscar Party hosted by Graydon Carter on March 2, 2014 in West Hollywood, California. (Photo by Pascal Le Segretain/Getty Images)

WEST HOLLYWOOD, CA - MARCH 02: Actress Evan Rachel Wood attends the 2014 Vanity Fair Oscar Party hosted by Graydon Carter on March 2, 2014 in West Hollywood, California. (Photo by Pascal Le Segretain/Getty Images)

WEST HOLLYWOOD, CA - MARCH 02: Actors Seth Rogen (L) and Lauren Miller attends the 2014 Vanity Fair Oscar Party hosted by Graydon Carter on March 2, 2014 in West Hollywood, California. (Photo by Pascal Le Segretain/Getty Images)

WEST HOLLYWOOD, CA - MARCH 02: Actors Seth Rogen (L) and Lauren Miller attends the 2014 Vanity Fair Oscar Party hosted by Graydon Carter on March 2, 2014 in West Hollywood, California. (Photo by Pascal Le Segretain/Getty Images)

WEST HOLLYWOOD, CA - MARCH 02: Actors Emma Heming (L) and Bruce Willis attend the 2014 Vanity Fair Oscar Party hosted by Graydon Carter on March 2, 2014 in West Hollywood, California. (Photo by Pascal Le Segretain/Getty Images)

WEST HOLLYWOOD, CA - MARCH 02: Actress Talulah Riley (L) and CEO of Tesla Motors Elon Musk attend the 2014 Vanity Fair Oscar Party hosted by Graydon Carter on March 2, 2014 in West Hollywood, California. (Photo by Pascal Le Segretain/Getty Images)

WEST HOLLYWOOD, CA - MARCH 02: Actress Talulah Riley (L) and CEO of Tesla Motors Elon Musk attend the 2014 Vanity Fair Oscar Party hosted by Graydon Carter on March 2, 2014 in West Hollywood, California. (Photo by Pascal Le Segretain/Getty Images)

WEST HOLLYWOOD, CA - MARCH 02: Actors Jon Hamm (L) and Jennifer Westfeldt attend the 2014 Vanity Fair Oscar Party hosted by Graydon Carter on March 2, 2014 in West Hollywood, California. (Photo by Pascal Le Segretain/Getty Images)

WEST HOLLYWOOD, CA - MARCH 02: Actors Jon Hamm (L) and Jennifer Westfeldt attend the 2014 Vanity Fair Oscar Party hosted by Graydon Carter on March 2, 2014 in West Hollywood, California. (Photo by Pascal Le Segretain/Getty Images)

WEST HOLLYWOOD, CA - MARCH 02: Actors Jason Bateman (L) and Amanda Anka attend the 2014 Vanity Fair Oscar Party hosted by Graydon Carter on March 2, 2014 in West Hollywood, California. (Photo by Pascal Le Segretain/Getty Images)

WEST HOLLYWOOD, CA - MARCH 02: Actors Jason Bateman (L) and Amanda Anka attend the 2014 Vanity Fair Oscar Party hosted by Graydon Carter on March 2, 2014 in West Hollywood, California. (Photo by Pascal Le Segretain/Getty Images)

WEST HOLLYWOOD, CA - MARCH 02: Actors Zooey Deschanel (L) and Ellie Kemper attends the 2014 Vanity Fair Oscar Party hosted by Graydon Carter on March 2, 2014 in West Hollywood, California. (Photo by Pascal Le Segretain/Getty Images)

WEST HOLLYWOOD, CA - MARCH 02: Actors Tom Sturridge (L) and Sienna Miller attend the 2014 Vanity Fair Oscar Party hosted by Graydon Carter on March 2, 2014 in West Hollywood, California. (Photo by Pascal Le Segretain/Getty Images)

WEST HOLLYWOOD, CA - MARCH 02: Actor Kelsey Grammer (R) and Kayte Walsh attends the 2014 Vanity Fair Oscar Party hosted by Graydon Carter on March 2, 2014 in West Hollywood, California. (Photo by Pascal Le Segretain/Getty Images)

WEST HOLLYWOOD, CA - MARCH 02: Actors Joanna Newsom (L) and Andy Samberg attend the 2014 Vanity Fair Oscar Party hosted by Graydon Carter on March 2, 2014 in West Hollywood, California. (Photo by Pascal Le Segretain/Getty Images)

WEST HOLLYWOOD, CA - MARCH 02: Actors Diane Kruger (L) and Joshua Jackson attend the 2014 Vanity Fair Oscar Party hosted by Graydon Carter on March 2, 2014 in West Hollywood, California. (Photo by Pascal Le Segretain/Getty Images)

WEST HOLLYWOOD, CA - MARCH 02: Actors Channing Tatum (L) and Jenna Dewan attend the 2014 Vanity Fair Oscar Party hosted by Graydon Carter on March 2, 2014 in West Hollywood, California. (Photo by Pascal Le Segretain/Getty Images)

WEST HOLLYWOOD, CA - MARCH 02: Actors Stephen Moyer (L) and Anna Paquin attends the 2014 Vanity Fair Oscar Party hosted by Graydon Carter on March 2, 2014 in West Hollywood, California. (Photo by Pascal Le Segretain/Getty Images)

WEST HOLLYWOOD, CA - MARCH 02: Actor Robert De Niro (R) and Grace Hightower attends the 2014 Vanity Fair Oscar Party hosted by Graydon Carter on March 2, 2014 in West Hollywood, California. (Photo by Pascal Le Segretain/Getty Images)

WEST HOLLYWOOD, CA - MARCH 02: Actors Diane Kruger (L) and Joshua Jackson attend the 2014 Vanity Fair Oscar Party hosted by Graydon Carter on March 2, 2014 in West Hollywood, California. (Photo by Pascal Le Segretain/Getty Images)

WEST HOLLYWOOD, CA - MARCH 02: Radio Personality Ryan Seacrest attends the 2014 Vanity Fair Oscar Party hosted by Graydon Carter on March 2, 2014 in West Hollywood, California. (Photo by Pascal Le Segretain/Getty Images)

WEST HOLLYWOOD, CA - MARCH 02: Actors Emma Heming (L) and Bruce Willis attends the 2014 Vanity Fair Oscar Party hosted by Graydon Carter on March 2, 2014 in West Hollywood, California. (Photo by Pascal Le Segretain/Getty Images)

WEST HOLLYWOOD, CA - MARCH 02: Actors Joanna Newsom (L) and Andy Samberg attend the 2014 Vanity Fair Oscar Party hosted by Graydon Carter on March 2, 2014 in West Hollywood, California. (Photo by Pascal Le Segretain/Getty Images)

WEST HOLLYWOOD, CA - MARCH 02: Actors Harrison Ford (L) and Calista Flockhart attend the 2014 Vanity Fair Oscar Party hosted by Graydon Carter on March 2, 2014 in West Hollywood, California. (Photo by Pascal Le Segretain/Getty Images)

WEST HOLLYWOOD, CA - MARCH 02: Dallas Cowboys Owner/President/General Manager Jerry Jones (L) and Gene Jones attends the 2014 Vanity Fair Oscar Party hosted by Graydon Carter on March 2, 2014 in West Hollywood, California. (Photo by Pascal Le Segretain/Getty Images)

WEST HOLLYWOOD, CA - MARCH 02: Producer Brian Grazer (L) and Veronica Smiley attend the 2014 Vanity Fair Oscar Party hosted by Graydon Carter on March 2, 2014 in West Hollywood, California. (Photo by Pascal Le Segretain/Getty Images)

HOLLYWOOD, CA - MARCH 02: Actress Cate Blanchett attend the Oscars Governors Ball at Hollywood & Highland Center on March 2, 2014 in Hollywood, California. (Photo by Kevork Djansezian/Getty Images)

HOLLYWOOD, CA - MARCH 02: Actress Cate Blanchett attend the Oscars Governors Ball at Hollywood & Highland Center on March 2, 2014 in Hollywood, California. (Photo by Kevork Djansezian/Getty Images)

HOLLYWOOD, CA - MARCH 02: Actress Cate Blanchett attends the Oscars Governors Ball at Hollywood & Highland Center on March 2, 2014 in Hollywood, California. (Photo by Kevork Djansezian/Getty Images)

HOLLYWOOD, CA - MARCH 02: Actress Cate Blanchett attend the Oscars Governors Ball at Hollywood & Highland Center on March 2, 2014 in Hollywood, California. (Photo by Kevork Djansezian/Getty Images)

HOLLYWOOD, CA - MARCH 02: Actress Cate Blanchett attends the Oscars Governors Ball at Hollywood & Highland Center on March 2, 2014 in Hollywood, California. (Photo by Kevork Djansezian/Getty Images)

HOLLYWOOD, CA - MARCH 02: Filmmaker Steve McQueen (L), winner of Best Motion Picture for '12 Years A Slave' and Jim Gianopulos, Chairman & CEO, Fox Filmed Entertainment attend the Oscars Governors Ball at Hollywood & Highland Center on March 2, 2014 in Hollywood, California. (Photo by Kevork Djansezian/Getty Images)

HOLLYWOOD, CA - MARCH 02: Actress Cate Blanchett attends the Oscars Governors Ball at Hollywood & Highland Center on March 2, 2014 in Hollywood, California. (Photo by Kevork Djansezian/Getty Images)

HOLLYWOOD, CA - MARCH 02: Actress Cate Blanchett attend the Oscars Governors Ball at Hollywood & Highland Center on March 2, 2014 in Hollywood, California. (Photo by Kevork Djansezian/Getty Images)

HOLLYWOOD, CA - MARCH 02: Filmmaker Malcolm Clarke attends the Oscars Governors Ball at Hollywood & Highland Center on March 2, 2014 in Hollywood, California. (Photo by Kevork Djansezian/Getty Images)

HOLLYWOOD, CA - MARCH 02: (L-R) Guest, actress Sally Hawkins, Sony Pictures Classics Co-President Michael Barker, actress Cate Blanchett, winner of Best Actress for 'Blue Jasmine,' and Sony Pictures Classics Co-President Tom Bernard attend the Oscars Governors Ball at Hollywood & Highland Center on March 2, 2014 in Hollywood, California. (Photo by Kevork Djansezian/Getty Images)

HOLLYWOOD, CA - MARCH 02: Filmmaker Spike Jonze attends the Oscars Governors Ball at Hollywood & Highland Center on March 2, 2014 in Hollywood, California. (Photo by Kevork Djansezian/Getty Images)

HOLLYWOOD, CA - MARCH 02: Filmmaker Steve McQueen (L) attends the Oscars Governors Ball at Hollywood & Highland Center on March 2, 2014 in Hollywood, California. (Photo by Kevork Djansezian/Getty Images)

HOLLYWOOD, CA - MARCH 02: Filmmaker Morgan Neville (L) attends the Oscars Governors Ball at Hollywood & Highland Center on March 2, 2014 in Hollywood, California. (Photo by Kevork Djansezian/Getty Images)

HOLLYWOOD, CA - MARCH 02: Filmmaker Laurent Witz attends the Oscars Governors Ball at Hollywood & Highland Center on March 2, 2014 in Hollywood, California. (Photo by Kevork Djansezian/Getty Images)

HOLLYWOOD, CA - MARCH 02: Filmmaker Alfonso Cuaron (L) attends the Oscars Governors Ball at Hollywood & Highland Center on March 2, 2014 in Hollywood, California. (Photo by Kevork Djansezian/Getty Images)

HOLLYWOOD, CA - MARCH 02: (L-R) Producer Chris Meledandri, Pharrell Williams and Helen Lasichanh attend the Oscars Governors Ball at Hollywood & Highland Center on March 2, 2014 in Hollywood, California. (Photo by Kevork Djansezian/Getty Images)

HOLLYWOOD, CA - MARCH 02: (L-R) Producer Chris Meledandri, Pharrell Williams and Helen Lasichanh attend the Oscars Governors Ball at Hollywood & Highland Center on March 2, 2014 in Hollywood, California. (Photo by Kevork Djansezian/Getty Images)

HOLLYWOOD, CA - MARCH 02: (L-R) Producer Chris Meledandri, Pharrell Williams and Helen Lasichanh attend the Oscars Governors Ball at Hollywood & Highland Center on March 2, 2014 in Hollywood, California. (Photo by Kevork Djansezian/Getty Images)

HOLLYWOOD, CA - MARCH 02: (L-R) Producer Chris Meledandri, Pharrell Williams and Helen Lasichanh attend the Oscars Governors Ball at Hollywood & Highland Center on March 2, 2014 in Hollywood, California. (Photo by Kevork Djansezian/Getty Images)

HOLLYWOOD, CA - MARCH 02: Musicians Kristen Anderson-Lopez (L) and Robert Lopez (C) attend the Oscars Governors Ball at Hollywood & Highland Center on March 2, 2014 in Hollywood, California. (Photo by Kevork Djansezian/Getty Images)

HOLLYWOOD, CA - MARCH 02: Filmmakers Kim Magnusson (L) and Anders Walter (R) attend the Oscars Governors Ball at Hollywood & Highland Center on March 2, 2014 in Hollywood, California. (Photo by Kevork Djansezian/Getty Images)

HOLLYWOOD, CA - MARCH 02: Filmmaker Malcolm Clarke (c) attends the Oscars Governors Ball at Hollywood & Highland Center on March 2, 2014 in Hollywood, California. (Photo by Kevork Djansezian/Getty Images)

HOLLYWOOD, CA - MARCH 02: Sharon Lyn Chalkin and Jonah Hill attend the Oscars Governors Ball at Hollywood & Highland Center on March 2, 2014 in Hollywood, California. (Photo by Kevork Djansezian/Getty Images)

HOLLYWOOD, CA - MARCH 02: Actress Sally Hawkins attend the Oscars Governors Ball at Hollywood & Highland Center on March 2, 2014 in Hollywood, California. (Photo by Kevork Djansezian/Getty Images)

HOLLYWOOD, CA - MARCH 02: Actor Matthew McConaughey attend the Oscars Governors Ball at Hollywood & Highland Center on March 2, 2014 in Hollywood, California. (Photo by Kevork Djansezian/Getty Images)

HOLLYWOOD, CA - MARCH 02: Filmmaker Alfonso Cuaron attends the Oscars Governors Ball at Hollywood & Highland Center on March 2, 2014 in Hollywood, California. (Photo by Kevork Djansezian/Getty Images)

HOLLYWOOD, CA - MARCH 02: (L-R) Filmakers Kim Magnusson and Anders Walter, winners of Best Short Film, Live Action attend the Oscars Governors Ball at Hollywood & Highland Center on March 2, 2014 in Hollywood, California. (Photo by Kevork Djansezian/Getty Images)

HOLLYWOOD, CA - MARCH 02: Actress Sally Hawkins attend the Oscars Governors Ball at Hollywood & Highland Center on March 2, 2014 in Hollywood, California. (Photo by Kevork Djansezian/Getty Images)

HOLLYWOOD, CA - MARCH 02: Filmmaker Spike Jonze (L) and Alfonso Cuaron (2R) attend the Oscars Governors Ball at Hollywood & Highland Center on March 2, 2014 in Hollywood, California. (Photo by Kevork Djansezian/Getty Images)

HOLLYWOOD, CA - MARCH 02: Actors Angelina Jolie and Brad Pitt attend the Oscars Governors Ball at Hollywood & Highland Center on March 2, 2014 in Hollywood, California. (Photo by Kevork Djansezian/Getty Images)
MORE OSCARS:
TV personality Kelly Osbourne attends the Oscars held at Hollywood & Highland Center on March 2, 2014 in Hollywood, California. (Steve Granitz/WireImage)

Olivia Wilde arrives at the Oscars on Sunday, March 2, 2014, at the Dolby Theatre in Los Angeles. (Photo by Jordan Strauss/Invision/AP)

Robin Roberts arrives at the Oscars on Sunday, March 2, 2014, at

TV Personality Giuliana Rancic attends the Oscars held at Hollywood & Highland Center on March 2, 2014 in Hollywood, California. (Jason Merritt/Getty Images)

TV personality Shaun Robinson attends the Oscars held at Hollywood & Highland Center on March 2, 2014 in Hollywood, California. (Steve Granitz/WireImage)

TV personality Nancy O'Dell attends the Oscars held at Hollywood & Highland Center on March 2, 2014 in Hollywood, California. (Jason Merritt/Getty Images)

TV personality Rocsi Diaz attends the Oscars held at Hollywood & Highland Center on March 2, 2014 in Hollywood, California. (Ethan Miller/WireImage)

TV personality Rachel Smith attends the Oscars held at Hollywood & Highland Center on March 2, 2014 in Hollywood, California. (Frazer Harrison/Getty Images)

TV Personality Louise Roe attends the Oscars held at Hollywood & Highland Center on March 2, 2014 in Hollywood, California. (Jason Merritt/Getty Images)

TV personality Brooke Anderson attends the Oscars held at Hollywood & Highland Center on March 2, 2014 in Hollywood, California. (Michael Buckner/Getty Images)