Ukraine will compete in the Winter Paralympics in Sochi.
The president of the country's Paralympic Committee announced his team would not boycott the event, which gets under way with the opening ceremony on Friday night, over the escalating tensions with Russia.
Valeriy Suskevich said at a news conference: "We are staying at the Paralympic Games."
Look out for the Ad just below here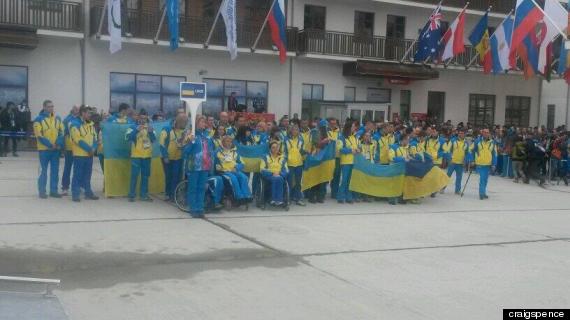 The Ukraine team arrive at the welcome ceremony on Thursday
Suskevich warned, though, that any escalation of military conflict would result in the team leaving Sochi.
"I declare should this happen we will leave the Games," he added. "We can not possibly stay here in this case."
He revealed he had a private meeting with Russian President Vladimir Putin late on Thursday night, during which he put across his request for peace during the Games.
He said the meeting was "calm", "polite" and "respectful".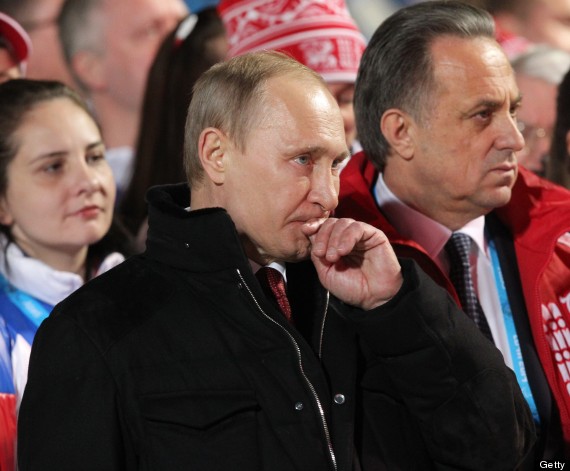 President Putin attended the welcome ceremony on Thursday
Suskevich said he did not receive "any guarantees", but said it was "extremely important" Putin agreed to listen.
He said Putin told him that he would "think about" his points.
Suskevich added that Ukraine's parade at the opening ceremony would have a "special format, a very restrictive format".
Ukraine had on Thursday appeared on the brink of pulling out of the Games, with Suskevich giving a series of emotionally-charged interviews following his team's welcome ceremony, in which he laid bare the toll the crisis in his country was having on his team, saying they were "very nervous" and "very afraid".
How Tensions In Ukraine Became So High
In 2004, newly-elected Yanukovych was ousted by Western-leaning Viktor Yushchenko and Yulia Tymoshenko after mass rallies known as the Orange Revolution

But Yanukoych was re-elected in 2010 after Tymoshenko and Yushchenko were dogged by allegations of corruption. In 2013, he announced he would no longer seek closer ties with the EU, after economic pressure from Russia

The Euromaidan movement in Kiev's Independence Square, with 100,000 people demanding Ukraine move away from Russia and closer to Europe

In December, Ukraine's riot police violently broke up the occupation of the square, where barricades and a tent city had been built, saying it had to install a Christmas tree, and protesters fought back

Come 2014, Yanukovych's government effectively banned all forms of protest, including wearing of masks and helmets without police permission. And that's when it properly kicked off...

Protesters battled with riot police, with molotov cocktails, barricades of burning tyres, and were attacked with rubber bullets and water cannons

As the violent clashes continued through February, 95 people were killed, many by snipers

Protesters set up make-shift morgues and hospitals in hotels, just off the Maidan

On February 19, Ukraine's government and opposition leaders agreed a truce, including a promise of new elections, and people gathered at makeshift shrines to mourn the dead

Yanukovych fled to Ukraine's Russian-leaning east, sparking a man-hunt and calls for him to be prosecuted for mass murder

Yulia Tymoshenko was released from prison, where she was serving time for corruption and opposition leader Olexander Turchynov was named interim president

Ukrainians raided Yanukovch's lavish residence, finding a zoo and and golden furniture

February 27th, Pro-Russian protesters in Crimea, a predominantly ethnic Russian peninsula, raised the Russian flag in parliament, as armed men wearing no official insignia seized two local airports

Yanukovych turns up in (surprise, surprise) Russia, and insists he remains the president of the country. Vladimir Putin then requests the use of Russian forces in Ukraine to protect its interests

Russian soldiers, who have bases in Crimea, advance on Ukrainian military bases, sparking anger from European and US politicians, with the UK, US and Canada pulling out of the G8 summit

Ukrainian soldiers, carrying their blue and yellow flag, advanced unarmed toward heavily-armed Russian troops, with one Russian firing three warning shots, the first shots of the conflict

On March 6, Crimea's parliament said it has asked Russian President Vladimir Putin "to start the procedure" of formally allowing Crimea to join the Russian Federation and says it will hold a referendum

With the threat still lingering that Russia could invade parts of eastern Ukraine, leaders are meeting to discuss possible sanctions, but the situation remains tense in the divided nation
At one point he had to stop talking as he fought back tears.
He said peace in his homeland would be the "foundation for the decision" concerning their participation and that military action was incompatible with the ideals of the Paralympic movement.
The whole team had chanted "Peace for Ukraine" as they walked back to their accommodation after the welcome ceremony.