This year Mother's Day falls on Sunday 30 March 2014. And now that you know - there's no excuse to swipe the last wilting flowers at the petrol station on the day itself.
Planning ahead is key to making your mum feel extra special on Mothering Sunday.
So why not make one of our homemade gift ideas or get ingredients to prepare a delicious brunch on the day?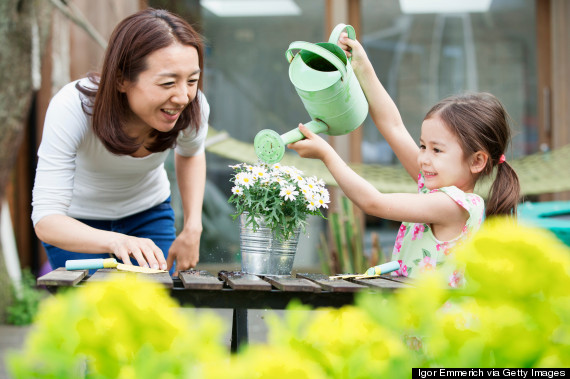 Not a petrol station bouquet in sight...
Tired of buying your mum bunches of flowers each year? Want to make something a little more personalised? Try making a one-of-a-kind homemade gift.
From unique jewellery to a DIY herb garden, she'll appreciate the extra effort. Trust us.
Handmade Mother's Day Gifts
We wouldn't normally recommend giving mom your old clothes for Mother's Day. But for a reuse idea as stylish as this one, we'll make an exception. Follow these simple steps from Katelyn Wheaton of Ninth & Bird to transform your old tees into a brand new spring scarf mom is sure to love.

Like many of us, Serious Craft blogger Karen rescues pretty jars from her recycling bin for reuse around the house. In search of a unique way to show off her favorite finds, the Los Angeles-based crafter created this chic and minimal jar rack from hardware store materials to put her love for reuse on display. Assemble the rack with jar vases for fresh flowers, or take a page from Karen's book and create a re-purposed herb garden that's perfect for mom's kitchen. Try it yourself with this detailed tutorial from Serious Craft.

These adorable photo cube displays may look fresh from the pricy home decor shop, but they're actually made from recycled light bulb boxes. To help mom show off her favorite memories in style, check out this simple tutorial from Tara Dennis to recreate these darling upcycled photo cubes yourself. Worried about sturdiness? Don't be. A bit of extra weight from stale beans keeps this cute memento in place.

Crafted from scallop-shaped seashells and a few basic jewelry materials, this lovely necklace is sure to be a hit with the mom in your life. The professional results may make this project look tricky, but Debi of Debi's Design Diary breaks it down so that even the crafting novice can give it a try with confidence. Check out her tutorial, which includes an easy step-by-step video, at Debi's Design Diary.

Created almost entirely from natural materials, this stunning succulent wreath will make you wonder why you ever gifted mom with a lame ol' grocery store bouquet. Utah-based photographer and succulent aficionado Cassidy Tuttle filled a moss wreath with a variety of succulent cuttings to create this living work of art. Want to give it a try for yourself? Check out her detailed tutorial and step-by-step video for all the guidance you'll need to get it done. Tip: The Succulents and Sunshine blogger notes that making this wreath is a fairly time-consuming process. Creating your own living masterpiece isn't a bad way to spend an afternoon, but you may want to save this one for mom's birthday if you're making your gift at the last minute.

When San Francisco-based crafter Caitlin Dunn discovered a lovely piece of driftwood on a nature hike along the American River, she knew she'd eventually find a creative way to give it new life. After holding onto her found driftwood for a year, the teaspoon blogger finally got the inspiration she needed and created this chic and sea-worthy jewelry display that's perfect for mom's favorite bits of bling. To give it a try on a piece of found wood from your neighborhood or favorite vacation spot, head to Dunn's tutorial at teaspoon.

Re-imagine the standard Mother's Day bouquet with this beautiful handmade alternative from Maria Sadowski of Our Lake Life. Not only will these pretty flowers never wilt, but they're also made from waste paper for a planet-friendly present. Check out the full tutorial at Our Lake Life to give it a try for yourself. Tip: Sadowski used coffee filters and leftover tissue paper to complete her bouquet. But feel free to use any bits of light waste paper you have on hand. Get creative!

We love sourcing craft materials from the great outdoors, and this striking wood slab clock is no exception. The DIY pros at Whimseybox purchased their wood slab at a crafts store, but you can easily recreate their fab design with found wood. Simply choose a piece of wood of the right shape and size, and cut off a thin slab with a hand saw or table saw before getting started. Then, head to Whimseybox for the full tutorial.

Pallets are typically easy to score on the cheap, making them ideal for low-cost reuse crafting. Live Laugh Rowe blogger Kelly Rowe picked up her pallets for free on a curbside and got to work creating these pretty planter boxes that would look great on mom's coffee table or patio. For step-by-step instructions on how to build one yourself, head to the full tutorial at Live Laugh Rowe.

A green gal can never have too many reusable shopping bags. So, why not upcycle some common household materials to make mom a customized bag on the cheap? With only a few minutes of sewing, Stuff Steph Does blogger Stephanie Hayward created this fun drawstring tote from an old tea towel, and it's perfect for those impromptu shopping trips. Check out her guest-post tutorial at Petit Elefant to see how she did it, and give the gift of reusables this Mother's Day.

Made from materials you probably have in an under-the-sink toolbox, this lovely string art plaque celebrates the state that has mom's heart. This pretty pick mimics store-bought state displays that retail for $65 or more. But thanks to a little ingenuity, Moriya Harpster of The Harpster Home managed to make her's for free. Want to give it a try? Check out the full tutorial at The Harpster Home.

Looking for a unique way to display mom's favorite photos? Try transferring them to wood blocks for a truly one-of-a-kind gift. The process may sound tricky, but it's actually much easier than you'd think. In a few simple steps, Ainhoa Vega Bayo of the blog A Little Bit of Everything will show you how it's done.
Another way straight to a mother's heart is through her stomach. Often in chocolate form.
These tasty treats may not last long in the physical sense, but they'll leave a lasting impression in her heart (and on her taste buds).
10 Edible Gifts for the Best-Ever Mother's Day
Get the recipe on Food52. A base of buttery shortbread, topped with a blanket of smooth caramel and then a top layer of chocolate. - Merrill Photo: Melanie Einzig

Get the recipe on Food52. Delightful. These are rich without being heavy, crunchy, and with a delicate bite. The moist mission figs provide a nice contrast. - Carolyn Z Photo: James Ransom

Get the recipe on Food52. I can promise you these will be eliminated within minutes - Jestei Photo: James Ransom

Get the recipe on Food52. Perfect with it's mixture of salted roasted pumpkin seeds, sunflower seeds, and dried fruit all mixed in with molasses, brown sugar, cinnamon and cardamom. - TheWimpyVegetarian Photo: Sarah Shatz

Get the recipe on Food52. For the tea time twist, Rivka has you toast Rooibos leaves until they're beautifully fragrant -- this perfumes your kitchen (and your cookies) from the very first step of this recipe. - A&M Photo: James Ransom

Get the recipe on Food52. These cookies are based on a recipe that originally appeared in Bon Appetit, for hazelnut shortbread; I prefer bittersweet chocolate to the milk chocolate called for in the original recipe. - Rivka Photo: James Ransom

Get the recipe on Food52. A proper rum ball must be dense but moist, and ideally a little gooey. It must sing with booze but shouldn't be too sweet. It should look unpromising and deliver a bang. - Amanda Photo: Sarah Shatz

Get the recipe on Food52. An excellent recipe in every way. DolcettoConfections demystifies French macarons and you discover just how easy they are to make. - Amanda & Merrill Photo: Sarah Shatz

Get the recipe on Food52. Brownies with all the classic fruitcake goodies. Lots of dried fruit and nuts surrounded by melt-in-your-mouth deep chocolate brownies. - JessicaBakes Photo: James Ransom

Get the recipe on Food52. Fennel-seed lovers will be thrilled with these; everyone else will be converted. - vvvanessa Photo: James Ransom
Remember all those breakfasts your mother made you as a chid? Yeah - you owe her, big time.
Get cracking with a tasty brunch for the two of you.
Mother's Day Brunch Recipes
Get the Chocolate Swirl Buns recipe by Annie's Eats

Get the Ham and Cheddar Frittata recipe by Annie's Eats

Get the Strawberry Rhubarb Yogurt Muffins recipe by A Spicy Perspective

Get the Moroccan Merguez Ragout with Poached Eggs recipe by epicureanodyssey via Food52

Get the Ham & Cheese Breakfast Souffle Casserole recipe by Foodiecrush

Get the Baked French Toast recipe by Annie's Eats

Get the Ricotta Pancakes with Orange Syrup recipe

Get the Ham & Cheese Baked Egg Cups recipe by Foodiecrush

Get the Strawberry Stuffed French Toast recipe by Annie's Eats

Get the Butterscotch Sticky Buns recipe

Get the Baked Egg Boats recipe by Bev Cooks

Get the Bacon, Tomato and Cheddar Breakfast Bake with Eggs recipe

Get the Cranberry Orange Cinnamon Rolls recipe by Annie's Eats

Get the Perfect Crepes With Salted Caramel Sauce recipe by Egle via Food52

Get the Eggs en Cocotte recipe

Get the Chocolate Chip and Banana Muffins recipe

Get the Blueberry-Banana Pancakes recipe

Get the Oversize Breakfast Biscuit recipe

Get the Hush Puppies With Green Zebra Tomato Jam recipe

Get the Sweet Potato Doughnuts recipe

Get the Naan Breakfast Pizza recipe by ABCDs of Cooking via Food52

Get the Strawberry-Almond Scone recipe

Get the Overnight Apple-Cinnamon French Toast recipe by Sandy via Food52

Get the Baked Eggs With Guac recipe by abuck via Food52

Get the Banana-Walnut Pancakes with Maple-Cinnamon Brown Butter recipe

Get the Nutella Stuffed French Toast recipe by ShowFoodChef via Food52

Get the Homemade Waffles with Honeycomb Butter and Bananas recipe

Get the Fig and Walnut Loaf recipe

Get the Broccoli and Cheesy Cheddar Pie recipe

Get the Sticky Oat-and-Pine-Nut Bars recipe