Benedict Cumberbatch's voice is just one of the many distinctive traits that have made him so popular with a worldwide fanbase.
So it's no surprise that his services have been called upon by British car manufacturer Jaguar, to help convey the power of its vehicle.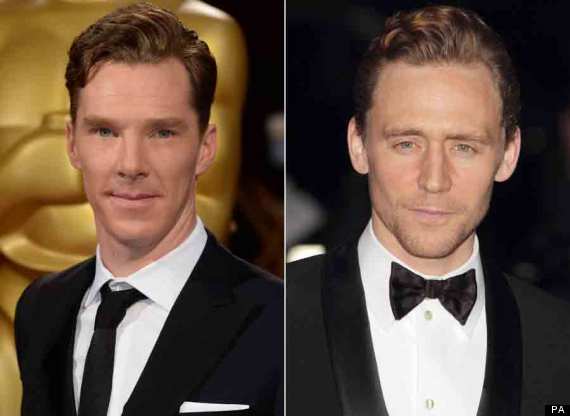 Who shall we get? It's a tough problem to have...
The 'Sherlock' actor has been helping to provide the narrative for Jaguar for a few years now, but was not called upon, surprisingly, to join the British luminaries in Jaguar's recent campaign, concentrating on British stars famous for playing villains. Instead, they went with Tom Hiddleston, Mark Strong and... err, Ben Kingsley. One can only assume Mr Cumberbatch, who was a capable villain in the recent 'Star Trek' film was, as usual, busy on a film set somewhere....
However, he's back in the driving seat for Jaguar's most recent ad, and pretty much showing the rest of them how it's done.
Here's Cumbers in full throttle...
And here's Hiddleston and the rest... what do you reckon, no contest? Or is this a proper British battle?
The 9 Sexiest British Actors Who Make Us Swoon
Colin Firth, 52, may have received the most critical acclaim for his 2010 portrayal of King George VI in "The King's Speech." But he had all the ladies swooning with his portrayal of the haughty Mr. Darcy in "Pride and Prejudice."

Jeremy Irons, 64, earned international acclaim decades ago with his breakout role in "Brideshead Revisited." Since then he's also earned a lot of requests to play the romantic leading man.

Sean Connery may be 82 but there's a reason he was proclaimed "Sexiest Man Alive" by People magazine in 1989 and "Sexiest Man of the Century" in 1999. Very few men are as suave.

Jason Isaacs, 50, may be best known for his portrayal of Lucius Malfoy in the Harry Potter films. But he was unbelievably sexy in the short-lived American fantasy TV drama "Awake."

Hugh Laurie, 54, gained widespread popularity by playing a curmudgeon in the hit TV series "House." But he was absolutely engaging as a suburbanite going through a midlife crisis in "The Oranges."

Tom Wilkinson, 65, may not be sexy in a Ryan Gosling sort of way. But the range of emotions he displayed in his roles in movies such as "The Full Monty" and "The Best Exotic Marigold Hotel" make him extremely appealing.

Daniel Day-Lewis, 56, is the only person to win the Oscar for best actor three times, most recently for his exactingly authentic performance as President Abraham Lincoln in Steven Spielberg's popular drama, "Lincoln."

Hugh Grant, 52, recently became a father for the second time to a son named Felix. (He already has a daughter, Tabitha.) The 5'11" actor has had more memorable roles than we can count, but perhaps none so charming as Will Thacker, the bumbling bookstore owner in "Notting Hill."

Ralph Fiennes, 50, has been dazzling audiences around the world ever since 1993, when he burst onto the international stage with his role as Nazi sadist Amon Goeth in "Schindler's List."