A vaccine to prevent infection with a common herpes virus, the Epstein-Barr Virus (EBV), could help prevent up to 200,000 new cancers worldwide each year, say Cancer Research UK.
More work is needed to develop a vaccine against EBV, which is linked to a number of cancers including lymphoma, according to experts.
Research funded by the charity led to the identification of the virus and its association with cancer 50 years ago.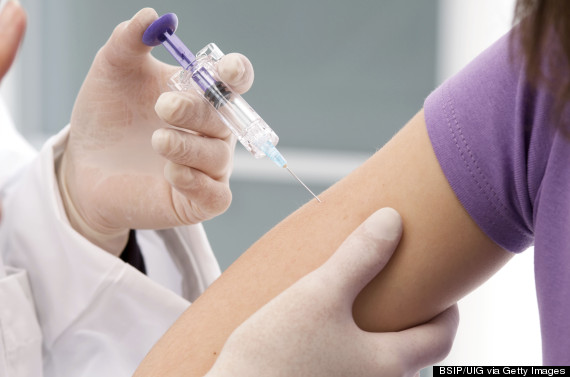 Speaking on the anniversary of the discovery, Cancer Research UK scientist Professor Alan Rickinson, from the University of Birmingham, said: "We now know so much about how the virus contributes to the development of.. particular types of cancer.
"The next big challenge is to develop a vaccine that will prevent infection by the virus.
"We believe that a successful EBV vaccine could prevent up to 200,000 new cases of cancers per year."
Around 95% of the global adult population is infected with EBV. Many people pick up the virus in childhood and carry it for life with no ill effects.
Story continues below the slideshow:
Know Your Body, Spot Cancer Symptoms
AXA's research found that 79% of people were able to correctly identify breast lumps as a potential indicator of cancer. But a lump or swelling in any part of the body, including the armpit, neck, abdomen, groin or chest area, is worth having checked by a doctor.

Diarrhoea or changes in bowel habits are most likely to be caused by a stomach bug or eating something that disagrees with you. But if you're noticing changes that have lasted more than a few days, for example if your bowel movements are looser for three weeks or more, or you notice any blood when you've been to the toilet, then make an appointment to get it checked out.

A lot of people get mouth ulcers when their immune system is low or they're stressed. Generally they're nothing to worry about and, as the lining of the mouth regenerates itself every couple of weeks, shouldn't last long. But any ulcer that hasn't healed after three weeks merits attention from your doctor or dentist. The same goes for any sore or spot that lasts for several weeks without healing – get it checked by a doctor.

Many men find it more difficult to pass urine as they get older, needing to go more often or urgently or being unable to go when they need to. These problems are usually caused by an enlarged prostate, which is a common condition that is not in itself cause for concern. But occasionally these symptoms can be a sign of prostate cancer – either way, men experiencing these symptoms should see their GP. Similarly, while urinary tract infections are the most likely cause of women having pain or difficulty passing urine, this should pass relatively quickly. If it doesn't, then any sudden urges to pass urine or the need to go more often should be discussed with your doctor.

It's natural for most people's weight to fluctuate over time. But if you haven't instigated any changes in your diet or exercise regime and have obviously lost weight, then talk to your doctor. And if you're experiencing heavy night sweats you should seek medical advice – these don't always have a sinister cause, and can be brought about by certain infections or medications, but they're worth checking.

If you've coughed up any blood, you should see your doctor, regardless of the amount of blood or frequency. It can be a sign of lung cancer, so needs to be checked out.

Most of us will experience coughs or croaky voices at some point, normally when we've had a cold. But as with many other changes to your body, anything that hasn't gone away after three weeks or so should be investigated.

AXA's research found women were more likely than men to identify key cancer warning signs, including breast lumps, changes in bowel habits and irregular moles. But for both men and women, ensuring you're aware of symptoms to keep an eye out for is important. Knowledge is power: understanding what you're looking for means you can any changes checked out quickly.

AXA's research found only 6% of men and 3% of women check their bodies daily for anything unusual. But understanding what's normal for your own body is essential if you're to spot when anything has changed. If you do notice changes that are persisting for a long time, or causing you pain and discomfort, then see your GP.

A sizeable 61% of people AXA spoke to admitted they'd delayed seeing their doctor when they spotted changes that could be potential flags for cancer. But early detection of any problems can make a huge difference if any treatment is then needed. Similarly, if changes are harmless your doctor will be able to reassure you. Overall, the sooner you go to see your GP, the better.
Others infected as teenagers may develop glandular fever but make a full recovery - but in some individuals the virus can trigger cancer.
The most common cancer associated with EBV in the UK is the blood disease Hodgkin lymphoma, as well as a different form of lymphoma common in transplant patients.
Burkitt lymphoma, gastric carcinoma, and the nasal tumour nasopharyngeal carcinoma are other cancers linked to the virus.
Around one in 10 gastric, or stomach, tumours contain high levels of EBV.
See Also:

Women Take Bare-Faced Selfies To Spread Cancer Awareness - Would You Do It?

Sophie Jones, Teenager Dies From Cervical Cancer After Being Told She Was Too Young For A Smear Test
In total EBV is believed to be responsible for an estimated 0.4% of all cancers in the UK each year, leading to 1,200 diagnosed cases in 2010.
Dr Graham Taylor, another Cancer Research UK-funded scientist also based at the University of Birmingham, said: "We know that it's possible to make a vaccine to prevent certain types of virus-associated cancer developing.
"Vaccination against human papillomavirus (HPV), the virus linked to cervical cancer in women, is a shining example.
"EBV is a different type of virus and is transmitted in a different way. But the basic principle remains the same. For EBV, we now need to develop the science that can turn that principle into a reality."
LIKE HUFFPOST UK LIFESTYLE ON FACEBOOK | FOLLOW US ON TWITTER
Nell Barrie, senior science information manager at Cancer Research UK, said: "The past 50 years of research has been an exciting journey, from the discovery of the virus to gathering the proof that EBV plays a key role in several cancers and an understanding of how the virus does this.
"Thanks to all this research, we're moving closer towards the goal of being able to prevent EBV infection with a vaccination, potentially stopping many children and adults around the world from developing cancer."
EBV takes its name from Sir Anthony Epstein and his research assistant Dr Yvonne Barr, who discovered the virus in 1964 while working at London's Middlesex Hospital.
A national conference is taking place in Oxford this week to mark the discovery's anniversary.