Huffington Post UK Comedy Editor Andrea Mann rounds up today's April Fools' Day pranks from around the world (wide web)...
Share +
Thank you, Firebox. Thank you for creating a) a genuinely laugh-out-loud funny spoof and b) a product I want to exist so badly that it's gone straight in at number one on my 'April Fools' Day Stories I Most Wish Were True' (previous leader: this wellington boot art installation).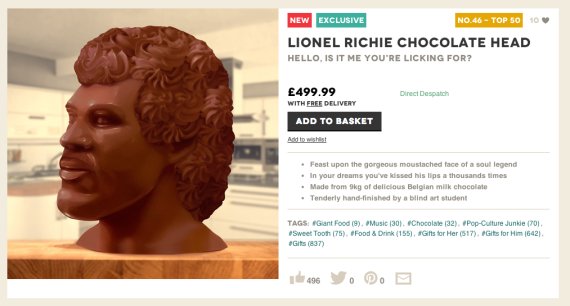 "Made from 9kg of solid Belgian chocolate, each highly-detailed head takes two arduous weeks to complete," explains the listing on Firebox. "Initially 3D printed from an actual mould of the soul legend's gorgeous face, it's then lovingly hand-finished by a blind art student."
And its ingredients are listed as "Milk Chocolate (33.6% cocoa solids, 21.8% milk solids), coca butter, sugar, party, Karamu, fiesta, forever".
Brilliant.
If only there was a chocolatier out there somewhere that could make this happen. It is nearly Easter, after all.
(Hat-tip: T'Other Simon)