Lucy Beale is in for an eventful beginning to her week on 'EastEnders', after she suffers a head injury following a row with her secret beau Max Branning.
In scenes airing on Monday night, Lucy (Hetty Bywater) goes to Max (Jake Wood) for comfort after her father, Ian (Adam Woodyatt) refuses to take her business idea seriously.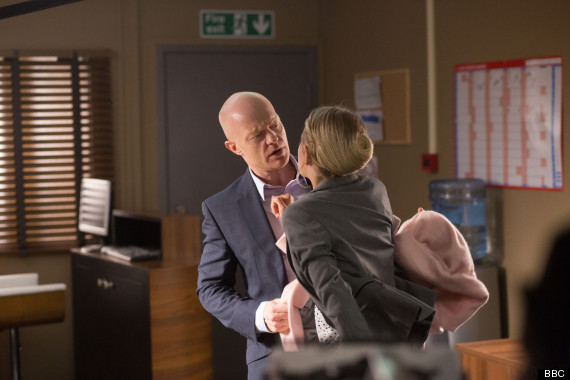 Lucy and Max
However, when Max confesses he's actually on Ian's side in the argument, the pair find themselves embroiled in a row, which climaxes with Lucy falling and hitting her head.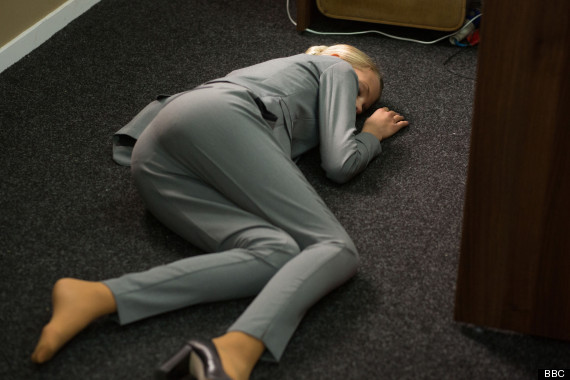 Lucy hits her head following the argument
Max quickly tends to her injury, although it certainly looks like there's a lot of tension in the air.
It was recently revealed that later this year Lucy will be killed off in a dramatic 'whodunnit' story arc.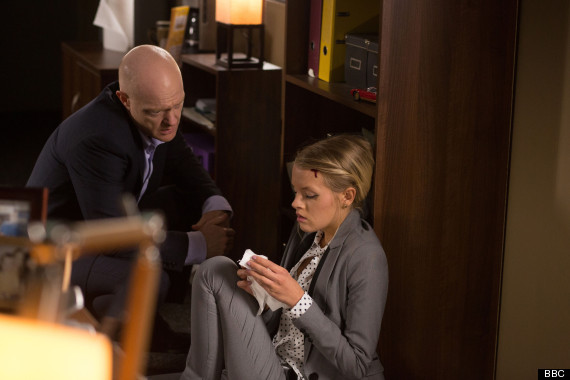 Max looks after Lucy following their spat
It's been reported a number of Albert Square residents could be potential suspects, though viewers will not discover who did the deed until the show's 30th anniversary celebrations.
The cast of the soap have been photographed filming the scenes for Lucy's funeral, though they gave no indication as to who the culprit could be as it looked like all of her friends and family would be in attendance.
Watch Max and Lucy come to blows on 'Eastenders' this Monday, April 14 at 8pm.
'EastEnders': Who Killed Lucy Beale?
Lauren Branning Motive: BFFL Lucy has been rubbing belly buttons with Lauren's Dad Max. Enough said.

Billy Mitchell Motive: Lucy hasn't very nice to poor Billy and we reckon he could finally snap and actually react to someone's mickey-taking for once.

Lady Di Motive: This mutt is the shadiest newcomer of them all, just look at that face. There's darkness in those eyes, y'know.

Whitney Dean Motive: Newcomer Lee Carter chooses Lucy over Whitney, which in Soap world means she has more than enough of a reason to bump off her former pal.

Danny Pennant Motive: He bedded and then betrayed Lucy earlier in the year before dashing off - but could he come back and murder the youngster? We've seen more ridiculous things happen before.

Max Branning Motive: We all felt a bit queasy when it was revealed that Max was Lucy's secret lover and when we stopped feeling green we released that this HAS to make him suspect number one, surely?

Dot Cotton Motive: She's been lending a sympathetic ear to the residents of E20 for longer than we can remember. Everyone has to crack at some point.

Peter Beale Motive: He's been fed up of coming second to sister for a while now so it's definitely possible that Peter could finally reach breaking point and get rid of his sister.

Phil Mitchell Motive: Has there ever been a murder that Phil isn't in some way related to? No, exactly.

Cindy Williams (Beale) Motive: Cindy reveals a jaw-dropping secret about Lucy just before her shock death, perhaps the pair get involved in a fight with tragic consequences?

Tracey Motive: Well, it's about time she got a proper story line, isn't it? Also, we've definitely seen her giving Lucy the evil eye occasionally.

Ian Beale Motive: He's has to listen to Lucy's whining, deal with her problems and clear up her mess for the last 20 or so years. How many more trials can their father-daughter relationship take?

Mick Carter Motive: Danny Dyer's characters always kill people. We've seen his films and reckon Danny must make sure there's a murder plot in store before signing up to any project.

Aleks Shirov Motive: We've already seen his nasty side but we think there's more to this shady character, who is currently dating Roxy Mitchell. A definite one to watch.

Lee Carter Motive: The newest addition to the Square wasted no time in bedding Lucy and hooking up with Whitney. He's an ex-Army lad so he could probably take down the young business woman - and stay calm enough to clear up the mess afterwards.
href="http://www.facebook.com/HuffPostUKEnt"target="_hplink">LIKE US ON FACEBOOK | FOLLOW US ON TWITTER