A mother-of-three says her family holiday to Disneyland was ruined after a park employee told her to cover up her cleavage.
Melissa Behnken was at the gates of Disney's California Adventure Park when she says she was approached by an elderly male worker.
She told 10News.com: "This gentleman out of nowhere comes up to me and just says 'You need to pull your top up.'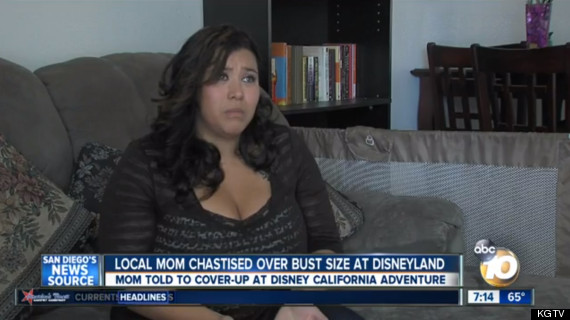 Melissa Behnken was asked to cover up at the gates of Disney's California Adventure Park
"I was looking at him like, 'Excuse me? Are you serious?' He replied: 'This is a family park. You are showing too much',"
Behnken, who was celebrating her husband's return from the US Marine Corps added: "I guess women with large chests are expected to wear turtlenecks their whole lives.
"This was our first family vacation and for me, it was ruined."
Pictures of Behnken at the park show her wearing a leopard print vest underneath a black lace top.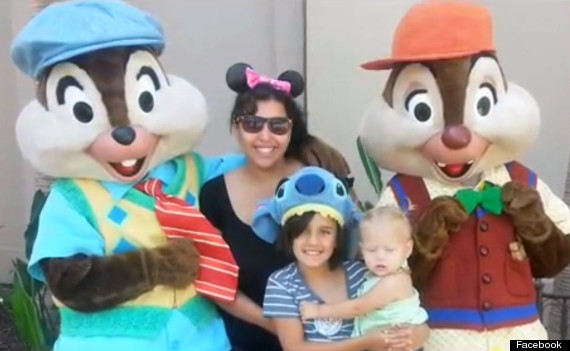 Behnken says the day out was 'ruined' for her
Disneyland's online FAQ section does mention a dress code, specifying: "Attire that is not appropriate for the theme parks (and which may result in refusal of admittance) includes but is not limited to: Clothing which, by nature, exposes excessive portions of the skin that may be viewed as inappropriate for a family environment."
According to Metro US, Behnken complained about the incident and has since received a formal apology by telephone.
In a statement to the Huffington Post UK, Disney said: "As soon as we were made aware of the incident, we reached out to Mrs Behnken to address her concerns and apologise.
"We also took appropriate action with the involved cast member," said Suzi Brown, director of Media Relations for the Disneyland Resort.
10 Things You Don't Know About Breasts
The most popular bra size in the UK is 36D, up from a 34B ten years ago. The increase is thought to be down to the popularity of cosmetic surgery, better nourishment and the pill.

Yes! Most women have one breast bigger than the other, and research shows that it's usually the left one that's larger, although no one really knows why.

Sheyla Hershey is thought to have the world's largest breast implants. Brazilian-born housewife living in Houston, Texas wears a 38KKK bra and the implants are 10,000 cc's.

Worldwide B is the most common cup size, smaller than the average British woman who wears a D cup bra.

Due to hormones released during ovulation, a woman's breasts are most symmetrical between days 14 and 16 of her monthly cycle.

Humans are the only species to have permanently enlarged breasts, other animals only have them when nursing.

The average breast weighs 1.1 lbs and contains 4-5% of the body's total fat.

Due to the chemicals in cigarettes breaking down the body's elastin, smokers often have saggier breasts than non-smokers.

Breast milk is sweeter, has more vitamin E, more iron, less essential fatty acids and less sodium than cow's milk.

For breastfeeding purposes, it doesn't matter whether a woman is an A cup or a D. Women with smaller breasts sometimes worry they'll be unable to nurse their babies, but it's actually women with larger breasts who sometimes have greater difficulties because of positioning issues.