'Britain's Got Talent' made its much-awaited return to our screens last week, and as the first round of auditions pulled in its highest ever viewing figures, our fair nation proved once and for all that it can still put on a good show.
The first auditions had a little bit of everything - the good, the bad and the owl-y - so the stakes are now even higher for the hopefuls performing for Simon Cowell, Alesha Dixon, Amanda Holden and David Walliams in Saturday night's episode.
Luckily, this week's lot managed to pull it out of the bag, and here are just five of the acts we think you should be keeping an eye out for…
1. Lady Enchantress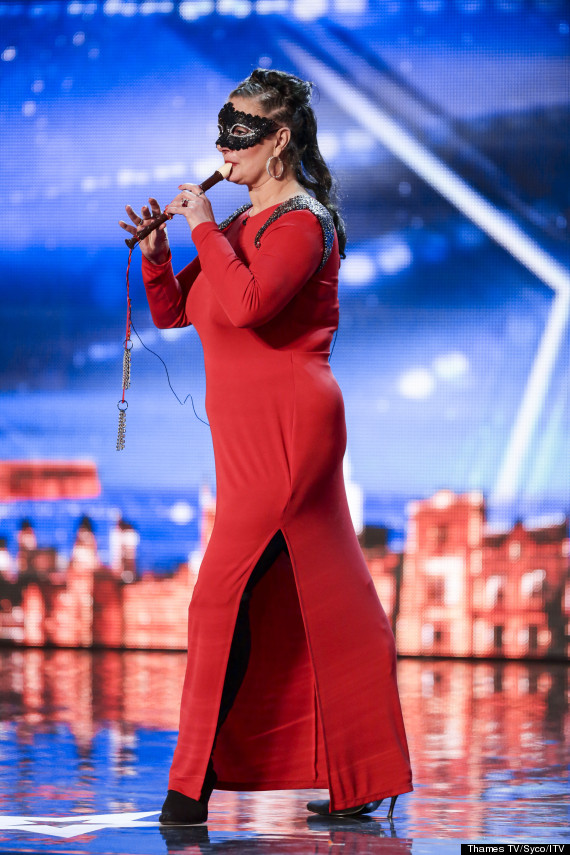 Lady Enchantress hopes to put a spell on the judges
With a stage moniker like Lady Enchantress, we were rather hoping the first act of the episode might be offering something truly exceptional. Fire-eating, perhaps, or lion-taming. Instead, Lady Enchantress - who reveals early on that her slightly less impressive birth name is Jane - attempts to wow the judges by playing the recorder. Yes, the recorder - that instrument you picked up when you were eight years old, learned to play 'Hot Cross Buns' on and then never played again. But will her musical gift 'enchant' the panel?
2. Lettice Rowbotham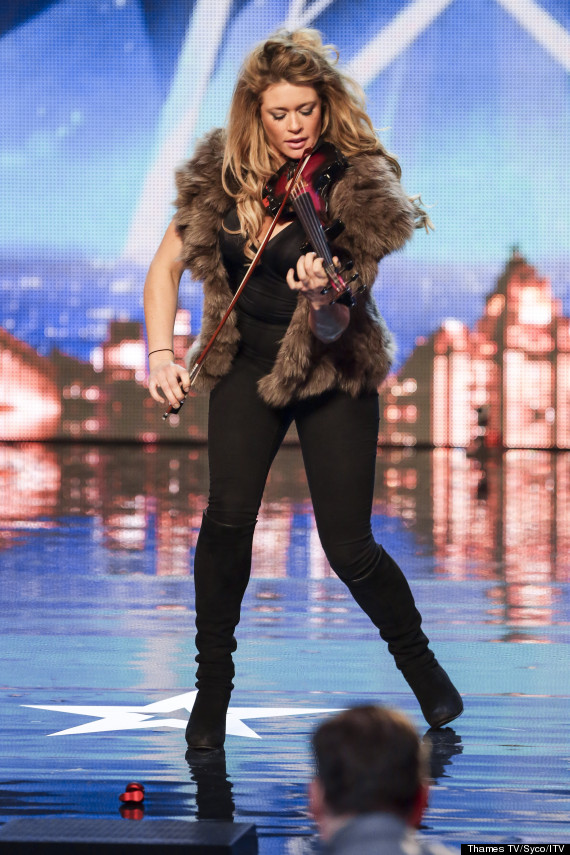 Lettice 'Like The Salad' Rowbotham
Taking to the stage and immediately telling the audience her name was Lettice, "like the salad", it's obvious this classical violinist isn't going to appeal to everyone. Described by David Walliams as, "the poshest contestant we've ever had on the show". Lettice tells a fellow hopeful backstage that she hasn't properly rehearsed, and later confides in Ant and Dec that she is "too hungover to be nervous". Will Simon Cowell appreciate her apparent lack of preparation?
3. Darcy Oake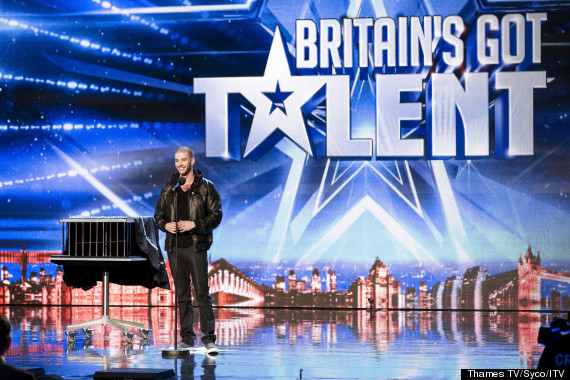 Darcy Oake
Darcy is one of many illusionists we see during Saturday's show, and it's obvious the judges are beginning to grow tired of amateur-ish magic tricks. Luckily, Darcy quite literally has something special up his sleeve. The Canada-born magician - who reveals he's only in the UK so he can audition for 'BGT', which we're sure the ever-rational people of Twitter are just going to love - has a pretty impressive knack for turning things into doves, a useful skill if ever there was one. Handkerchiefs, feathers, even other doves all get the sensational Darcy treatment, though would the 'Britain's Got Talent' judges really put a magician through to the semi-finals?
4. Edward Pinder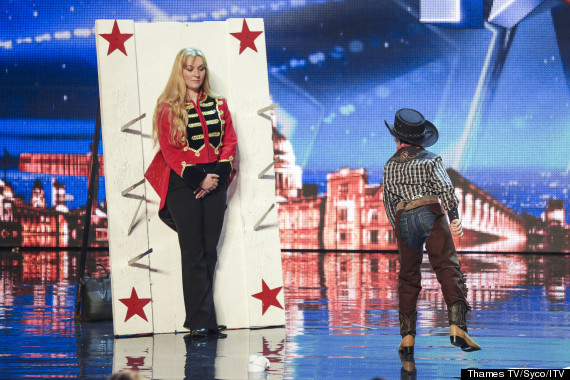 Knife-thrower, Edward Pinder
This definitely looks set to be one of the biggest series of 'Britain's Got Talent' in the show's history, and as the show gets bigger the auditions are seeing even more impressive daredevil stunts. Keep an eye out for the Bolddog FMX team, who perform an astounding set of aero-gymnastics while gliding through the air atop motorbikes, but the act we really think is going to have people talking is knife-thrower Edward Pinder. The 11-year-old circus performer stuns the audience when he does his knife-throwing act around his mother, with a trained medic standing by in the wings and a message from producers that viewers shouldn't try this at home. And things take an even more interesting turn when Simon Cowell announces that he wants to get involved… Could this be curtains for the music mogul?
5. Christian Spridon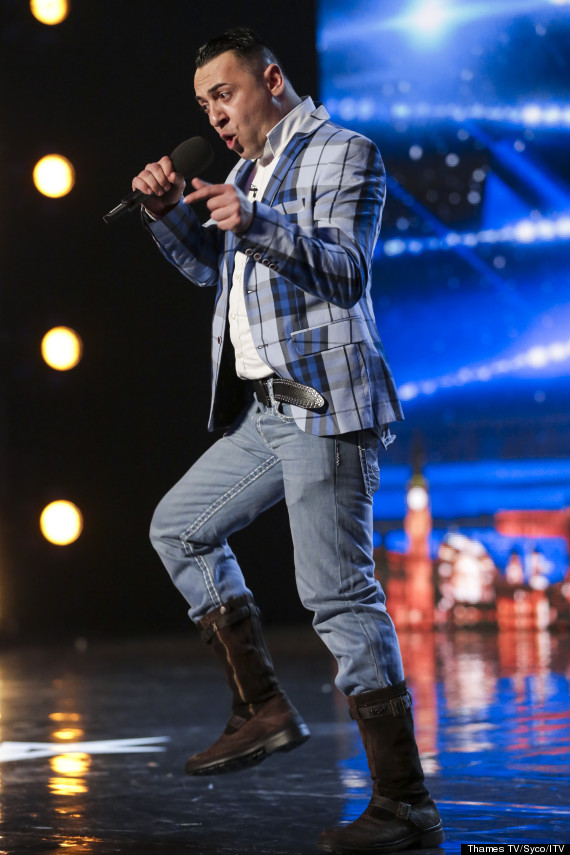 When Wagner met Chico; it's Mr. 'Sex Bomb' himself, Christian Spridon
There are certain songs that TV viewers get sick of hearing contestants perform for their auditions. Adele's 'Someone Like You', Nina Simone's 'Feeling Good', and even Susan Boyle's now-iconic 'I Dreamed A Dream' - originally from the musical 'Les Misérables' - are just three of the songs that have now all been done to death by talent show hopefuls. So it's a bit refreshing when Romanian waiter Christian decides to take the unorthodox route and perform Tom Jones's heartwarming hit 'Sex Bomb' as his audition piece. Unfortunately his vocals aren't quite up there with Sir Tom's. We don't want to spoil it for you, but believe us when we say the shock ending of his audition is not to be missed.
Find out how all of these acts got on in the next 'Britain's Got Talent' audition show, airing Saturday, April 19 at 7pm on ITV.
Britain's Got Talent: Where Are They Now?
Who? Jack Carroll In A Nutshell: Hilarious, and surprisingly touching, mini Jason Mamford BGT Series: 7 How Did They Do? Runner-up Who Did They Lose To? Attraction Where Are They Now? In between studying for his GCSEs (!), Jack is still performing stand-up in venues all over the country, and has signed a deal with Simon Cowell to release his autobiography which will detail his childhood, living with cerebral palsy and his rise to fame on 'BGT'.

Who? Richard & Adam In A Nutshell: A pair of Welsh brothers BGT Series: 7 How Did They Do? Finalists Who Did They Lose To? Attraction Where Are They Now? Since making it to the final of last year's show they've released not one but two albums, which isn't bad at all considering their performance in the final was rather upstaged by disgruntled violinist Natalie Holt, who was seen pelting the judging panel with eggs before quickly being escorted offstage by producers.

Who? Gabz In A Nutshell: Onesie-wearing youngster hoping to be the next Alicia Keys BGT Series: 7 How Did They Do? Finalist Who Did They Lose To? Attraction Where Are They Now? After wowing the judges - and the general public - with her original composition 'The One', Gabz released it is a single on Simon Cowell's label, where it peaked inside the UK top ten. Not bad considering she's just 15 years old.

Who? George Sampson In A Nutshell: Shy schoolboy who surprised us all with his impressive dance skills BGT Series: 2 How Did They Do? Winner Where Are They Now? George was just 14 when he wowed us with his 'Singing In The Rain' breakdance performance, and his career his since gone from strength to strength. Although he found fame as a dancer, you're more likely to see him acting these days, and has had TV roles in 'Mount Pleasant' as well as 'Waterloo Road'.

Who? Diversity In A Nutshell: Dance troupe with a different who wowed the public with their innovative routines BGT Series: 3 How Did They Do? Winner Where Are They Now? Undeniably one of Britain's Got Talent's biggest success stories, Diversity did it all following their big win - they've sold out UK tours, appeared in the film StreetDance 3D and become household names as individuals too - Ashley Banjo is now a judge on Sky's 'Got To Dance' while Perri Kiely recently triumphed in the second series of 'Splash!'

Who? Ashleigh and Pudsey In A Nutshell: One girl and her dog BGT Series: 6 How Did They Do? Winner Where Are They Now? After becoming the first animal act to win 'BGT', Pudsey become an overnight household name. Later this year 'Pudsey: The Movie' will hit cinemas, while they have also appeared together in the ITV2 series 'Top Dog Model'. Our favourite Ashleigh and Pudsey moment, though, was when they did a conga with Kim Kardashian on 'Alan Carr: Chatty Man'. Despite it all Pudsey has not let fame go to his head.

Who? Attraction In A Nutshell: That trick you used to do with a torch when you were a kid, on a much grander scale BGT Series: 7 How Did They Do? Winner Where Are They Now? They won Britain's Got Talent in 2013 and since then have performed in venues all over the globe including China, Las Vegas and, of course, for the Queen at the Royal Variety Performance. Of course, their crowning achievement will always be getting the ice-hearted Simon Cowell to actually shed a tear, and they didn't even need to threaten Squiddly and/or Diddly.

Who? Paul Potts In A Nutshell: He can bring a tear to your eye with his singing and fix your mobile at the same time BGT Series: 1 How Did They Do? Winner Where Are They Now? Paul won the very first series of 'Britain's Got Talent' with his impressive operatic performance, and has since gone on to release albums, a memoir and even had a film made about his life, 'One Chance', which saw James Corden in the lead role.

Who? Loveable Rogues In A Nutshell: Olly Murs x3 (with instruments) BGT Series: 6 How Did They Do? Finalists Who Did They Lose To? Ashleigh and Pudsey Where Are They Now? After coming fourth on 'BGT', Eddie Brett, Sonny Jay Muharrem and Te Qhairo Eugene were snapped up by Simon Cowell (surprise, surprise) and signed to his Syco label. Despite supporting Olly Murs on his UK tour, the group were dropped by Simon's label in October 2013, and are now gearing up to release a new EP, 'Honest'.

Who? Stavros Flatley In A Nutshell: Michael Flatley-inspired father (Demetri) and son(Lagi) comedy dance combo. Except Greek. With no dancing talent. BGT Series: 3 How Did They Do? Finalists Who Did They Lose To? Diversity Where Are They Now? Since the show, they have been performing all over the world including gigs in Cyprus, Greece, Australia and China, and continue to do so today. They also released a book, 'How to Be (A Little Bit) Greek' in 2009, but Demetri ran into financial trouble in 2011 when his electrical firm went into administration.

Who? Shaheen Jafargholi In A Nutshell: The original Ronan Parke BGT Series: 2 How Did They Do? Finalist Who Did They Lose To? George Sampson Where Are They Now? Shaheen's love of Michael Jackson saw him invited to join him at his This Is It gigs in London. After Michael suddenly died before the tour, Shaheen performed a tribute to him at the 2009 Mobo Awards. A month later he flew to the US to appear on Oprah and the Jackson family invited him to sing at Michael's globally televised funeral memorial service. After then signing a record deal, Shaheen is still waiting to release music after plans for his album were shelved.

Who? Susan Boyle In A Nutshell: Reclusive Scottish spinster to international star in 24 hours BGT Series: 3 How Did They Do? Runner-up Who Did They Lose To? Diversity Where Are They Now? She might not have won series 3 of 'BGT' but SuBo is by far the most successful act to have come out of the show. Her debut album 'I Dreamed A Dream' was the fastest selling UK debut album of all time selling 411,820 in its first week and reached No.1 on both sides of the Atlantic. She has since released another three hit albums and received two Grammy nominations. Despite being worth over £22 million, Susan still lives in a council house in Blackburn.

Who? Twist & Pulse In A Nutshell: Body-popping street dance duo made up of cheeky chappy pals Ashley Glazebrook (Twist) and Glen Murphy (Pulse) BGT Series: 4 How Did They Do? Finalists Who Did They Lose To? Spellbound Where Are They Now? After finishing second in 2010, they released a single called 'Jump' a year later with little success. The dancing duo then went on to support Jedward on their Irish tour before returning to the show in 2012 after setting up their own dance troupe, 'Twist and Pulse Dance Company', who reached the live semi finals. The lads then went up and down the country on the Olympic torch relay, performing every night at the torch stopovers.

Who? Escala In A Nutshell: String quartet. Definitely not fuddy-duddy. BGT Series: 2 How Did They Do? Finalists Who Did They Lose To? George Sampson Where Are They Now? After Simon Cowell snapped the girls up and signed them to his Syco label they released their Trevor Horn-produced eponymous debut album, which reached No.2 on the UK album chart. They've yet to release another longplayer but have a new member in the shape of Honor Watson (replacing original member Izzy Judd, who married McFly's Harry) and continue to tour and play private events.

Who? Jonathan and Charlotte In A Nutshell: Unlikely teen opera duo who did a 'Susan Boyle' BGT Series: 6 How Did They Do? Runners Up Who Did They Lose To? Ashleigh and Pudsey Where Are They Now? After signing to Simon Cowell's Syco label for £1 million, the duo released their debut album, 'Together', which went gold in the UK and reached No.5 on the UK album chart - the highest every entry by a classical album into the main album chart. Unfortunately it wasn't to last, and in February 2014 they announced they were going their separate ways as solo artists. We were very emotional, it was like H & Claire all over again...

Who? Flawless In A Nutshell: Street dance troupe who were definitely not like Diversity (ahem) BGT Series: 3 How Did They Do? Finalists Who Did They Lose To? Diversity Where Are They Now? The dance group may not have had what it took to beat champions Diversity in the 2009 final, but they didn't do too badly afterwards. They appeared in the 2010 film 'StreetDance 3D' and its 2012 sequel 'StreetDance 2', and also performed with Kylie Minogue outside Buckingham Palace at The Queen's Diamond Jubilee concert.

Who? Ronan Parke In A Nutshell: Cutie-pie singer who melted Amanda Holden's heart BGT Series: 5 How Did They Do? Finalist Who Did They Lose To? Jai McDowall Where Are They Now? After a shock result which saw the firm favourite come second, Simon Cowell quickly signed Ronan in a joint deal with another label. However, his record deal was short lived after his debut album failed to set the charts alight. Ronan is still planning to release more music and performed at the Beijing New Year Gala to an estimated TV audience of 700 million.

Who? Only Boys Aloud In A Nutshell: Welsh choir made up of (you guessed it) only boys BGT Series: 6 How Did They Do? Finalists Who Did They Lose To? Ashleigh & Pudsey Where Are They Now? Having already achieved minor success before 'BGT', the all male choir were signed to Sony following the show. They teamed up with fellow series six runner-ups Jonathan and Charlotte on 'The Prayer' before releasing their own album in November 2012.
href="http://www.facebook.com/HuffPostUKEnt"target="_hplink">LIKE US ON FACEBOOK | FOLLOW US ON TWITTER