The sign-language interpreter at the Nelson Mandela memorial event has resurfaced in a disturbing advert for a video-sharing app.
Thamsanqa Jantjie, who has previously claimed he suffers from schizophrenia, stars in the clip for Tel-Aviv-based firm LiveLens.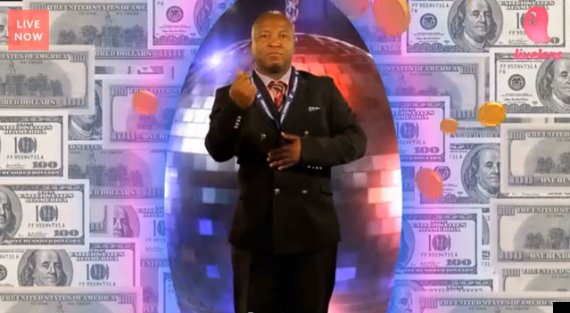 Thamsanqa Jantjie appears in the new ad for video-sharing app LiveLens
"Believe me, I'm a real professional sign language interpreter.
"I'm really sorry for what happened. Now I want to make it up to the whole world."
A peculiar montage follows with Jantjie signing at a podium lined with hundred-dollar bills, and topless, riding backwards on a horse, while a female voice intones: "Me famous celebrity... Now I do campaign for money. Introducing LiveLens.
"An app that allows you to broadcast live to your friends and your followers. Remember, the most interesting things happen live."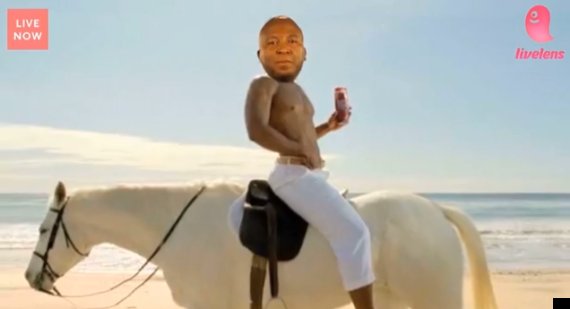 It features Jantjie topless, sitting backwards on a horse...
At this point Jantjie appears to be decapitated, before returning to the screen – intact – and removing his jacket to dance by the firm's logo.
He added Jantjie was later discharged and has returned to his family.
By way of explanation, Max Bluvband of LiveLens tells Huffington Post UK: "Since LiveLens is an app that allows you easily to stream your 'life moments' live to all your friends and followers simultaneously from your mobile, we were seeking someone who was the worst presenter ever of live shows.
"Clearly, Thamsanqa Jantjie is answering this criteria. People stop to watch car crashes.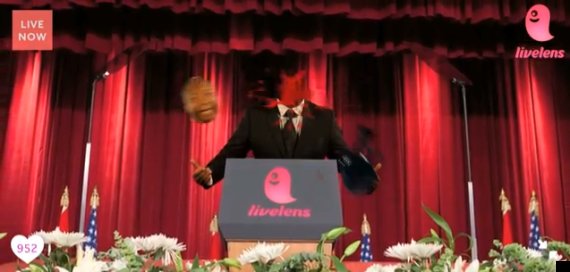 ...and appearing to be decapitated while he stands at a podium
"This is the first of a number of endorsers we have lined up. As we will disrupt the app space, none was better than Mr Jantjie to raise awareness of LiveLens app for live social streaming."
Jantjie was thrust into the spotlight after deaf people at Mandela's funeral in December last year revealed he had repeatedly signed "nonsense" during the four-hour ceremony.
Experts pointed out the 34-year-old continuously mimed the words "prawn" and "rocking horse".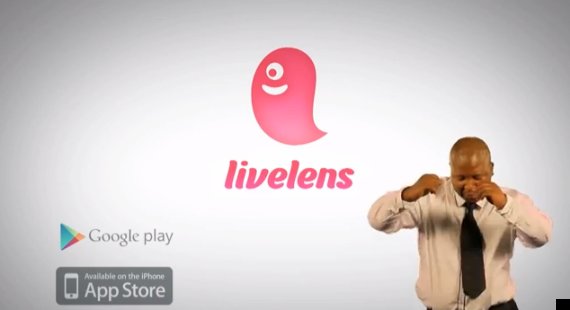 The ad ends with Jantjie removing his jacket and dancing energetically
He said: "There was nothing I could do. I was alone in a very dangerous situation. I tried to control myself and not show the world what was going on. I am very sorry, it's the situation I found myself in.
"Life is unfair. This illness is unfair. Anyone who doesn't understand this illness will think that I'm just making this up."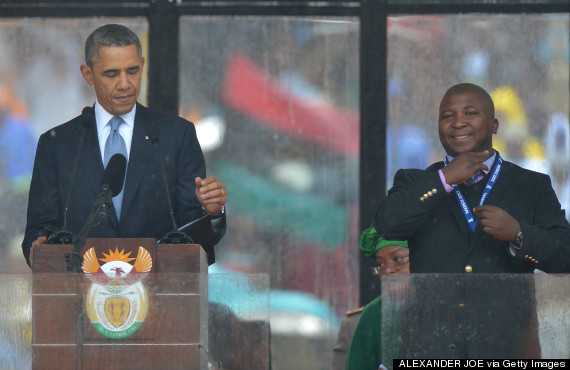 Jantjie signed alongside President Barack Obama among other heads of state at the memorial service for Nelson Mandela
It is thought many of the charges against him, the earliest of which dates back to 1994, were dropped as he was deemed unfit to stand trial.
The Associated Press reports Jantjie was institutionalised for around a year, after which he began work doing sign language interpretation for the African National Congress Party.
He also provided his services at a South African President Jacob Zuma speech in 2012. Last year, footage re-emerged of Jantjie signing as Zuma sings anti-apartheid song 'Kill the Boer'.
Jantjie can be seen standing next to the President repeatedly making a machine gun motion and a 'shimmy-style' dance move.
He also copies the president exactly as he makes a hand gesture at the start of the speech, and stands motionless in parts while Zuma is talking.
More information about schizophrenia here.
Nelson Mandela memorial at the FNB Stadium in Soweto
SUBSCRIBE TO & FOLLOW UK DAILY BRIEF