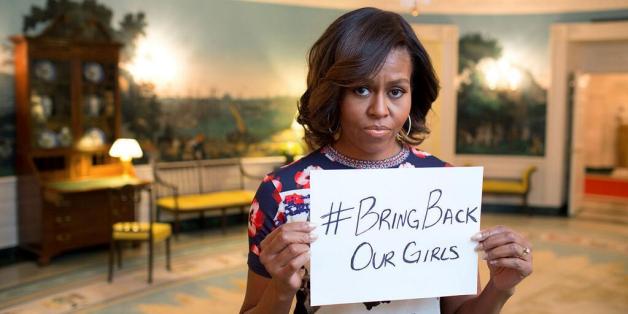 Celebrities are calling for the return of the 276 Nigerian schoolgirls who were kidnapped by Islamic militant group, Boko Haram, by showing their support on social media and using the hashtag #bringbackourgirls.
Michelle Obama, Malala Yousafzai and Hillary Clinton are just a handful of the many celebrities urging government forces to use military intervention in order to get the girls home safely.
The girls' school had reopened to allow the girls to take their final exams. This decision was amid security concerns, which saw many schools in the same state remaining closed.
While some of the kidnapped girls have escaped, many are still being held, and reports suggest some girls are being sold into forced marriage.
Family members of the kidnapped girls formed makeshift search parties and Nigerian police are offering a £300,000 reward for help finding the girls - but so far, there have been no advances.
They've broken our hearts, they won't break our will 2 #BringBackOurGirls. If u can speak give them a voice. If u can act, u must! #Nigeria
Access to education is a basic right & an unconscionable reason to target innocent girls. We must stand up to terrorism. #BringBackOurGirls
Also on HuffPost:
Protests for the missing Nigeria schoolgirls
SUBSCRIBE AND FOLLOW
Get top stories and blog posts emailed to me each day. Newsletters may offer personalized content or advertisements.
Learn more