Katie Price's close friend Jane Pountney has admitted to sleeping with Kieran Hayler, the former glamour model's husband.
On Wednesday afternoon Katie posted a tirade of tweets hitting out at both Jane and Kieran, where she revealed she was planning on divorcing the builder and part-time stripper amid claims he'd been having "a full blown sexual affair" for as long as seven months with her friend, who was even a bridesmaid at the couple's wedding.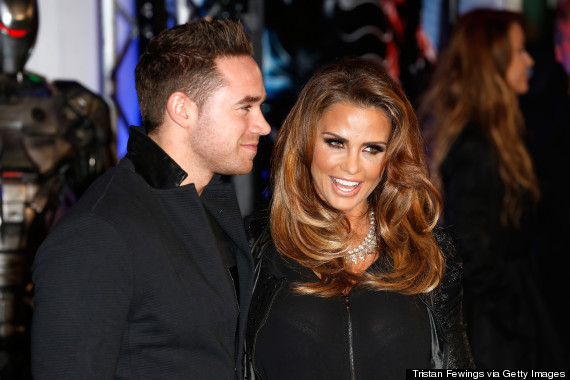 Katie Price and Kieran Hayler
The news was even more shocking as just days earlier Katie had confirmed that she was six months pregnant with Kieran's baby, the couple's second child together and her sixth overall.
In a joint statement with her husband, Jane has now confirmed that she was unfaithful with Kieran, saying: "It is true that Jane and Kieran Hayler had an affair. This is something that Jane deeply regrets and we will not provide any more details about it. It is true that Kate found out about this affair yesterday."
However, Jane's husband has previously played down Jane and Kieran's affair, claiming it was more of a "drunken kiss" and that Katie had created "a storm in a tea-cup" with her string of angry tweets.
After posting her furious messages, Katie was spotted by photographers outside of Jane's home wearing hot pants and Ugg boots, where she had reportedly arrived to talk it out with the couple.
In a statement she released later, the star said she was "appalled" by the revelations, saying: "I appreciate most people will have seen my tweets on the subject of my marriage to Kieran. I make no apologies for them though it will be appreciated that, sending them immediately after Kieran confirmed to me what he had been doing for the last 7 months, those tweets were a sign of my heart breaking."
Katie Price's Past Men...
Katie says to have never gone "all the way" with Frank (how charming), but claims the two had a fling earlier in their respective careers. In 2009 she even told Glamour: "There's actually quite a few little footies I'd do. I'd probably go back to Frank Lampard, finish what I started." Poetry in motion

Frank isn't the only footballer Katie's been with in the past, as her childhood sweetheart revealed in an interview in 2011 that he was devastated when Katie cheated on him with Teddy Sheringham. He later dated Katie's friend Danielle Lloyd.

Kelly Brook isn't the only star with a taste for 'Gladiators', as Katie dated Warren Furman, better known as 'Ace' on the 90s Saturday night entertainment show, for two years until they split in 1998. Warren later revealed that he thinks Katie enjoys "grinding men down" emotionally.

When Katie revealed to the press that she'd had a fling with 'Pop Idol' runner-up Gareth Gates - who was 17-years-old at the time - he denied the claims, though later admitted that he had been with Katie for around "three or four months". During an appearance on 'The Big Reunion' he claimed she "ruined" his career, though in her defense we don't think it was Katie who forced him to do a charity duet with The Kumars/

Racing driver Ralf denies ever having been involved with Katie, though she says they had a three-year affair.

Katie dated footballer Dwight Yorke, and he later fathered her first child Harvey, though the former glamour model says they have no relationship and as recently as 2013 claimed Dwight was "missing out" by not seeing his son.

Kelly Brook was furious when Katie revealed in her book 'Love, Lipstick And Lies' in 2013 that she had briefly dated her then-boyfriend Danny Cipriani in 2011, dumping him after she found him in bed with another woman.

Katie was also lucky enough to date former Another Level singer Dane Bowers. Their relationship is probably most famous because of the much-shared sex tape that stemmed from it, though we'd honestly rather not think about that if you don't mind...

Probably the most famous of Katie's relationships, the loved-up pair met on 'I'm A Celebrity...Get Me Out Of Here!' and after marrying in 2005 became ITV2's equivalent of the Royal Couple. Unfortunately, they ultimately divorced just days before their fourth wedding anniversary, and their relationship since has been frosty to say the least.

Not long after splitting from Peter, Katie began dating wild child cage-fighter and occasional actor Alex Reid, marrying him just days after he was crowned winner of 'Celebrity Big Brother'. They ultimately divorced, with Katie branding their marriage a "rebound" in 2014.

Despite the language barrier between them, Katie announced in April 2012 that she was engaged to Argentinian model Leandro Penna, who she'd met at the Oscars, of all places. Just six months later Katie revealed they'd "mutually" decided to end their engagement.

Which brings us back to Kieran, a builder and occasional stripper who Katie married in a private ceremony in the Caribbean back in January 2013. Shortly after giving birth to his son Jett - Katie's fourth child - they unknowingly conceived another baby, with Katie not realising she was expecting until six months into her pregnancy. Around this time, tweets were posted on Katie's Twitter account announcing she was divorcing him. Next!
href="http://www.facebook.com/HuffPostUKEnt"target="_hplink">LIKE US ON FACEBOOK | FOLLOW US ON TWITTER