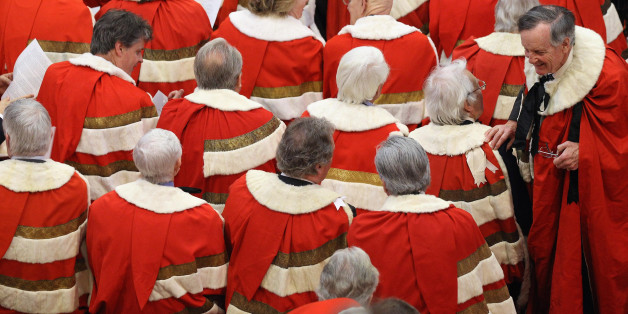 The House of Lords has bought in over 17,000 bottles of champagne since the coalition began, enough to give each peer just over five bottles of bubbly each every year, the Huffington Post UK can reveal.
House of Lords officials spent just over a quarter of a million pounds (£265,770) topping up their champagne stocks since May 2010 to March 2014, which peers and their staff could enjoy in the parliamentary dining rooms, bars, banqueting facilities or buy at the gift shop. The 17,424 bottles bought over this period at the taxpayer's expense could give each peer 22 bottles of bubbly each.
As of 31 March this year, the House of Lords, which currently has 780 peers, had 380 bottles of champagne in stock, worth £5,713, held in its main cellar and at individual stores on site.
The details were revealed in a Freedom of Information request by HuffPostUK, as officials revealed that the House of Lords regularly replenished its stock by buying in own-brand "House of Lords" champagne.

Here's how much champagne Lords officials have bought in each year
Officials bought in 4,740 bottles of champagne in the financial year 2010/2011, then 4,410 in 2011/2012, 4,596 in 2012/2013 and finally 3,678 in 2013/2014, at a total of 17,424 bottles over the period.
The House of Lords also revealed that it had £41,348 worth of wine in its stocks as of the end of March.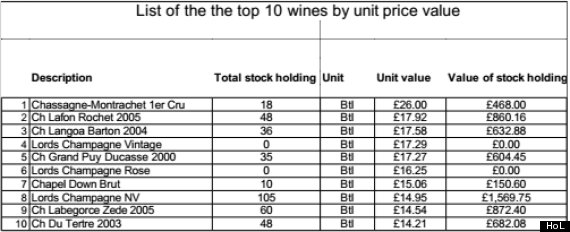 A House of Lords official said: "Alcoholic stocks purchased are sold in Dining Rooms, bars, banqueting and the Gift Shop to achieve a gross profit."
Officials revealed that they have spent £275,221 buying in more than 25,000 bottles of champagne since the coalition took over in May 2010. The range of drink bought in for MPs to enjoy ranges like Taittinger, Lenoble and the House of Commons' own-brand champagnes, Zonin prosecco and the English sparkling wines Herbert Hall and Camel Valley.
Officials bought 4,691 bottles in 2010, with the number rising by over 1,000 each year to finally reach 8,082 in 2013, a 72% rise
The Bank spent over £4,126.56 on 444 bottles of wine and champagne in 2012, with the bill increasing to £7,990.20 for 756 bottles the following year. However, even the 756 peak is dwarfed by how much the House of Commons orders in.
A House of Commons spokesman said: "The House has seen an increased number of commercial banqueting events involving external customers in recent years.
"While 2010/11 was an election year when catering activity levels were lower than usual, the increasing trend is to sell more receptions than dinner events which attract higher number of guests and is the reason for increased consumption and sales in alcohol. To accommodate this increase in demand, banqueting has increased its order of champagne stocks."
9 pictures of MPs drinking
SUBSCRIBE AND FOLLOW
Get top stories and blog posts emailed to me each day. Newsletters may offer personalized content or advertisements.
Learn more