A plane en route to Italy had to turn back to London this weekend after part of the wing mechanism came loose – leaving it "dangling" from the aircraft.
The incident began with a loud bang and was caught on film from a window of the Avro RJ85 plane.
One passenger aboard the Florence-bound flight from London City Airport was Telegraph journalist Cole Moreton.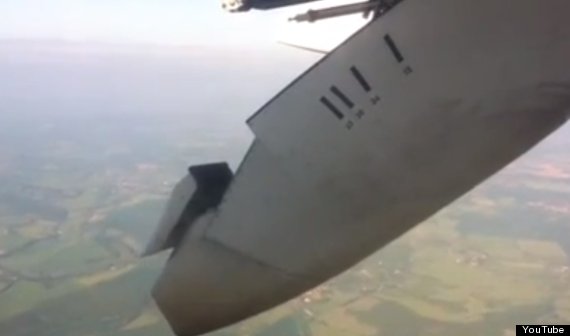 Stuff you'd rather not see happening to your plane, mid-air
"It seemed hydraulic pistons had snapped as they were flapping too. Passengers were alarmed and told the cabin staff, who appeared to inform the captain."
The plane duly returned to London City Airport and none of the 61 passengers on board were harmed during the incident.
A spokesman for CityJet told Huffington Post UK via email: "The WX 281 flight had just taken off from London City Airport on its way to Florence when the cover of the operating mechanism on the wing became partially detached.
"The crew followed their standard procedures and, after a discussion with CityJet Maintenance Control, decided to return to London City Airport.
"Air Traffic Control were notified and the aircraft returned making a normal approach and landing. Passengers were re-directed on another aircraft and departed with a two hour delay."
Singapore Airlines Flight Turbulence
SUBSCRIBE AND FOLLOW
Get top stories and blog posts emailed to me each day. Newsletters may offer personalized content or advertisements.
Learn more