The video for Michael Jackson and Justin Timberlake's posthumous duet 'Love Never Felt So Good' has been unveiled and it sees a cast of dancers recreating some of Jacko's most memorable dance moves.
The clip includes archive footage of the King of Pop interspersed with Justin singing along and the dancers busting out some of the moves from videos like 'Bad', 'Beat It' and 'Black And White'.
Interestingly, there are no shots of Justin recreating any of the dance moves, a decision he would have made as co-director of the video.
JT has also been heavily involved in 'Xscape', the second longplayer to be released since Michael's death in 2009, which he executive produced.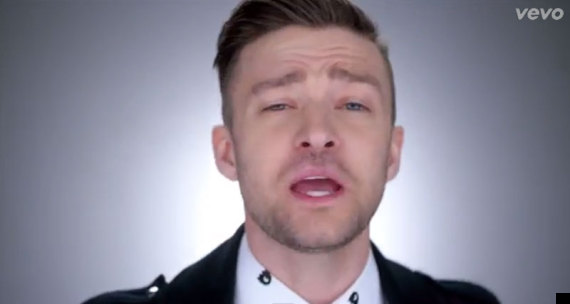 The album includes songs recorded in the 1980s and 1990s, including unearthed tracks from the 'Bad' and 'Dangerous' recording sessions.
Speaking about the 'Xscape' project, producer Rodney 'Darkchild' Jerkins said: "Even when Michael was alive, we never stopped working on the song 'Xscape.
"It was one of those songs where he specifically said to me, 'It has to see the light of day one day.'
"Everyone did a really great job on this project."
Michael Jackson in pictures
(L-R) Jackie Jackson, Marlon Jackson, Randy Jackson, Tito Jackson and Michael Jackson of the Jacksons (aka Jackson Five) pose for a studio group portrait in 1977 in Amsterdam, Netherlands.

CIRCA 1971: Pop singer Michael Jackson of the R&B quintet 'Jackson 5' poses for a portrait. It was clear from an early age that Michael had the most star-quality of the sibling band.

CHICAGO - 1968: R&B quintet The Jackson 5 pose for a portrait with their instruments circa 1965 in Chicago, Illinois. (Photo by Michael Ochs Archives/Getty Images)

53rd Annual Academy Awards Caption: Michael Jackson and Brooke Shields (Photo by Ron Galella/WireImage)

LOS ANGELES - DECEMBER 2: Pop singer Michael Jackson in a still from the video for his hit single 'Thriller' which was released on December 2, 1983 in Los Angeles, California.

Michael Jackson and Quincy Jones at the Grammys in Los Angeles, California on February 28, 1984 in Los Angeles, California - awarded for their work on the record-breaking Thriller album

Viwe of the autographed first page of the sheet music for the song 'We Are the World,' written by Michael Jackson and Lionel Richie, 1985. The song was designed to raise awareness and funds for a worldwide hunger relief program, and brought together performing artists from Harry Belafonte to Bob Dylan.

FILE - In a Tuesday, Feb. 25, 1986 file photo, Michael Jackson and Lionel Richie receive a Grammy for best song of the year for their song "We Are the World" at the 28th annual Grammy Awards in Los Angeles.

Singer Michael Jackson enjoys a cup of tea with his pet Bubbles at Osaka City Mayoral Hall on September 18, 1987 in Osaka, Japan.

Michael Jackson and Madonna attend the 63rd Annual Academy Awards - After Party at Spago's Hosted by Swifty Lazar (Photo by Ron Galella/WireImage)

Michael Jackson performs on stage at Wembley Stadium, during the 1998 Bad tour

Michael Jackson goes on television on December 22, 1993 in Los Olivos, California to deny charges of child molestation. Mr. Jackson was responding to allegations made by 13-year-old California boy who sued him for among other things, sexual battery, willful misconduct, and emotional distress. The taping occurred at Michael's home on Neverland Ranch.

October 7, 1994 Memphis, Tenn. Michael Jackson & his then wife Lisa Marie Presley Backstage At 'Elvis The Tribute' At The Pyrmid Theatre. (Photo By Tammie Arroyo/Getty Images)

Michael Jackson in the Scream music video 1995, which he shared with his sister Janet

Michael Jackson, Brit Music Awards 1996, Earl's Court, London (Photo by Dave Benett/Getty Images), a messianic exhibition prompting a spontaneous mooning from Pulp's Jarvis Cocker

Michael Jackson moonwalks while performing on stage on his HIStory tour in December 1996. (Photo by Phil Dent/Redferns)

Singer Michael Jackson and his wife Debbie Rowe greet fans from the balcony of the hotel Royal Monceau in Paris 1997.

Actress Elizabeth Taylor (L) holds hands with pop music superstar Michael Jackson as the two arrive for 'Happy Birthday Elizabeth - A Celebration of Life' 16 February in Hollywood, California. The star-studded event was taped for a television show to be broadcast 24 February 1997. (Photo credit VINCE BUCCI/AFP/Getty Images)

An aerial shot of singer Michael Jackson''s Neverland Valley Ranch June 25, 2001 in Santa Ynez, CA, which was transformed from a childlike idyll into a police crime scene.

NEW YORK, UNITED STATES: US singer Michael Jackson performs during the Democratic National Committee (DNC) benefit concert, 'A Night at the Apollo', at the world-famous Apollo Theater 24 April 2002 in New York.

SANTA BARBARA, UNITED STATES: This 20 November 2003 police mug shoot shows US pop star Michael Jackson at the Santa Barbara Sheriff's booking office in Santa Barbara, California, where he was booked on suspicion of child molestation and released on three million USD bail.

Singer Michael Jackson and his father Joseph Jackson depart the courthouse after listening to closing arguements in his child molestation trial at the Santa Barbara County Courthouse June 2, 2005 in Santa Maria, California. Jackson was charged in a 10-count indictment with molesting a boy, plying him with liquor and conspiring to commit child abduction, false imprisonment and extortion. (Photo by Carlo Allegri/Getty Images)

Michael Jackson during World Music Awards 2006 - Show at Earls Court in London, Great Britain. (Photo by Graham Jepson/WireImage)

Thursday, March 5, 2009 -Michael Jackson as he announced that he was set to play ten live concerts at the London O2 Arena the following July. Jackson died suddenly on 25 June.

Michael Jackson's children Prince, Blanket and Paris at the Michael Forever Tribute Concert at the Millennium Stadium, Cardiff on Saturday October 8, 2011.