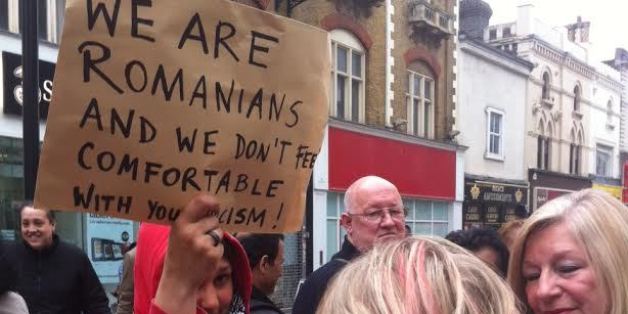 The Ukip carnival, intended to rebuff allegations of racism, ended in carnage before Nigel Farage had even arrived - with a steel band refusing to play for the eurosceptic party.
The chaos began when Marlon Hibbert, whose band Endurance Steel had been hired to play at the Croydon carnival by McKenzie, told HuffPost UK that the band had not been aware that the booking had been made by the anti-Europe party.
"My parents are from Jamaica, I'm really upset about this situation" the band's 22-year-old musical director told HuffPost UK, shaking his head.
Within minutes, the band stopped playing for the assembled crowd of supporters, protesters and bemused locals, packed up and moved on.
Steel drummer at Ukip carnival says he was misled about the event. If he knew it was for ukip he wouldn't have come. pic.twitter.com/QPPneEzPra
Dozens of anti-Ukip protesters had assembled for the carnival, with one holding up a sign saying: "We are Romanians and we don't feel comfortable with your racism."
Chants rang out of "racist, racist" and "Nigel's bottled it" as it became apparent the Ukip leader was nowhere nearby.
He had yet to make an appearance before the carnival atmosphere came to an abrupt end - with Ukip citing "security concerns" as the reason.
McKenzie, who stood as the Ukip candidate for parliament in the constituency's 2012 by-election, denied the party leader was scared but said there were "certain situations you have to avoid".
"Croydon has become a dump," McKenzie told reporters. "How can you ask an international leader somewhere he isn't safe."
McKenzie said if he were in Farage's shoes he would also have considered not turning given the Ukip leader had recently been "hit by eggs" at another event.
Farage was expected to make a speech and an appeal to black and ethnic minority voters at 3pm. The party has 42 candidates across the borough.
Story continues under the slideshow
With just two days to go until European elections which Ukip is widely expected to win and push the Tories into third place, the party has been plagued with scandals.
The Prime Minister accused Ukip leader Nigel Farage of making "appalling" remarks about Romanian immigration but declined to join Labour MPs in branding him racist.
Yvette Cooper, the shadow home secretary, told ITV News that it was "racist to somehow stir up fears about Romanians living next door. So Ukip should say they were wrong on that."
Also on HuffPost:
Funny #UkipCarnival tweets
SUBSCRIBE TO & FOLLOW UK POLITICS