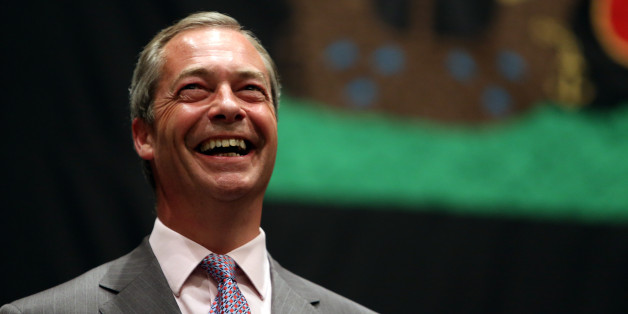 Ukip has won the European elections, leaving Westminster shaking from the political "earthquake" that Nigel Farage had long predicted.
In the early hours of Monday morning Labour captured second place ahead of the Conservative Party. It is the first time since 1984 that the Westminster Opposition party has failed to top the poll. It is also the first time ever that the Conservative Party has not come either first or second in a national election.
It puts the two main parties on an equal footing in the European parliament, with 18 MEPs a-piece.
The elections were a disaster for Nick Clegg, with the Liberal Democrats lost all but one of their 11 MEPs and dropping to fifth place in vote share behind the Greens.
UK Independence Party 27.5% (+11%) 23 MEPS (+10)
Labour 25.4% (+9.7%) 18 MEPs (+7)
Conservative 23.9% (-3.8%) 18 MEPs (-7)
Green 7.9% (-0.75%) 3 MEPs (+1)
Liberal Democrat 6.9% (-6.8%) 1 MEP (-9)
SNP 2.5% (+0.34%) 2 MEPs
Plaid Cymru 0.7% (-0.2%) 1 MEP
Speaking after being returned to the European parliament representing the South East of England, Farage said he would use the result as a springboard to the 2015 general election - when he hopes to be elected as an MP.
"The people's army of Ukip have spoken tonight and have delivered just about the most extraordinary result in British politics for 100 years," he said.
"The penny's really dropped that as members of this union we cannot run our own country and crucially, we cannot control our own borders. We're genuinely a United Kingdom Independence Party. Our people's army will go from here to Newark and move on to the general election. You haven't heard the last of us."
Despite its strong showing in the European elections it will still be hard for the party to get Westminster MPs elected, in part due to the first-past-the-post electoral system.
However many Tory backbenchers are worried that a split in the centre-right vote in 2015 would be enough to allow Ed Miliband to slip through the middle and into Downing Street.
David Cameron hopes that his pledge to offer an in/out referendum on Britain's membership of the EU in 2017 will be enough to convince voters to come back to the Conservative Party at the general election.
Daniel Hannan, who was returned as a Tory MEP in the South East region, called for a deal with Farage, a deal that party chairman Grant Shapps has repeatedly ruled out.
"For a party that is in government in Westminster, not to be being pummelled at this stage is pretty good news," he told Sky News.
"It would be very sad if the two right-of-centre Eurosceptic parties at the general election were not able to find some way, at least in marginal seats, of reaching an accommodation so that anti-referendum candidates don't get in with a minority of votes."
Labour is less concerned about losing votes to Ukip, however as its poll lead over the Tories narrows there is already a internal debate underway over whether Miliband's election strategy is working.
Farage said the party "bit very hard" into the Labour vote in the North, almost topped the poll in Wales and gained a seat in Scotland. "We have proved in county council elections last year, district council elections this year, that we can win in the first past the post," he told reporters. "Perhaps the most significant thing for us in the course of the last few days is we have built up clusters of local council seats and areas and that's the model the Liberal Democrats used in the 1990s to build up in Parliament."
Deputy leader Harriet Harman told LBC that she believed Labour had lost a number of voters in this specific election. "People have said they are voting Ukip even if they are a Labour supporter in order to give us a shake-up."
The Lib Dem wipeout will add to the pressure on Clegg, who has faced demands that he quit after the party lost 250 councillors at the end of last week.
The final result in Scotland will be announced later, but with only the Western Isles left to declare it appears the SNP and Labour will retain their two Scottish MEPs, with the Scottish Tories also keeping their European representative.
Ukip's surge in Britain has been matched by a rise in eurosceptic parties across the EU. In France, Marine Le Pen's anti-immigration Front National defeated the Socialist Party with an extraordinary quarter of the vote.
Also on HuffPost:
Ukip Celebrate European Election Win
SUBSCRIBE TO & FOLLOW UK POLITICS