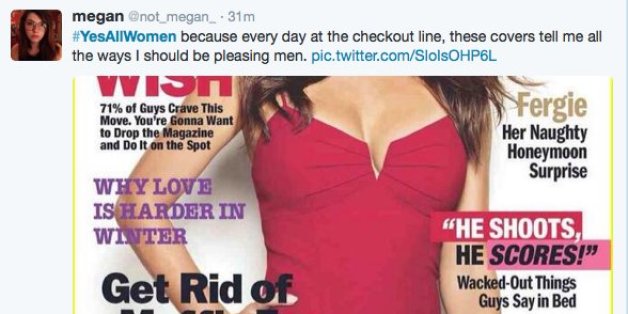 Twitter
"I don't know why you girls have never been attracted to me, but I will punish you all for it. It's an injustice, a crime, because I don't know what you don't see in me. I'm the perfect guy, and yet you throw yourselves at all these obnoxious men, instead of me, the supreme gentleman."
In response to the tragedy, #YesAllWomen started trending on Twitter, with hundreds of women all over the world expressing the misogyny and fear they face being female, and crucially, men speaking up too.
While we can't speak on behalf of all women, a big concern is the fear of speaking out at all, in case retribution strikes - as one Twitter user expresses below.
Take a look at the tweets from men and women:
#YesAllWomen because we teach girls how to not get raped rather than teaching boys how to properly treat a woman.
Because Miley Cyrus got shamed & Robin Thicke got applauded. Enough with the double standards. #YesAllWomen
Showing respect for woman is one of the greatest gifts that a father could ever give to his son. #YesAllWomen
Friends have been telling their stories on #YesAllWomen for 2 days. Some stories I knew, some I did not. This solidarity was needed.
Because being too scared to stand up to my harasser made me feel 100 times guiltier than he will ever feel for doing it.
#yesallwomen
#YesAllWomen bc when I go running I have to consider whether I've taken the same route at the same time too often. Someone might be watching
Because I'm scared of the response for even tweeting about this topic. #YesAllWomen
Because I routinely get sexually harassed online (including rape threats) after my investigations air.
Male reporters do not. #YesAllWomen
"Boys will be Boys" really means "Boys are unable to restrain their primal urges so it's your fault." #YesAllWomen
FOLLOW HUFFPOST