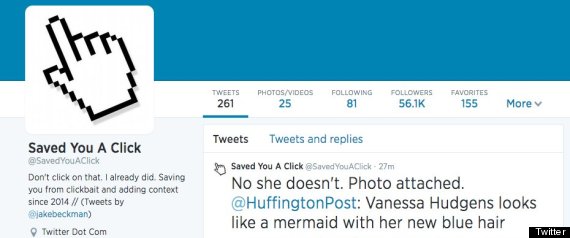 Watch out, journalists who create clickbait headlines - the Twitter account Saved You A Click ("Don't click on that. I already did.") is on to you. And, erm, us...
A piano. RT @HuffingtonPost: You won't believe what just washed up in the East River
It's an app. RT @mashable: Apple's first step into health tracking is small but powerful
Took a selfie. RT @Cosmopolitan: Man climbs Brazil's Cristo Redentor statue; you won't BELIEVE what he did at the top:
Lupita Nyong'o, Gwendoline Christie RT @TMZ: Could the new additions to the "Star Wars: Episode VII" cast BE any cooler?
He thought Jobs was too "domineering" RT @businessinsider: Why the man who invented email attachments refused to work for Steve Jobs
Alaska, California, Arizona. Maine, Oregon. RT @NBCNews: These 5 states will likely be next to legalize pot
Her house was robbed. RT @Cosmopolitan: The absolute CREEPIEST thing happens to Miley Cyrus:
Brazil RT @washingtonpost: Here's who Goldman Sachs thinks will win the World Cup
The account - which is run by @jakebeckman - doesn't just limit itself to copy reveals, of course. It also a) includes photos and b) has opinions:
Touché, Mr Beckman. Touché.
Also on HuffPost:
The Week In 50 Funny Tweets
SUBSCRIBE TO & FOLLOW UK COMEDY