An 18-year-old Pakistani girl has survived being shot and thrown into a canal for marrying the man she loved, police have said.
"It is an honour-related incident", he said. Maqsood is currently being treated in hospital in Hafizabad, Punjab Province.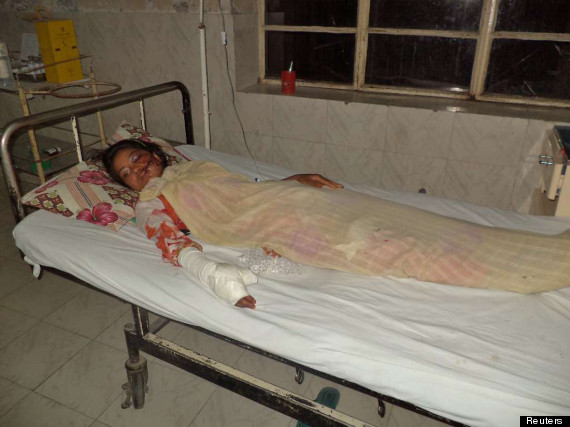 Saba Maqsood is recovering in hospital after surviving an attempted 'honour killing'
Akbar added: "They took her to Hafizabad, shot her twice and threw her in the canal after putting her in a sack, presuming she was dead."
Mustafa Qadri, a Pakistan researcher for Amnesty International told Huffington Post UK via email: "It's hard to imagine the trauma Saba Maqsood has gone through, shot, dumped in a river, left for dead by her own family.
"There is no honour in such barbaric brutality. Hundreds of women and girls are victims of so-called 'honour' killings in Pakistan every year, but the perpetrators are rarely brought to justice.
"The Pakistani authorities must ensure that all of the individuals responsible for this vicious attempted murder are brought to justice and that Saba Maqsood is provided with proper protection immediately."
Farzana Parveen was stoned to death outside the Lahore High Court in Pakistan.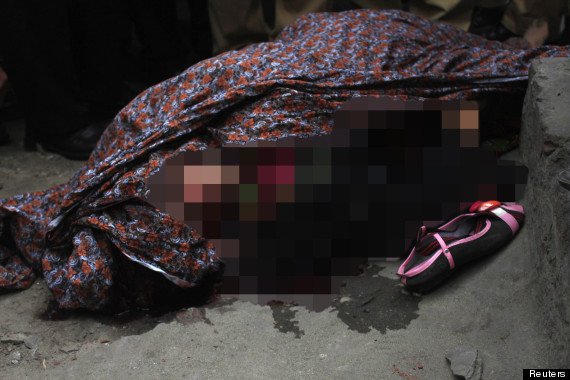 Farzana Parveen was stoned to death outside the High Court in Lahore
The 25-year-old was three months pregnant and was reportedly attending court to insist she had married her husband Mohammad Iqbal out of love and her own free will.
Farzana was allegedly set upon by members of her own family, who had tried to organise an arranged marriage with her cousin. Relatives weep over the death of Farzana, who was three months pregnant
Farzana's death drew international condemnation and prompted Pakistani Prime Minister Nawaz Sharif to demand "immediate action."
The Human Rights Commission of Pakistan said that in 2011, 943 women were killed for apparently causing shame to their families.
The figure is an increase of more than 100 in 2010.
SUBSCRIBE TO & FOLLOW UK DAILY BRIEF