England chose Rio de Janeiro as their World Cup training camp, and they will be based at the Urca military base.
Forte de Urca is at the foot of Sugar Loaf mountain, and England's players will be guarded by heavily-armed troops manning stop-and-search checkpoints at the military camp.
Look out for the Ad just below here
The 1970 Brazilian World Cup squad also prepared for their glorious finals at the same base.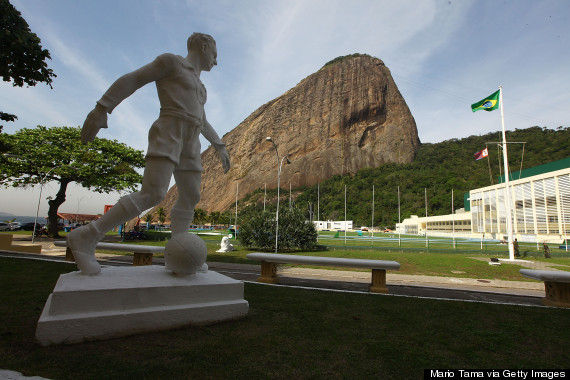 England will be based in Rio de Janeiro throughout the World Cup
England's Rio training camp
RIO DE JANEIRO, BRAZIL - MAY 22: General view of the beach near the England national team training ground, at the Urca military base (Forte de Urca) beach, on May 22, 2014 in Rio de Janeiro, Brazil. The 2014 FIFA World Cup begins June 12 in Brazil. (Photo by Mario Tama/Getty Images)

RIO DE JANEIRO, BRAZIL - MAY 22: General view of the England national team training pitch, at the Urca military base (Forte de Urca) training ground, on May 22, 2014 in Rio de Janeiro, Brazil. The 2014 FIFA World Cup begins June 12 in Brazil. (Photo by Mario Tama/Getty Images)

RIO DE JANEIRO, BRAZIL - MAY 22: General view of goalposts near the England national team training pitch, at the Urca military base (Forte de Urca) training ground, on May 22, 2014 in Rio de Janeiro, Brazil. The 2014 FIFA World Cup begins June 12 in Brazil. (Photo by Mario Tama/Getty Images)

RIO DE JANEIRO, BRAZIL - MAY 22: General view of the England national team training pitch, at the Urca military base (Forte de Urca) training ground, on May 22, 2014 in Rio de Janeiro, Brazil. The 2014 FIFA World Cup begins June 12 in Brazil. (Photo by Mario Tama/Getty Images)

RIO DE JANEIRO, BRAZIL - MAY 22: General view of goalposts near the England national team training pitch, at the Urca military base (Forte de Urca) training ground, on May 22, 2014 in Rio de Janeiro, Brazil. The 2014 FIFA World Cup begins June 12 in Brazil. (Photo by Mario Tama/Getty Images)

RIO DE JANEIRO, BRAZIL - MAY 22: General view of the England national team training pitch, at the Urca military base (Forte de Urca) training ground, on May 22, 2014 in Rio de Janeiro, Brazil. The 2014 FIFA World Cup begins June 12 in Brazil. (Photo by Mario Tama/Getty Images)

RIO DE JANEIRO, BRAZIL - MAY 22: General view of the England national team training room, at the Urca military base (Forte de Urca) training ground, on May 22, 2014 in Rio de Janeiro, Brazil. The 2014 FIFA World Cup begins June 12 in Brazil. (Photo by Mario Tama/Getty Images)

RIO DE JANEIRO, BRAZIL - MAY 22: General view of the England national team training room, at the Urca military base (Forte de Urca) training ground, on May 22, 2014 in Rio de Janeiro, Brazil. The 2014 FIFA World Cup begins June 12 in Brazil. (Photo by Mario Tama/Getty Images)

RIO DE JANEIRO, BRAZIL - MAY 22: General view near the England national team training pitch, at the Urca military base (Forte de Urca) training ground, on May 22, 2014 in Rio de Janeiro, Brazil. The 2014 FIFA World Cup begins June 12 in Brazil. (Photo by Mario Tama/Getty Images)

RIO DE JANEIRO, BRAZIL - MAY 22: General view of the England national team training room, at the Urca military base (Forte de Urca) training ground, on May 22, 2014 in Rio de Janeiro, Brazil. The 2014 FIFA World Cup begins June 12 in Brazil. (Photo by Mario Tama/Getty Images)

RIO DE JANEIRO, BRAZIL - MAY 22: General view of the England national team training room, at the Urca military base (Forte de Urca) training ground, on May 22, 2014 in Rio de Janeiro, Brazil. The 2014 FIFA World Cup begins June 12 in Brazil. (Photo by Mario Tama/Getty Images)

RIO DE JANEIRO, BRAZIL - MAY 22: General view of the England national team training pitch, at the Urca military base (Forte de Urca) training ground, on May 22, 2014 in Rio de Janeiro, Brazil. The 2014 FIFA World Cup begins June 12 in Brazil. (Photo by Mario Tama/Getty Images)

RIO DE JANEIRO, BRAZIL - MAY 22: General view of the England national team training pitch, at the Urca military base (Forte de Urca) training ground, on May 22, 2014 in Rio de Janeiro, Brazil. The 2014 FIFA World Cup begins June 12 in Brazil. (Photo by Mario Tama/Getty Images)

RIO DE JANEIRO, BRAZIL - MAY 22: General view of the England national team training room, at the Urca military base (Forte de Urca) training ground, on May 22, 2014 in Rio de Janeiro, Brazil. The 2014 FIFA World Cup begins June 12 in Brazil. (Photo by Mario Tama/Getty Images)

RIO DE JANEIRO, BRAZIL - MAY 22: General view of the England national team training pitch, at the Urca military base (Forte de Urca) training ground, on May 22, 2014 in Rio de Janeiro, Brazil. The 2014 FIFA World Cup begins June 12 in Brazil. (Photo by Mario Tama/Getty Images)

RIO DE JANEIRO, BRAZIL - MAY 22: General view of the England national team training pitch, at the Urca military base (Forte de Urca) training ground, on May 22, 2014 in Rio de Janeiro, Brazil. The 2014 FIFA World Cup begins June 12 in Brazil. (Photo by Mario Tama/Getty Images)

RIO DE JANEIRO, BRAZIL - MAY 22: General view of the beach near the England national team training ground, at the Urca military base (Forte de Urca) beach, on May 22, 2014 in Rio de Janeiro, Brazil. The 2014 FIFA World Cup begins June 12 in Brazil. (Photo by Mario Tama/Getty Images)

RIO DE JANEIRO, BRAZIL - MAY 22: General view near the England national team training pitch, at the Urca military base (Forte de Urca) training ground, on May 22, 2014 in Rio de Janeiro, Brazil. The 2014 FIFA World Cup begins June 12 in Brazil. (Photo by Mario Tama/Getty Images)

RIO DE JANEIRO, BRAZIL - MAY 22: General view of the England national team training pitch, at the Urca military base (Forte de Urca) training ground, on May 22, 2014 in Rio de Janeiro, Brazil. The 2014 FIFA World Cup begins June 12 in Brazil. (Photo by Mario Tama/Getty Images)

RIO DE JANEIRO, BRAZIL - MAY 22: General view of the England national team training pitch, at the Urca military base (Forte de Urca) training ground, on May 22, 2014 in Rio de Janeiro, Brazil. The 2014 FIFA World Cup begins June 12 in Brazil. (Photo by Mario Tama/Getty Images)

RIO DE JANEIRO, BRAZIL - MAY 22: General view of the England national team training pitch, at the Urca military base (Forte de Urca) training ground, on May 22, 2014 in Rio de Janeiro, Brazil. The 2014 FIFA World Cup begins June 12 in Brazil. (Photo by Mario Tama/Getty Images)