Like many women, I'd sooner attend a fitness class than work out in the testosterone-filled weights room. This isn't because their big beefy frames intimidate me - I just don't have a clue what to do.
In a class, you're taught along by an instructor who knows how to work key muscle groups and avoid injury, on the gym floor - you're often on your own.
So, as part of my personal Operation Self-Improvement - which involved taking a long, hard look at my lifestyle and doing some much-needed spring cleaning - I embarked on a series of personal training sessions to not only kickstart my fitness regime, but help my workouts be more effective.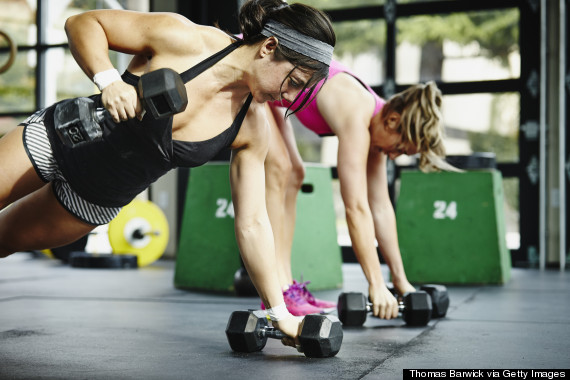 Having regular PT sessions at Grace Belgravia with Valentina - an amazing trainer from the Matt Roberts gym - was like a wake-up call. Suddenly someone who used to 'forget' their trainers for PE, was being given fitness tips in the same gym that Cara and Poppy Delevingne train in.
My first session involved having a fitness assessment. Somewhat naively, I thought this meant timing how fast I could run 200m and seeing how many press ups I could do in 30 seconds. But instead it was an in-depth analysis of my alignment, flexibility, strength and posture.
SEE ALSO:

Strength Training Can Help You Lose Weight And Feel Like Superwoman At The Same Time
After taking my height and weight (*shudders*), Valentina attached electrodes to my right hand and foot to measure my fat-to-muscle ratio.
Then she had me perform a series of tasks - deep squats, lunges, arm and leg raises - to check my alignment. I learnt that my knees face inwards because my glutes and hips aren't strong enough, she also spots that I arch my back and tilt my pelvis forward - something I blame on having a big backside - but this could cause injury.
Apart from being eye-opening and quite depressing, these nuggets of information help show what work I need to do in order to reach my fitness goals.
LIKE HUFFPOST UK LIFESTYLE ON FACEBOOK | FOLLOW US ON TWITTER | WE'RE ALSO ON INSTAGRAM
So here are the five things I learnt from having regular personal trainer sessions:
You have to master the technique before anything else
At least you're exercising right? Wrong - even if what your doing isn't dangerous, not doing things correctly means you could be working wrong muscle groups - paying attention and self-correction will help meet goals faster.
My entire first session (after the initial assessment) was focussed entirely on perfecting posture - you feel a real difference when you get it right.
Think about your body in sections
Hard-core male gym goers often separate their body to exercise - one day will focus on arms, the next on back, then chest etc. But this technique shouldn't be restricted to the fellas.
When hitting the gym regularly - and doing weight training - Valentina recommends alternating between upper body and lower body so that you have time to recover.
For lower body exercises try squats, lunges, side lunges, the stepper and cycling. For upper body do chest press, bicep curls, tricep dips, dead lifts and press ups.
Story continues below...
It's time to get nice and comfortable in the squatted position. The reason: Lowering into a squat and staying there helps improve stability and strength while preventing injury. How to: The set-up and lowering part of this move is just like the bodyweight squat, but things start to change once we reach the bottom. Instead of standing back up, sink into that squat and hold it. Keep all of the weight in your heels, while driving the knees and hips open. Be sure to maintain and upright body position with your chest up, shoulders back and down, and core engaged. Sets: 4, Reps: 5 pausing 30 seconds at the bottom of each rep, Rest: 30 seconds

Ready to get explosive? A training program that includes plyometric exercises like the jump squat has been shown to be more effective at increasing strength than programs that rely on weight training alone. How to: Kick things off in the basic bodyweight squat position (notice a trend here?) and execute the first part of the squat, until we bottom out. With your hips back and butt down, notice your hamstrings and glutes will tighten and activate. Release that tension by driving your hips forward and your arms up towards the sky, while jumping off of the ground. Return to the ground softly and sink right back into the squat before heading into the next repetition. Sets: 4, Reps: 12, Rest: 60 seconds

Now we'll add weight to the squat position. The goblet squat is a surefire way to make strength go up and the depth of the squat go down. That's because it targets all of the muscles in the lower body, while improving squat mechanics, without the added burden of a barbell. How to: Grab a dumbbell, kettlebell, medicine ball or sandbell before preparing to squat. Grasp the weight and hold it at chest height. Next, set your feet shoulder-width apart and engage the upper body. Keep that weight close to your chest while squatting down. At the bottom of the squat the position should resemble the isolate squat hold. Return to standing by driving through the heels, before squeezing the hamstrings, glutes and core. Avoid thrusting your hips forward by slamming your knees to straighten your legs to stand up. Sets: 4, Reps: 12, Rest: 60 seconds

This is where things can get interesting. The squatting movement remains the same, but now you have to contend with a barbell resting on your back. You'll also need a squat rack or power rack for this move. It allows for easy access getting under and out from under the bar. Plus, it has safety bars that will catch you if get stuck while squatting. How to: To start, adjust the height of the bar so it's just below shoulder height. Grip the bar wider than shoulder-width and step under the bar so the weight is resting on your upper back. Set up in the same squat position you've been using to complete each move so far, making sure to sit back and down while keep the chest upright. Once you've hit rock bottom exhale, press through your heels, squeeze your elbows towards your body and return to standing. Sets: 4, Reps: 10, Rest: 2 minutes

Instead of placing the bar on the upper back, the front squat has you place the bar across your collarbone in front of your body. Like the back squat, getting comfortable with the placement of the bar might take some time, but will become second nature if you stick with it. How to: Setting up in the squat rack, grip the bar with hands at shoulder width and pull your chest to the bar. Drive your elbows up while pulling the bar onto your collarbone. Note: Instead of trying to hold the bar with against your body, let it rest on you to support the weight. Once you're set up, lower into a squat keeping your core and upper body engaged, while driving your elbows high. Press through the heels, exhale, and drive the elbows up to complete the move. Sets: 4, Reps: 10, Rest: 2 minutes

Before you go overhead with the squat, promise us you've invested time in learning and practicing the other variations that have led you here. Unless you're hitting the other moves with mastery, the overhead squat could do more harm than good. But, if you've worked your way up to this movement, you're in for one heck of a total-body exercise. How to: Grip the bar with hands wider than shoulder width and press the bar overhead. The width of your grip will have the bar six to eight inches overhead with arms extended. For this move your feet can be slightly wider than the hip-width distance used for the other squat movements. However, the execution of the squat remains intact. While pressing through the bar, begin sitting back and down into the squat. Continue driving your arms up while stabilizing your body at the bottom of the squat. In the squatted position, drive the hips forward and knees open keeping the upper body tall and core engage while returning to standing. Sets: 4, Reps: 10, Rest: 2 minutes
There is no shortcut to reaching your fitness goals
Over a month of sessions (2 per week) I thought I'd become a superhero - faster, stronger, bendier - but a PT can't give you that.
Unless you're loaded and have 2-3 sessions per week for the rest of your life, personal trainers are there to guide and motivate you. But the rest is up to you.
Strength training just as important as cardio
You can't change your body from just doing cardio. Strength training is really important - not just to sculpt muscles, but to prevent osteoporosis.
By and large women should be using weights in a different way to men. Most women want to achieve a leaner body type - not bulk up, but tone. This, I'm told, can be achieved by using lower weights, not heaviest you can hold, and doing lots of reps.
Don't get stuck in a rut
I was prescribed a series of different exercises to do to achieve my goals, so remember to think outside the box.
Try spinning for weight loss, boxercise for stamina, yoga and Pilates for strength.