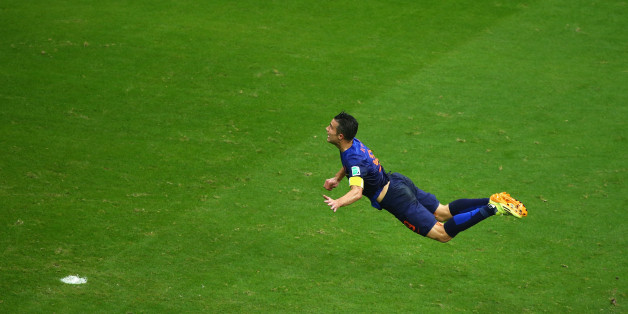 13/06/2014 21:54 BST
Robben finishes Spain off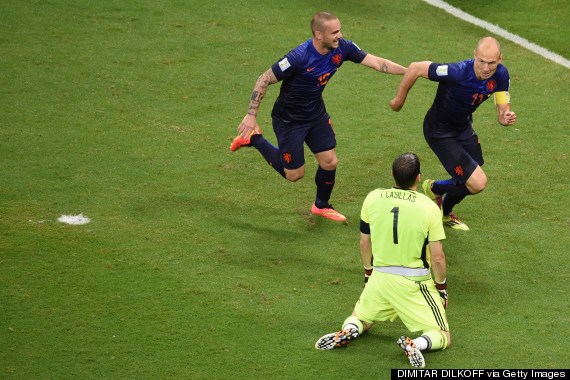 13/06/2014 21:52 BST
Full-time: Spain 1-5 Holland
One of the most sensational World Cup victories in modern times. Holland were terrific and Spain were terrible.
13/06/2014 21:49 BST
WHAT A SITTER
Credit to Daley Blind for preventing a certain goal, but Torres has contrived to somehow not score with the goalkeeper nearly out of the picture.
13/06/2014 21:48 BST
Should have been six (again)
Lens pulls back for Sneijder but he scuffs his shot.
13/06/2014 21:46 BST
Greedy Dutch
Robben wants his hat-trick, Sneijder wants a goal, Lens repeatedly wants the ball. The scoreline is beginning to flatter Spain.
13/06/2014 21:44 BST
Could've been six
Casillas denies Wijnaldum from finishing off one of the great World Cup team goals and then beats away a vicious Robben volley. Spain are being run ragged.
13/06/2014 21:42 BST
Gallery of the action
13/06/2014 21:40 BST
83 min
Decent chance for Torres, but Vlaar, who has been colossal all evening, recovers to deny him.
13/06/2014 21:38 BST
Robben
He outpaced Ramos, he drew Casillas, dismissed him and then blasted the ball into the back of the net. This has been a thrashing and it could get worse.
13/06/2014 21:37 BST
GOOOOOOOAAAAALLLLLLL!
5-1 Holland! Arjen Robben again! They have destroyed Spain!
SUBSCRIBE TO & FOLLOW UK DAILY BRIEF