England Physio, Gary Lewin, Suffers Dislocated Ankle During Goal Celebrations
In a cruel and ironic twist to England's first World Cup a match, the first major casualty was physio Gary Lewin.
The national side's physiotherapist apparently fell over a drinks tray.
Lewin was treated at the side of the pitch before being stretchered off.
Get well soon Gary...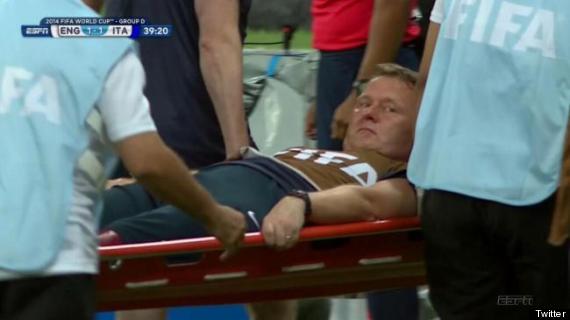 England v Italy: Group D - 2014 FIFA World Cup Brazil
England's forward Wayne Rooney (c) leaves the pitch at the end of a Group D football match between England and Italy at the Amazonia Arena in Manaus during the 2014 FIFA World Cup on June 14, 2014. Italy won 2 to 1. AFP PHOTO / ODD ANDERSEN (Photo credit should read ODD ANDERSEN/AFP/Getty Images)

England's forward Wayne Rooney (c) leaves the pitch at the end of a Group D football match between England and Italy at the Amazonia Arena in Manaus during the 2014 FIFA World Cup on June 14, 2014. Italy won 2 to 1. AFP PHOTO / ODD ANDERSEN (Photo credit should read ODD ANDERSEN/AFP/Getty Images)

MANAUS, BRAZIL - JUNE 14: Daniele De Rossi of Italy (right) and Andrea Pirlo (left) celebrate Italy's victory over England in the 2014 FIFA World Cup Brazil Group D match between England and Italy at Arena Amazonia on June 14, 2014 in Manaus, Brazil. (Photo by Christopher Lee/Getty Images)

MANAUS, BRAZIL - JUNE 14: Andrea Pirlo and Giorgio Chiellini of Italy celebrate their team's win as Ross Barkley (L) and Steven Gerrard of England (R) look on during the 2014 FIFA World Cup Brazil Group D match between England and Italy at Arena Amazonia on June 14, 2014 in Manaus, Brazil. (Photo by Adam Pretty/Getty Images)

Italy's national football team players celebrate after a Group D football match between England and Italy at the Amazonia Arena in Manaus during the 2014 FIFA World Cup on June 14, 2014. Italy won 2 to 1. POOL AFP PHOTO / FRANCOIS XAVIER MARIT (Photo credit should read FRANCOIS XAVIER MARIT/AFP/Getty Images)

England's defender Phil Jagielka (L) congratulates Italy's midfielder Andrea Pirlo after Italy won their Group D football match between England and Italy at the Amazonia Arena in Manaus during the 2014 FIFA World Cup on June 14, 2014. AFP PHOTO / FABRICE COFFRINI (Photo credit should read FABRICE COFFRINI/AFP/Getty Images)

MANAUS, BRAZIL - JUNE 14: Mario Balotelli of Italy speaks to Joe Hart of England after the 2014 FIFA World Cup Brazil Group D match between England and Italy at Arena Amazonia on June 14, 2014 in Manaus, Brazil. (Photo by Christopher Lee/Getty Images)

MANAUS, BRAZIL - JUNE 14: Mario Balotelli of Italy speaks to Joe Hart of England after the 2014 FIFA World Cup Brazil Group D match between England and Italy at Arena Amazonia on June 14, 2014 in Manaus, Brazil. (Photo by Christopher Lee/Getty Images)

MANAUS, BRAZIL - JUNE 14: Joe Hart of England acknowledges the fans after being defeated by Italy 2-1 during the 2014 FIFA World Cup Brazil Group D match between England and Italy at Arena Amazonia on June 14, 2014 in Manaus, Brazil. (Photo by Adam Pretty/Getty Images)

MANAUS, BRAZIL - JUNE 14: Wayne Rooney of England walks off the field after being defeated by Italy 2-1 during the 2014 FIFA World Cup Brazil Group D match between England and Italy at Arena Amazonia on June 14, 2014 in Manaus, Brazil. (Photo by Richard Heathcote/Getty Images)

MANAUS, BRAZIL - JUNE 14: Daniel Sturridge of England acknowledges the fans after his team lost to Italy in the 2014 FIFA World Cup Brazil Group D match between England and Italy at Arena Amazonia on June 14, 2014 in Manaus, Brazil. (Photo by Richard Heathcote/Getty Images)

MANAUS, BRAZIL - JUNE 14: Phil Jagielka of England shakes hand with team manager Roy Hodgson during the 2014 FIFA World Cup Brazil Group D match between England and Italy at Arena Amazonia on June 14, 2014 in Manaus, Brazil. (Photo by Richard Heathcote/Getty Images)

England's forward Daniel Sturridge leaves the pitch after a Group D football match between England and Italy at the Amazonia Arena in Manaus during the 2014 FIFA World Cup on June 14, 2014. Italy won 2 to 1. AFP PHOTO / BEN STANSALL (Photo credit should read BEN STANSALL/AFP/Getty Images)

England's defender Gary Cahill reacts after losing their Group D football match between England and Italy at the Amazonia Arena in Manaus during the 2014 FIFA World Cup on June 14, 2014. AFP PHOTO / GIUSEPPE CACACE (Photo credit should read GIUSEPPE CACACE/AFP/Getty Images)

England's midfielder Ross Barkley reacts after losing their Group D football match between England and Italy at the Amazonia Arena in Manaus during the 2014 FIFA World Cup on June 14, 2014. AFP PHOTO / GIUSEPPE CACACE (Photo credit should read GIUSEPPE CACACE/AFP/Getty Images)

England's forward Wayne Rooney (C) congratulates Italy's team players after they won their Group D football match between England and Italy at the Amazonia Arena in Manaus during the 2014 FIFA World Cup on June 14, 2014. AFP PHOTO / GIUSEPPE CACACE (Photo credit should read GIUSEPPE CACACE/AFP/Getty Images)

MANAUS, BRAZIL - JUNE 14: Glen Johnson of England looks on after being defeated by Italy 2-1 during the 2014 FIFA World Cup Brazil Group D match between England and Italy at Arena Amazonia on June 14, 2014 in Manaus, Brazil. (Photo by Elsa/Getty Images)

Italy's football team celebrate after they won their Group D football match between England and Italy at the Amazonia Arena in Manaus during the 2014 FIFA World Cup on June 14, 2014. AFP PHOTO / GIUSEPPE CACACE (Photo credit should read GIUSEPPE CACACE/AFP/Getty Images)

England's defender Phil Jagielka (C) shakes hands with England's coach Roy Hodgson (R) as he leaves the pitch after a Group D football match between England and Italy at the Amazonia Arena in Manaus during the 2014 FIFA World Cup on June 14, 2014. Italy won 2 to 1. AFP PHOTO / BEN STANSALL (Photo credit should read BEN STANSALL/AFP/Getty Images)

MANAUS, BRAZIL - JUNE 14: Italy players celebrate victory in the 2014 FIFA World Cup Brazil Group D match between England and Italy at Arena Amazonia on June 14, 2014 in Manaus, Brazil. (Photo by Elsa/Getty Images)

MANAUS, BRAZIL - JUNE 14: Joe Hart of England acknowledges the fans after being defeated by Italy 2-1 during the 2014 FIFA World Cup Brazil Group D match between England and Italy at Arena Amazonia on June 14, 2014 in Manaus, Brazil. (Photo by Adam Pretty/Getty Images)

MANAUS, BRAZIL - JUNE 14: Joe Hart of England acknowledges the fans after being defeated by Italy 2-1 during the 2014 FIFA World Cup Brazil Group D match between England and Italy at Arena Amazonia on June 14, 2014 in Manaus, Brazil. (Photo by Adam Pretty/Getty Images)

Italy's national football team players celebrate at the end of a Group D football match between England and Italy at the Amazonia Arena in Manaus during the 2014 FIFA World Cup on June 14, 2014. Italy won 2 to 1. AFP PHOTO / ODD ANDERSEN (Photo credit should read ODD ANDERSEN/AFP/Getty Images)

England's midfielder Raheem Sterling, England's midfielder and captain Steven Gerrard (C) and England's defender Glen Johnson (R) leave the pitch at the end of a Group D football match between England and Italy at the Amazonia Arena in Manaus during the 2014 FIFA World Cup on June 14, 2014. Italy won 2 to 1. AFP PHOTO / ODD ANDERSEN (Photo credit should read ODD ANDERSEN/AFP/Getty Images)

MANAUS, BRAZIL - JUNE 14: Danny Welbeck of England looks on during the 2014 FIFA World Cup Brazil Group D match between England and Italy at Arena Amazonia on June 14, 2014 in Manaus, Brazil. (Photo by Richard Heathcote/Getty Images)

England's forward Wayne Rooney (R) gestures during a Group D football match between England and Italy at the Amazonia Arena in Manaus during the 2014 FIFA World Cup on June 14, 2014. AFP PHOTO / BEN STANSALL (Photo credit should read BEN STANSALL/AFP/Getty Images)

England's forward Wayne Rooney reacts during a Group D football match between England and Italy at the Amazonia Arena in Manaus during the 2014 FIFA World Cup on June 14, 2014. AFP PHOTO / BEN STANSALL (Photo credit should read BEN STANSALL/AFP/Getty Images)

MANAUS, BRAZIL - JUNE 14: Wayne Rooney of England walks off the field after being defeated by Italy 2-1 during the 2014 FIFA World Cup Brazil Group D match between England and Italy at Arena Amazonia on June 14, 2014 in Manaus, Brazil. (Photo by Christopher Lee/Getty Images)

MANAUS, BRAZIL - JUNE 14: Cesare Prandelli of Italy (left) shakes hands with Roy Hodgson of England during the 2014 FIFA World Cup Brazil Group D match between England and Italy at Arena Amazonia on June 14, 2014 in Manaus, Brazil. (Photo by Richard Heathcote/Getty Images)

MANAUS, BRAZIL - JUNE 14: A dejected Jack Wilshere of England looks down as Italy celebrate defeating England 2-1 during the 2014 FIFA World Cup Brazil Group D match between England and Italy at Arena Amazonia on June 14, 2014 in Manaus, Brazil. (Photo by Christopher Lee/Getty Images)

MANAUS, BRAZIL - JUNE 14: Roy Hodgson of England (left) looks on during the 2014 FIFA World Cup Brazil Group D match between England and Italy at Arena Amazonia on June 14, 2014 in Manaus, Brazil. (Photo by Richard Heathcote/Getty Images)

MANAUS, BRAZIL - JUNE 14: Steven Gerrard reacts during the 2014 FIFA World Cup Brazil Group D match between England and Italy at Arena Amazonia on June 14, 2014 in Manaus, Brazil. (Photo by Christopher Lee/Getty Images)

MANAUS, BRAZIL - JUNE 14: Steven Gerrard of England reacts as Andrea Pirlo of Italy runs during the 2014 FIFA World Cup Brazil Group D match between England and Italy at Arena Amazonia on June 14, 2014 in Manaus, Brazil. (Photo by Christopher Lee/Getty Images)

MANAUS, BRAZIL - JUNE 14: Manager Roy Hodgson of England looks on during the 2014 FIFA World Cup Brazil Group D match between England and Italy at Arena Amazonia on June 14, 2014 in Manaus, Brazil. (Photo by Richard Heathcote/Getty Images)

MANAUS, BRAZIL - JUNE 14: Gary Cahill of England gestures as Mario Balotelli of Italy lies on the pitch during the 2014 FIFA World Cup Brazil Group D match between England and Italy at Arena Amazonia on June 14, 2014 in Manaus, Brazil. (Photo by Adam Pretty/Getty Images)

MANAUS, BRAZIL - JUNE 14: Gary Cahill of England gestures as Mario Balotelli of Italy lies on the pitch during the 2014 FIFA World Cup Brazil Group D match between England and Italy at Arena Amazonia on June 14, 2014 in Manaus, Brazil. (Photo by Adam Pretty/Getty Images)

Italy's forward Mario Balotelli (L) reacts following a tackle by England's defender Gary Cahill during a Group D football match between England and Italy at the Amazonia Arena in Manaus during the 2014 FIFA World Cup on June 14, 2014. AFP PHOTO / FRANCOIS XAVIER MARIT (Photo credit should read FRANCOIS XAVIER MARIT/AFP/Getty Images)

England's midfielder and captain Steven Gerrard (L) vies with Italy's midfielder Marco Verratti during a Group D football match between England and Italy at the Amazonia Arena in Manaus during the 2014 FIFA World Cup on June 14, 2014. AFP PHOTO / BEN STANSALL (Photo credit should read BEN STANSALL/AFP/Getty Images)

MANAUS, BRAZIL - JUNE 14: Gabriel Paletta of Italy offers a hand to Steven Gerrard of England during the 2014 FIFA World Cup Brazil Group D match between England and Italy at Arena Amazonia on June 14, 2014 in Manaus, Brazil. (Photo by Adam Pretty/Getty Images)

Italy's forward Mario Balotelli (R) shakes hands with Italy's coach Cesare Prandelli after he was substituted during a Group D football match between England and Italy at the Amazonia Arena in Manaus during the 2014 FIFA World Cup on June 14, 2014. AFP PHOTO / GIUSEPPE CACACE (Photo credit should read GIUSEPPE CACACE/AFP/Getty Images)

MANAUS, BRAZIL - JUNE 14: Glen Johnson of England (L) helps teammate Raheem Sterling stretch during the 2014 FIFA World Cup Brazil Group D match between England and Italy at Arena Amazonia on June 14, 2014 in Manaus, Brazil. (Photo by Adam Pretty/Getty Images)

MANAUS, BRAZIL - JUNE 14: Claudio Marchisio of Italy helps Raheem Sterling of England stretch during the 2014 FIFA World Cup Brazil Group D match between England and Italy at Arena Amazonia on June 14, 2014 in Manaus, Brazil. (Photo by Adam Pretty/Getty Images)

England's forward Daniel Welbeck (R) vies with Italy's defender Matteo Darmian during a Group D football match between England and Italy at the Amazonia Arena in Manaus during the 2014 FIFA World Cup on June 14, 2014. AFP PHOTO / BEN STANSALL (Photo credit should read BEN STANSALL/AFP/Getty Images)

England's defender Gary Cahill (L) and Italy's forward Ciro Immobile vie for the ball during a Group D football match between England and Italy at the Amazonia Arena in Manaus during the 2014 FIFA World Cup on June 14, 2014. AFP PHOTO / FABRICE COFFRINI (Photo credit should read FABRICE COFFRINI/AFP/Getty Images)

England's forward Wayne Rooney (R) vies with Italy's midfielder Antonio Candreva and Italy's forward Ciro Immobile during a Group D football match between England and Italy at the Amazonia Arena in Manaus during the 2014 FIFA World Cup on June 14, 2014. AFP PHOTO / BEN STANSALL (Photo credit should read BEN STANSALL/AFP/Getty Images)

Italy's midfielder Thiago Motta (L) and England's midfielder and captain Steven Gerrard vie for the ball during a Group D football match between England and Italy at the Amazonia Arena in Manaus during the 2014 FIFA World Cup on June 14, 2014. AFP PHOTO / FABRICE COFFRINI (Photo credit should read FABRICE COFFRINI/AFP/Getty Images)

Italy's midfielder Thiago Motta (L) and England's midfielder and captain Steven Gerrard vie for the ball during a Group D football match between England and Italy at the Amazonia Arena in Manaus during the 2014 FIFA World Cup on June 14, 2014. AFP PHOTO / FABRICE COFFRINI (Photo credit should read FABRICE COFFRINI/AFP/Getty Images)

MANAUS, BRAZIL - JUNE 14: Mario Balotelli of Italy lies on the field after a tackle during the 2014 FIFA World Cup Brazil Group D match between England and Italy at Arena Amazonia on June 14, 2014 in Manaus, Brazil. (Photo by Elsa/Getty Images)

MANAUS, BRAZIL - JUNE 14: Mario Balotelli of Italy holds his leg after a tackle by Gary Cahill of England during the 2014 FIFA World Cup Brazil Group D match between England and Italy at Arena Amazonia on June 14, 2014 in Manaus, Brazil. (Photo by Elsa/Getty Images)

England's forward Daniel Sturridge (L) sprays water on his face during a Group D football match between England and Italy at the Amazonia Arena in Manaus during the 2014 FIFA World Cup on June 14, 2014. AFP PHOTO / BEN STANSALL (Photo credit should read BEN STANSALL/AFP/Getty Images)

MANAUS, BRAZIL - JUNE 14: Mario Balotelli of Italy lies on the field after a tackle by Gary Cahill of England during the 2014 FIFA World Cup Brazil Group D match between England and Italy at Arena Amazonia on June 14, 2014 in Manaus, Brazil. (Photo by Elsa/Getty Images)

MANAUS, BRAZIL - JUNE 14: Wayne Rooney of England controls the ball against Andrea Barzagli of Italy during the 2014 FIFA World Cup Brazil Group D match between England and Italy at Arena Amazonia on June 14, 2014 in Manaus, Brazil. (Photo by Adam Pretty/Getty Images)

England's midfielder Adam Lallana (R) vies with Italy's defender Matteo Darmian during a Group D football match between England and Italy at the Amazonia Arena in Manaus during the 2014 FIFA World Cup on June 14, 2014. AFP PHOTO / BEN STANSALL (Photo credit should read BEN STANSALL/AFP/Getty Images)

England's midfielder Adam Lallana (R) vies with Italy's defender Matteo Darmian during a Group D football match between England and Italy at the Amazonia Arena in Manaus during the 2014 FIFA World Cup on June 14, 2014. AFP PHOTO / BEN STANSALL (Photo credit should read BEN STANSALL/AFP/Getty Images)

MANAUS, BRAZIL - JUNE 14: Mario Balotelli of Italy scores his team's second goal on a header past Gary Cahill and goalkeeper Joe Hart of England during the 2014 FIFA World Cup Brazil Group D match between England and Italy at Arena Amazonia on June 14, 2014 in Manaus, Brazil. (Photo by Francois Xavier Marit - Pool/Getty Images)

MANAUS, BRAZIL - JUNE 14: Mario Balotelli of Italy lies on the field after a tackle by Gary Cahill of England during the 2014 FIFA World Cup Brazil Group D match between England and Italy at Arena Amazonia on June 14, 2014 in Manaus, Brazil. (Photo by Pool/Getty Images)

Italy's forward Ciro Immobile (L) vies with England's defender Gary Cahill during a Group D football match between England and Italy at the Amazonia Arena in Manaus during the 2014 FIFA World Cup on June 14, 2014. POOL AFP PHOTO / FRANCOIS XAVIER MARIT (Photo credit should read FRANCOIS XAVIER MARIT/AFP/Getty Images)

England's goalkeeper Joe Hart (L) assists England's defender Gary Cahill as he suffers from cramp during a Group D football match between England and Italy at the Amazonia Arena in Manaus during the 2014 FIFA World Cup on June 14, 2014. AFP PHOTO / FRANCOIS XAVIER MARIT (Photo credit should read FRANCOIS XAVIER MARIT/AFP/Getty Images)

England's midfielder Adam Lallana vies with Italy's defender Matteo Darmian during a Group D football match between England and Italy at the Amazonia Arena in Manaus during the 2014 FIFA World Cup on June 14, 2014. AFP PHOTO / BEN STANSALL (Photo credit should read BEN STANSALL/AFP/Getty Images)

Italy's goalkeeper Salvatore Sirigu (C) saves the ball during a Group D football match between England and Italy at the Amazonia Arena in Manaus during the 2014 FIFA World Cup on June 14, 2014. AFP PHOTO / FABRICE COFFRINI (Photo credit should read FABRICE COFFRINI/AFP/Getty Images)

Italy's midfielder Claudio Marchisio (L) vies with England's midfielder Adam Lallana during a Group D football match between England and Italy at the Amazonia Arena in Manaus during the 2014 FIFA World Cup on June 14, 2014. AFP PHOTO / ODD ANDERSEN (Photo credit should read ODD ANDERSEN/AFP/Getty Images)

Italy's forward Mario Balotelli (L) heads and scores during a Group D football match between England and Italy at the Amazonia Arena in Manaus during the 2014 FIFA World Cup on June 14, 2014. POOL AFP PHOTO / FRANCOIS XAVIER MARIT (Photo credit should read FRANCOIS XAVIER MARIT/AFP/Getty Images)

Italy's forward Mario Balotelli (L) heads and scores during a Group D football match between England and Italy at the Amazonia Arena in Manaus during the 2014 FIFA World Cup on June 14, 2014. AFP PHOTO / ODD ANDERSEN (Photo credit should read ODD ANDERSEN/AFP/Getty Images)

MANAUS, BRAZIL - JUNE 14: Mario Balotelli of Italy and Marco Verratti celebrate after the second goal during the 2014 FIFA World Cup Brazil Group D match between England and Italy at Arena Amazonia on June 14, 2014 in Manaus, Brazil. (Photo by Christopher Lee/Getty Images)

MANAUS, BRAZIL - JUNE 14: Mario Balotelli of Italy celebrates after scoring the second goal during the 2014 FIFA World Cup Brazil Group D match between England and Italy at Arena Amazonia on June 14, 2014 in Manaus, Brazil. (Photo by Christopher Lee/Getty Images)

Italy's forward Mario Balotelli (L) heads and scores during a Group D football match between England and Italy at the Amazonia Arena in Manaus during the 2014 FIFA World Cup on June 14, 2014. POOL AFP PHOTO / FRANCOIS XAVIER MARIT (Photo credit should read FRANCOIS XAVIER MARIT/AFP/Getty Images)

Italy's forward Mario Balotelli scores a goal as England's goalkeeper Joe Hart (L) fails to save the ball during a Group D football match between England and Italy at the Amazonia Arena in Manaus during the 2014 FIFA World Cup on June 14, 2014. AFP PHOTO / FABRICE COFFRINI (Photo credit should read FABRICE COFFRINI/AFP/Getty Images)

MANAUS, BRAZIL - JUNE 14: Joe Hart of England lands in the net after allowing Italy's second goal to Mario Balotelli of Italy (not pictured) during the 2014 FIFA World Cup Brazil Group D match between England and Italy at Arena Amazonia on June 14, 2014 in Manaus, Brazil. (Photo by Francois Xavier Marit - Pool/Getty Images)

Italy's forward Mario Balotelli (C) heads the ball to score a goal as England's goalkeeper Joe Hart (L) and England's defender Gary Cahill try to defend during a Group D football match between England and Italy at the Amazonia Arena in Manaus during the 2014 FIFA World Cup on June 14, 2014. AFP PHOTO / FABRICE COFFRINI (Photo credit should read FABRICE COFFRINI/AFP/Getty Images)

Italy's forward Mario Balotelli celebrates after scoring during a Group D football match between England and Italy at the Amazonia Arena in Manaus during the 2014 FIFA World Cup on June 14, 2014. AFP PHOTO / ODD ANDERSEN (Photo credit should read ODD ANDERSEN/AFP/Getty Images)

MANAUS, BRAZIL - JUNE 14: Mario Balotelli of Italy celebrates with his teammates after scoring the second goal during the 2014 FIFA World Cup Brazil Group D match between England and Italy at Arena Amazonia on June 14, 2014 in Manaus, Brazil. (Photo by Christopher Lee/Getty Images)

MANAUS, BRAZIL - JUNE 14: England manager Roy Hodgson speaks to head coach Cesare Prandelli of Italy as England trainer Gary Lewin lies on the ground being treated for an injury during the 2014 FIFA World Cup Brazil Group D match between England and Italy at Arena Amazonia on June 14, 2014 in Manaus, Brazil. (Photo by Claudio Villa/Getty Images)

MANAUS, BRAZIL - JUNE 14: England trainer Gary Lewin is stretchered off the field after a leg injury during the 2014 FIFA World Cup Brazil Group D match between England and Italy at Arena Amazonia on June 14, 2014 in Manaus, Brazil. (Photo by Warren Little/Getty Images)

MANAUS, BRAZIL - JUNE 14: England trainer Gary Lewin is stretchered off the field after a leg injury during the 2014 FIFA World Cup Brazil Group D match between England and Italy at Arena Amazonia on June 14, 2014 in Manaus, Brazil. (Photo by Warren Little/Getty Images)

MANAUS, BRAZIL - JUNE 14: England trainer Gary Lewin is stretchered off the field after a leg injury during the 2014 FIFA World Cup Brazil Group D match between England and Italy at Arena Amazonia on June 14, 2014 in Manaus, Brazil. (Photo by Warren Little/Getty Images)

England's forward Daniel Sturridge celebrates after scoring a goal during a Group D football match between England and Italy at the Amazonia Arena in Manaus during the 2014 FIFA World Cup on June 14, 2014. AFP PHOTO / GIUSEPPE CACACE (Photo credit should read GIUSEPPE CACACE/AFP/Getty Images)

England's forward Daniel Sturridge celebrates after scoring during a Group D football match between England and Italy at the Amazonia Arena in Manaus during the 2014 FIFA World Cup on June 14, 2014. AFP PHOTO / ODD ANDERSEN (Photo credit should read ODD ANDERSEN/AFP/Getty Images)

MANAUS, BRAZIL - JUNE 14: Daniel Sturridge of England (2nd R) celebrates scoring his team's first goal with Jordan Henderson (L), Danny Welbeck (2nd L), Raheem Sterling (C) and Wayne Rooney (R) during the 2014 FIFA World Cup Brazil Group D match between England and Italy at Arena Amazonia on June 14, 2014 in Manaus, Brazil. (Photo by Claudio Villa/Getty Images)

Italy's goalkeeper Salvatore Sirigu (top) lies on the ground as England's forward Daniel Sturridge celebrates after scoring a goal during a Group D football match between England and Italy at the Amazonia Arena in Manaus during the 2014 FIFA World Cup on June 14, 2014. AFP PHOTO / FRANCOIS XAVIER MARIT (Photo credit should read FRANCOIS XAVIER MARIT/AFP/Getty Images)

England's forward Daniel Sturridge celebrates after scoring during a Group D football match between England and Italy at the Amazonia Arena in Manaus during the 2014 FIFA World Cup on June 14, 2014. AFP PHOTO / BEN STANSALL (Photo credit should read BEN STANSALL/AFP/Getty Images)

England's forward Daniel Sturridge (R) celebrates with teammates after scoring during a Group D football match between England and Italy at the Amazonia Arena in Manaus during the 2014 FIFA World Cup on June 14, 2014. AFP PHOTO / BEN STANSALL (Photo credit should read BEN STANSALL/AFP/Getty Images)

England's forward Daniel Sturridge celebrates after scoring a goal during a Group D football match between England and Italy at the Amazonia Arena in Manaus during the 2014 FIFA World Cup on June 14, 2014. AFP PHOTO / GIUSEPPE CACACE (Photo credit should read GIUSEPPE CACACE/AFP/Getty Images)

MANAUS, BRAZIL - JUNE 14: Daniel Sturridge of England celebrates scoring his team's first goal as Giorgio Chiellini of Italy looks on during the 2014 FIFA World Cup Brazil Group D match between England and Italy at Arena Amazonia on June 14, 2014 in Manaus, Brazil. (Photo by Richard Heathcote/Getty Images)

MANAUS, BRAZIL - JUNE 14: Daniel Sturridge of England (C) celebrates scoring his team's first goal with Jordan Henderson (L) and Danny Welbeck (R) during the 2014 FIFA World Cup Brazil Group D match between England and Italy at Arena Amazonia on June 14, 2014 in Manaus, Brazil. (Photo by Claudio Villa/Getty Images)

MANAUS, BRAZIL - JUNE 14: Daniel Sturridge of England shoots and scores his team's first goal past Salvatore Sirigu of Italy during the 2014 FIFA World Cup Brazil Group D match between England and Italy at Arena Amazonia on June 14, 2014 in Manaus, Brazil. (Photo by Christopher Lee/Getty Images)

MANAUS, BRAZIL - JUNE 14: Daniel Sturridge of England shoots and scores his team's first goal past Salvatore Sirigu of Italy during the 2014 FIFA World Cup Brazil Group D match between England and Italy at Arena Amazonia on June 14, 2014 in Manaus, Brazil. (Photo by Christopher Lee/Getty Images)

MANAUS, BRAZIL - JUNE 14: Claudio Marchisio of Italy shoots and scores his team's first goal during the 2014 FIFA World Cup Brazil Group D match between England and Italy at Arena Amazonia on June 14, 2014 in Manaus, Brazil. (Photo by Christopher Lee/Getty Images)

Italy's midfielder Claudio Marchisio celebrates after scoring during a Group D football match between England and Italy at the Amazonia Arena in Manaus during the 2014 FIFA World Cup on June 14, 2014. AFP PHOTO / BEN STANSALL (Photo credit should read BEN STANSALL/AFP/Getty Images)

Italy's midfielder Claudio Marchisio celebrates after scoring during a Group D football match between England and Italy at the Amazonia Arena in Manaus during the 2014 FIFA World Cup on June 14, 2014. AFP PHOTO / BEN STANSALL (Photo credit should read BEN STANSALL/AFP/Getty Images)

England's goalkeeper Joe Hart reacts after Italy scored during a Group D football match between England and Italy at the Amazonia Arena in Manaus during the 2014 FIFA World Cup on June 14, 2014. AFP PHOTO / BEN STANSALL (Photo credit should read BEN STANSALL/AFP/Getty Images)

Italy's national football team players celebrate after scoring during a Group D football match between England and Italy at the Amazonia Arena in Manaus during the 2014 FIFA World Cup on June 14, 2014. AFP PHOTO / ODD ANDERSEN (Photo credit should read ODD ANDERSEN/AFP/Getty Images)

MANAUS, BRAZIL - JUNE 14: Italy celebrate their team's first goal by Claudio Marchisio of Italy during the 2014 FIFA World Cup Brazil Group D match between England and Italy at Arena Amazonia on June 14, 2014 in Manaus, Brazil. (Photo by Warren Little/Getty Images)

MANAUS, BRAZIL - JUNE 14: Joe Hart of England dives in vain as the ball kicked by Claudio Marchisio of Italy (not pictured) makes its way to the goal during the 2014 FIFA World Cup Brazil Group D match between England and Italy at Arena Amazonia on June 14, 2014 in Manaus, Brazil. (Photo by Francois Xavier Marit - Pool/Getty Images)

Italy's national football team players celebrate after scoring during a Group D football match between England and Italy at the Amazonia Arena in Manaus during the 2014 FIFA World Cup on June 14, 2014. POOL AFP PHOTO / FRANCOIS XAVIER MARIT (Photo credit should read FRANCOIS XAVIER MARIT/AFP/Getty Images)

MANAUS, BRAZIL - JUNE 14: Italy celebrate their team's first goal by Claudio Marchisio of Italy during the 2014 FIFA World Cup Brazil Group D match between England and Italy at Arena Amazonia on June 14, 2014 in Manaus, Brazil. (Photo by Francois Xavier Marit - Pool/Getty Images)

Italy's midfielder Claudio Marchisio (L) celebrates with his temmate midfielder Daniele De Rossi after scoring a goal during a Group D football match between England and Italy at the Amazonia Arena in Manaus during the 2014 FIFA World Cup on June 14, 2014. AFP PHOTO / GIUSEPPE CACACE (Photo credit should read FRANCOIS XAVIER MARIT/AFP/Getty Images)

MANAUS, BRAZIL - JUNE 14: Daniel Sturridge of England and Giorgio Chiellini of Italy go up for a header during the 2014 FIFA World Cup Brazil Group D match between England and Italy at Arena Amazonia on June 14, 2014 in Manaus, Brazil. (Photo by Warren Little/Getty Images)

Italy's midfielder Andrea Pirlo (R) vies with England's forward Daniel Welbeck during a Group D football match between England and Italy at the Amazonia Arena in Manaus during the 2014 FIFA World Cup on June 14, 2014. AFP PHOTO / ODD ANDERSEN (Photo credit should read ODD ANDERSEN/AFP/Getty Images)

MANAUS, BRAZIL - JUNE 14: Raheem Sterling of England runs with the ball as Marco Verratti of Italy gives chase during the 2014 FIFA World Cup Brazil Group D match between England and Italy at Arena Amazonia on June 14, 2014 in Manaus, Brazil. (Photo by Christopher Lee/Getty Images)

Italy's defender Giorgio Chiellini (L) and England's forward Daniel Welbeck vie for the ball during a Group D football match between England and Italy at the Amazonia Arena in Manaus during the 2014 FIFA World Cup on June 14, 2014. AFP PHOTO / FRANCOIS XAVIER MARIT (Photo credit should read FRANCOIS XAVIER MARIT/AFP/Getty Images)

England's midfielder Jordan Henderson (top) vies for the ball with Italy's midfielder Andrea Pirlo (bottom) during a Group D football match between England and Italy at the Amazonia Arena in Manaus during the 2014 FIFA World Cup on June 14, 2014. AFP PHOTO / GIUSEPPE CACACE (Photo credit should read GIUSEPPE CACACE/AFP/Getty Images)

England's forward Daniel Welbeck (L) and Italy's midfielder Daniele De Rossi vie for the ball during a Group D football match between England and Italy at the Amazonia Arena in Manaus during the 2014 FIFA World Cup on June 14, 2014. AFP PHOTO / GIUSEPPE CACACE (Photo credit should read GIUSEPPE CACACE/AFP/Getty Images)

England's midfielder Raheem Sterling (L) and Italy's defender Gabriel Paletta vie for the ball during a Group D football match between England and Italy at the Amazonia Arena in Manaus during the 2014 FIFA World Cup on June 14, 2014. AFP PHOTO / GIUSEPPE CACACE (Photo credit should read GIUSEPPE CACACE/AFP/Getty Images)

MANAUS, BRAZIL - JUNE 14: Antonio Candreva of Italy is challenged by Leighton Baines of England during the 2014 FIFA World Cup Brazil Group D match between England and Italy at Arena Amazonia on June 14, 2014 in Manaus, Brazil. (Photo by Adam Pretty/Getty Images)

Italy's midfielder Claudio Marchisio runs with the ball during a Group D football match between England and Italy at the Amazonia Arena in Manaus during the 2014 FIFA World Cup on June 14, 2014. AFP PHOTO / BEN STANSALL (Photo credit should read BEN STANSALL/AFP/Getty Images)

Italy's goalkeeper Salvatore Sirigu (C) jumps to save a goal during a Group D football match between England and Italy at the Amazonia Arena in Manaus during the 2014 FIFA World Cup on June 14, 2014. AFP PHOTO / BEN STANSALL (Photo credit should read BEN STANSALL/AFP/Getty Images)

Italy's midfielder Andrea Pirlo (R) runs with the ball during a Group D football match between England and Italy at the Amazonia Arena in Manaus during the 2014 FIFA World Cup on June 14, 2014. AFP PHOTO / BEN STANSALL (Photo credit should read BEN STANSALL/AFP/Getty Images)

Italy's midfielder Marco Verratti (L) fall to the ground following a tackle by England's forward Wayne Rooney during a Group D football match between England and Italy at the Amazonia Arena in Manaus during the 2014 FIFA World Cup on June 14, 2014. AFP PHOTO / FRANCOIS XAVIER MARIT (Photo credit should read FRANCOIS XAVIER MARIT/AFP/Getty Images)

Italy's midfielder Marco Verratti falls to the ground following a tackle by England's forward Wayne Rooney during a Group D football match between England and Italy at the Amazonia Arena in Manaus during the 2014 FIFA World Cup on June 14, 2014. AFP PHOTO / GIUSEPPE CACACE (Photo credit should read GIUSEPPE CACACE/AFP/Getty Images)

Italy's midfielder Marco Verratti (L) reacts following a tackle by England's forward Wayne Rooney during a Group D football match between England and Italy at the Amazonia Arena in Manaus during the 2014 FIFA World Cup on June 14, 2014. AFP PHOTO / GIUSEPPE CACACE (Photo credit should read GIUSEPPE CACACE/AFP/Getty Images)

Italy's midfielder Marco Verratti (C) is tackled by England's forward Wayne Rooney (R) during a Group D football match between England and Italy at the Amazonia Arena in Manaus during the 2014 FIFA World Cup on June 14, 2014. AFP PHOTO / ODD ANDERSEN (Photo credit should read ODD ANDERSEN/AFP/Getty Images)

Italy's defender Giorgio Chiellini (L) and England's forward Daniel Welbeck vie for the ball during a Group D football match between England and Italy at the Amazonia Arena in Manaus during the 2014 FIFA World Cup on June 14, 2014. AFP PHOTO / GIUSEPPE CACACE (Photo credit should read GIUSEPPE CACACE/AFP/Getty Images)

England's defender Glen Johnson (L) vies with Italy's midfielder Claudio Marchisio during a Group D football match between England and Italy at the Amazonia Arena in Manaus during the 2014 FIFA World Cup on June 14, 2014. AFP PHOTO / BEN STANSALL (Photo credit should read BEN STANSALL/AFP/Getty Images)

Italy's midfielder Claudio Marchisio vies with England's defender Glen Johnson (foreground) during a Group D football match between England and Italy at the Amazonia Arena in Manaus during the 2014 FIFA World Cup on June 14, 2014. AFP PHOTO / BEN STANSALL (Photo credit should read BEN STANSALL/AFP/Getty Images)

England's midfielder and captain Steven Gerrard (L) and Italy's midfielder Antonio Candreva vie for the ball during a Group D football match between England and Italy at the Amazonia Arena in Manaus during the 2014 FIFA World Cup on June 14, 2014. AFP PHOTO / FABRICE COFFRINI (Photo credit should read FABRICE COFFRINI/AFP/Getty Images)

Italy's midfielder Claudio Marchisio vies with England's defender Glen Johnson (L) during a Group D football match between England and Italy at the Amazonia Arena in Manaus during the 2014 FIFA World Cup on June 14, 2014. AFP PHOTO / BEN STANSALL (Photo credit should read BEN STANSALL/AFP/Getty Images)

Italy's defender Matteo Darmian (L) and England's forward Wayne Rooney vie for the ball during a Group D football match between England and Italy at the Amazonia Arena in Manaus during the 2014 FIFA World Cup on June 14, 2014. AFP PHOTO / FABRICE COFFRINI (Photo credit should read FABRICE COFFRINI/AFP/Getty Images)

Italy's midfielder Andrea Pirlo (C) gestures during a Group D football match between England and Italy at the Amazonia Arena in Manaus during the 2014 FIFA World Cup on June 14, 2014. AFP PHOTO / ODD ANDERSEN (Photo credit should read ODD ANDERSEN/AFP/Getty Images)

England's midfielder Raheem Sterling (bottom) and Italy's defender Gabriel Paletta vie for the ball during a Group D football match between England and Italy at the Amazonia Arena in Manaus during the 2014 FIFA World Cup on June 14, 2014. AFP PHOTO / ODD ANDERSEN (Photo credit should read ODD ANDERSEN/AFP/Getty Images)

England's midfielder Raheem Sterling (L) and Italy's defender Gabriel Paletta vie for the ball during a Group D football match between England and Italy at the Amazonia Arena in Manaus during the 2014 FIFA World Cup on June 14, 2014. AFP PHOTO / ODD ANDERSEN (Photo credit should read ODD ANDERSEN/AFP/Getty Images)

Italy's defender Giorgio Chiellini (L) and England's forward Daniel Welbeck vie for the ball during a Group D football match between England and Italy at the Amazonia Arena in Manaus during the 2014 FIFA World Cup on June 14, 2014. AFP PHOTO / GIUSEPPE CACACE (Photo credit should read GIUSEPPE CACACE/AFP/Getty Images)

Italy's goalkeeper Salvatore Sirigu jumps to save a goal during a Group D football match between England and Italy at the Amazonia Arena in Manaus during the 2014 FIFA World Cup on June 14, 2014. POOL AFP PHOTO / FRANCOIS XAVIER MARIT (Photo credit should read FRANCOIS XAVIER MARIT/AFP/Getty Images)

Italy's defender Gabriel Paletta (L) vies with England's midfielder Raheem Sterling during a Group D football match between England and Italy at the Amazonia Arena in Manaus during the 2014 FIFA World Cup on June 14, 2014. AFP PHOTO / ODD ANDERSEN (Photo credit should read ODD ANDERSEN/AFP/Getty Images)

Players pose for national Anthems prior to a Group D football match between England and Italy at the Amazonia Arena in Manaus during the 2014 FIFA World Cup on June 14, 2014. AFP PHOTO / ODD ANDERSEN (Photo credit should read ODD ANDERSEN/AFP/Getty Images)

MANAUS, BRAZIL - JUNE 14: England teammates embrace before the 2014 FIFA World Cup Brazil Group D match between England and Italy at Arena Amazonia on June 14, 2014 in Manaus, Brazil. (Photo by Warren Little/Getty Images)

Italy's defender Giorgio Chiellini (R) and Italy's defender Mattia De Sciglio vie for the ball during a Group D football match between England and Italy at the Amazonia Arena in Manaus during the 2014 FIFA World Cup on June 14, 2014. AFP PHOTO / ODD ANDERSEN (Photo credit should read ODD ANDERSEN/AFP/Getty Images)

Member of Italy's national football team (back from L-R) Italy's defender Andrea Barzagli, Italy's defender Giorgio Chiellini, Italy's defender Gabriel Paletta, Italy's forward Mario Balotelli, Italy's defender Matteo Darmian and Italy's goalkeeper Salvatore Sirigu, (from L-R) Italy's midfielder Antonio Candreva, Italy's midfielder Andrea Pirlo, Italy's midfielder Claudio Marchisio, Italy's midfielder Marco Verratti and Italy's midfielder Daniele De Rossi, pose for team photo during a Group D football match between England and Italy at the Amazonia Arena in Manaus during the 2014 FIFA World Cup on June 14, 2014. AFP PHOTO / GIUSEPPE CACACE (Photo credit should read GIUSEPPE CACACE/AFP/Getty Images)

MANAUS, BRAZIL - JUNE 14: England pose for a team photo prior to the 2014 FIFA World Cup Brazil Group D match between England and Italy at Arena Amazonia on June 14, 2014 in Manaus, Brazil. (Photo by Richard Heathcote/Getty Images)

MANAUS, BRAZIL - JUNE 14: Steven Gerrard of England warms up prior to the 2014 FIFA World Cup Brazil Group D match between England and Italy at Arena Amazonia on June 14, 2014 in Manaus, Brazil. (Photo by Richard Heathcote/Getty Images)

MANAUS, BRAZIL - JUNE 14: Wayne Rooney (L) and Daniel Sturridge of England warm up prior to the 2014 FIFA World Cup Brazil Group D match between England and Italy at Arena Amazonia on June 14, 2014 in Manaus, Brazil. (Photo by Richard Heathcote/Getty Images)

MANAUS, BRAZIL - JUNE 14: Steven Gerrard (L) and Phil Jagielka of England warm up prior to the 2014 FIFA World Cup Brazil Group D match between England and Italy at Arena Amazonia on June 14, 2014 in Manaus, Brazil. (Photo by Richard Heathcote/Getty Images)

MANAUS, BRAZIL - JUNE 14: England fans soak up the pre-match atmosphere during the 2014 FIFA World Cup Brazil Group D match between England and Italy at Arena Amazonia on June 14, 2014 in Manaus, Brazil. (Photo by Elsa/Getty Images)

An English supporter waits for the start of a Group D football match between England and Italy at the Amazonia Arena in Manaus during the 2014 FIFA World Cup on June 14, 2014. AFP PHOTO / BEN STANSALL (Photo credit should read BEN STANSALL/AFP/Getty Images)

England's coach Roy Hodgson walks on the field prior to the start of a Group D football match between England and Italy at the Amazonia Arena in Manaus during the 2014 FIFA World Cup on June 14, 2014. AFP PHOTO / ODD ANDERSEN (Photo credit should read ODD ANDERSEN/AFP/Getty Images)

MANAUS, BRAZIL - JUNE 14: Roy Hodgson of England shakes hands with Cesare Prandelli of Italy ahead of the 2014 FIFA World Cup Brazil Group D match between England and Italy at Arena Amazonia on June 14, 2014 in Manaus, Brazil. (Photo by Richard Heathcote/Getty Images)

MANAUS, BRAZIL - JUNE 14: Roy Hodgson of England and his assistant Ray Lewington look on ahead of the 2014 FIFA World Cup Brazil Group D match between England and Italy at Arena Amazonia on June 14, 2014 in Manaus, Brazil. (Photo by Richard Heathcote/Getty Images)

An English supporter kisses a World Cup trophy replica prior to the start of a Group D football match between England and Italy at the Amazonia Arena in Manaus during the 2014 FIFA World Cup on June 14, 2014. AFP PHOTO / BEN STANSALL (Photo credit should read BEN STANSALL/AFP/Getty Images)

Italy's coach Cesare Prandelli (R) talks to England's coach Roy Hodgson prior to the start of a Group D football match between England and Italy at the Amazonia Arena in Manaus during the 2014 FIFA World Cup on June 14, 2014. AFP PHOTO / ODD ANDERSEN (Photo credit should read ODD ANDERSEN/AFP/Getty Images)

Italy's coach Cesare Prandelli (L) and England's coach Roy Hodgson walk on the field prior to the start of a Group D football match between England and Italy at the Amazonia Arena in Manaus during the 2014 FIFA World Cup on June 14, 2014. AFP PHOTO / ODD ANDERSEN (Photo credit should read ODD ANDERSEN/AFP/Getty Images)

MANAUS, BRAZIL - JUNE 14: England football fans pose for a photograph in Praca Sao Sebastiao, in front of the Teatro Amazonas opera house, ahead of their opening game in the FIFA World Cup on June 14, 2014 in Manaus, Brazil. Group D teams, England and Italy, will play their opening match of the 2014 FIFA World Cup when they meet in Manaus this evening. (Photo by Oli Scarff/Getty Images)

MANAUS, BRAZIL - JUNE 14: Italian football fans (blue shirts) taunt English fans as they pose for a photograph in Praca Sao Sebastiao, in front of the Teatro Amazonas opera house, ahead of their opening game in the FIFA World Cup on June 14, 2014 in Manaus, Brazil. Group D teams, England and Italy, will play their opening match of the 2014 FIFA World Cup when they meet in Manaus this evening. (Photo by Oli Scarff/Getty Images)

MANAUS, BRAZIL - JUNE 14: A car with a Union Flag on its bonnet passes pedestrians ahead of England's opening game in the FIFA World Cup on June 14, 2014 in Manaus, Brazil. Group D teams, England and Italy, will play their opening match of the 2014 FIFA World Cup when they meet in Manaus this evening. (Photo by Oli Scarff/Getty Images)

MANAUS, BRAZIL - JUNE 14: England football fans pose for a photograph in Praca Sao Sebastiao, in front of the Teatro Amazonas opera house, ahead of their opening game in the FIFA World Cup on June 14, 2014 in Manaus, Brazil. Group D teams, England and Italy, will play their opening match of the 2014 FIFA World Cup when they meet in Manaus this evening. (Photo by Oli Scarff/Getty Images)

MANAUS, BRAZIL - JUNE 14: Italy fans pose for a photograph with an England fan ahead of the 2014 FIFA World Cup Brazil Group D match between England and Italy at Arena Amazonia on June 14, 2014 in Manaus, Brazil. (Photo by Adam Pretty/Getty Images)

MANAUS, BRAZIL - JUNE 14: English and Italian football fans relax in Praca Sao Sebastiao, in front of the Teatro Amazonas opera house, ahead of their opening game in the FIFA World Cup on June 14, 2014 in Manaus, Brazil. Group D teams, England and Italy, will play their opening match of the 2014 FIFA World Cup when they meet in Manaus this evening. (Photo by Oli Scarff/Getty Images)