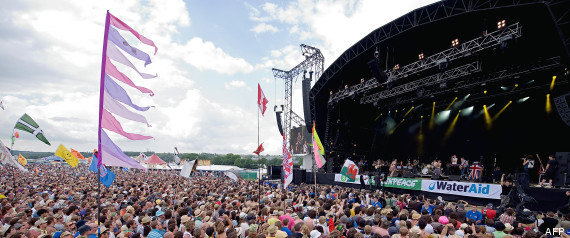 Well, that's it. All over. For another year, at least.
And as Glastonbury 2014 kicked off, there was all the usual excitement and advice:
Off to Glastonbury today? Don't forget to bring heavy boots and an umbrella. In fact, anything you can throw at Kasabian.
Driving the A303 to Glastonbury? As you pass Stonehenge on the left do you sense a message? The message is: you're going the wrong way.
Didnt get Glastonbury tickets? Just watch guardian readers drink warm white wine whilst pretending to like radio 1
Ah, yes. It wouldn't be Glastonbury On Twitter without the inevitable (but also amusing) 'how to recreate Glastonbury' tweets:
Recreate the excitement of Glastonbury by watching your TV from the next street, doing a wee in your shoe, and falling over your own fence.
Recreating Glastonbury at home. Blocked my toilet with falafel, said I was a fan of the sofa before you lot & the kitchen has a bad vibe.
To replicate watching Robert Plant live at Glastonbury - watch the TV from the shower and have the Family walk about with brollies in front
Couldn't get to Glastonbury? Recreate the experience by camping in the rain at Fishguard, smearing yourself in urine, while playing old CDs
At Glastonbury itself, meanwhile, there was the inevitable rain and mud, and media coverage of the rain and mud...
What awful conditions people have to endure in some parts of the world. No sanitation. Living in filty mud huts. Still, that's Glastonbury.
Anyone following Glastonbury in some papers could be forgiven for thinking it is only attended by young women. Like A-level day, with mud.
GLASTONBURY: We fail to mask our glee at rain while publishing as many bikini shots of liberated hippy girls as we can find.
Rudimental's set at #Glastonbury has been cut short due to rain. It's almost as if the weather gods have seen them live before....
Drought hit regions, bring much needed rain for your crops by holding your own Glastonbury.
The inevitable wacky Glastonbury-goers...
And inevitable crowd behaviour:
Men at Glastonbury with their girlfriends on their shoulders are also known as 'The Osteopath's New Car'.
Of course, there were plenty of thoughts on the line-up:
Jake Bugg is headlining ahead of The Pixies tonight. That makes less sense than Twin Peaks.
Glastonbury show tonight includes strong language and flashing lights. I must be getting old, never heard either of those bands
And on some acts in particular:
Skrillex sounds like when you open the cupboard and all the pans fall out
How does Jack White manage to look black & white in real life ?
Its hard to believe Debbie Harry is 93.
My dad appears to be the drummer in the Pixies.
Arcade Fire are a bit like a one-man band on a jobshare #Glastonbury
Put everything back in the cupboard now and get the recorders out like you were told. #Arcade Fire
Indeed, Ed Sheeran brought back memories for some:
Ed Sheeran always reminds me of when I convinced my M-I-L he was Prince Harry 'doing a turn' at the Olympics Closing Ceremony.
#Glastonbury
But on to the big guns! First off, Saturday headliners and renowned bear-hunters Metallica:
In an ideal world, the stage directions for Metallica's set tonight should be "Exit, pursued by a bear".
"Lars Ulrich" sounds like a toddler trying to say large oil rig #Glastonbury
This Metallica gig looks like the sort of thing Quincy might have gone to while investigating tinnitus related teen suicides. #Glastonbury
Fun fact. Metallica's Master of Puppets is about Sooty creator Harry Corbett.
Hey Metallica. Just use 'Puppet Master' and you've saved a word. You're welcome.
Flicking between Metallica and the Uruguay match like a vegetarian offered veal medallions and steak tartare.
If everyone had just stuck to ROCKING OUT LIKE FUCK there would no artisan coffee drinking cocktails in jam jars wankers. Think on
The one and only Dolly Parton:
Bit unfair of Glastonbury to put Dolly Parton on at 5, given her strict working hours.
Dolly Parton set up a theme park dedicated to herself and remains substantially likeable. I'm pretty sure that counts as a superpower.
Dolly Parton playing the Benny Hill theme on a diamond encrusted saxophone. What more could I want in life?
'Dolly draws huge crowd at Glastonbury' She's multitalented you know.
And to round everything off, Kasabian:
Kasabian only seem to have one song. Sadly it's by Led Zeppelin.
Every member of Kasabian is Super Hans.
I just did a massive sigh....it was Kasabian related
Of course, you didn't have to be there to have a time, good or otherwise. Those watching at home kept us amused...
I'm at the pyramid stage. No, I'm not at Glastonbury, that's just where I'm up to in pondering what sort of tomb to have.
"Don't worry son, we can have our own little Glastonbury. Right here in the caravan!"
I love the idea of going to Glastonbury, but I absolutely, positively wouldn't be able to go to the toilet. Not on stage, anyway.
I think I've missed the boat for Glastonbury. I like a nice sit-down and I'd look like Elbow's mam being supportive.
Knowing I'm not at Glastonbury is how I get high.
...and also informed with fun Glastonbury facts:
did you know King Arthur brought the Holy Grail to Glastonbury and buried it in a church in association with EE his official mobile partner
The main stages at Glastonbury are Denial, Anger, Depression, Bargaining and Metallica.
But then it was all over. And thus time for the inevitable clear-up...
Leaving Glastonbury today? Don't worry about tidying up after yourself, I'm sure the cows love eating used condoms and tent pegs.
If you're at Glastonbury, help Michael Eavis with the clean-up tomorrow. His parents will be super pissed if they find out what went on.
And the inevitable return to civilisation:
After five days at #glastonbury, just got my first look in the mirror. My face looks like a vintage Spanish leather handbag.
On the 6.10am National Express to London Victoria from Glastonbury. The driver has put Heart Fm on. People are crying.
Just seen my first Glastonbury wristband wanker!
Not forgetting a few final words of advice for those who went...
STICK IT TO THE MAN by leaving your Glastonbury parking permit in the windscreen of your BMW for the next twelve months.
(via @jojubs)
Hipsters. You have until Friday to remove that #glastonbury wrist band. After that we're taking it by force along with the hand
Is it too late to pitch an article about how middle-class Glastonbury is? Because I think that's an angle that's yet to be explored fully.
Had a rubbish time at #Glastonbury. Nobody else even turned up. Why do they hold it in this tiny field in Scotland anyway?!
And a return to the thrill we felt at the start:
Glastonbury, here I come. Exciting!
Glastonbury 2014: The Best Bits
MORE:
SUBSCRIBE TO & FOLLOW UK COMEDY