Robin Thicke continued his public plea to win back his wife Paula Patton on Sunday night, with an emotional - and ever so slightly toe-curling - performance at the BET awards.
Proving just how much can change in a year, the barely-clad dancers and balloons spelling out details about his nether regions were both completely gone - and he even managed to go an entire song without telling anyone they were the "hottest bitch in this place". So he's obviously suffering.
Instead, he opted for a more solemn rendition of his latest song 'Forever Love', which he dedicated to his estranged wife.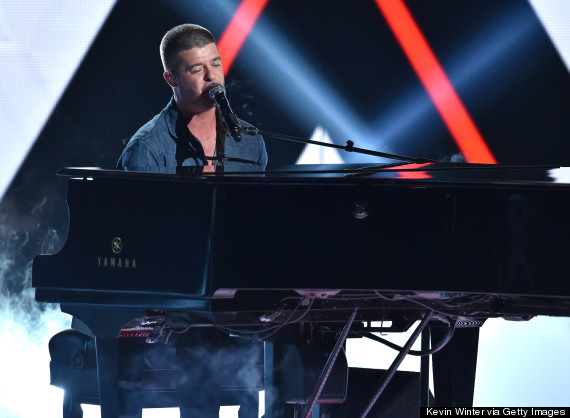 Robin Thicke performs at the BET awards
Sitting down at a piano for his emotional performance, Robin sang lyrics like "I miss our discussion, whispering and blushing, secrets that only we know," and "Where you're blind, and you need someone to show you the light, I'll be right there baby."
That's...nice. If you're, you know, into that kind of thing.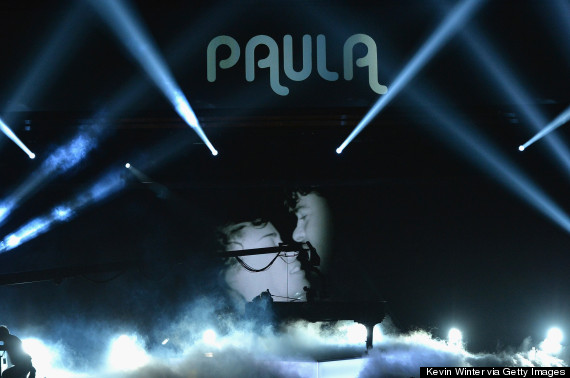 Robin performed in front of an old photo of himself and Paula kissing with her name flashing on a screen behind him
The couple announced their "amicable" split back in February, though since then Robin has made several attempts to win Paula back, including making lengthy speeches about their relationship in his concerts.
His new album is even simply named 'Paula' and contains emotionally-charged - and, frankly, a little bit terrifyingly-named - tracks like 'You're My Fantasy', 'Black Tar Cloud' and 'Too Little Too Late'.
In another attempt at winning back his wife, last week Robin unveiled the music video for his new single 'Get Her Back' which it probably won't surprise you to learn is about "getting her back". Who'd have thought, eh?
In the video, a shirtless Robin is seen in close-up with a bloodied nose, while images of text messages between two people flash up on screen, such as "I wrote a whole album about you," to which the reply is simply, "I don't care."
Check out the cringe-fest - whoops we mean "totally sincere music video" - for yourself below...
Messiest Celebrity Divorces
Nicknamed the 'Poison Penns' during their four-year marriage, things didn't get off to a good start for Madonna and Sean when he was seen shooting at paparazzi on their wedding day. It was pretty much all downhill from that point onwards.

Five years after calling it quits on their marriage, Katie says she still has no idea why Peter chose to end it and claims she will "never speak to him again".

Nigella and Charles divorced in 2013, shortly after photos in which he appeared to have his hands around the TV chef's throat as they ate in a restaurant emerged. After that we're not sure what happened because she was hardly ever in the papers...

Following a lavish wedding ceremony which was filmed for 'Keeping Up With The Kardashians', Kim filed for divorce from her second husband Kris Humphries after just 72 days. She's now engaged to rapper Kanye West.

After it was revealed that Harvey had been unfaithful with 'Popstars' reject Javine Hylton, Alesha went as far as putting her wedding dress on eBay.

Reports claimed after film director Guy Ritchie divorced Madonna that he was now only referring to her as "It", a reference to Stephen King's terrifying clown character, Pennywise. When the story broke, Madonna's representative told Page Six: "'It' hasn't been in a bad mood since the divorce was finalised."

After filing for divorce from Kevin Federline, Britney checked herself into rehab and later became embroiled in a bitter custody battle for their sons Sean Preston and Jayden James.

Katy and Russell got engaged after just three months of dating, so it was probably written in the stars that their marriage would be just as quick. Since then Katy has sung about their breakup in songs like 'Wide Awake' and 'By The Grace of God', while Russell has alluded to their marriage several times in his standup routine.

Undoubtedly one of the most highly-publicised divorces ever, with Heather eventually walking away with £24.3 million.

They might have seemed like love's young dream (well, love's dream at least...) but things turned sour for Liza and David when divorce proceedings began, each hurling all kinds of accusations at the other.

Things might have ended badly for Charlie and Denise, but they're thankfully on good terms now, she's even been granted temporary custody of his children to his third wife, Brooke Mueller after they were taken away from the couple by social services over concerns of drug use.

Nothing screams "early 2000s" quite like photos of Brad and Jennifer at their peak, right? The pair broke the world's collective hearts when they split up in 2005, and he later started dating his 'Mr and Mrs Smith' co-star Angelina Jolie, who he's still with to this day.

Donald and Ivana's divorce led her to utter the immortal and iconic words: "Don't get mad. Get everything."

Demi and Ashton - who have a 15 year age gap - split in 2011, but their divorce wasn't actually finalised until 2013. He's now engaged to actress Mila Kunis.

Liz and Dick were one of the few celebrity couples who obviously enjoyed divorce proceedings so much, they thought it would be a good idea to get married again when it was all over. He was her fifth (and sixth) husband, though could Katie Price be about to overtake her as the celebrity with the most marriages to her name?

Actually not that messy a divorce, Elin simply stood by as more and more revelations about her husband's extramarital activities rolled out, never let the paparazzi see her sweat and walked off with $100 million at the end of it all to buy a lovely mansion for herself and her children. Elin, we salute you.

We're sure at some point this seemed like a good idea... to someone.

"Somewhere deep inside You must know I miss you But what can I say? Rules must be obeyed" Oh, Abba.
href="http://www.facebook.com/HuffPostUKEnt"target="_hplink">LIKE US ON FACEBOOK | FOLLOW US ON TWITTER