The 'Big Brother' housemates have turned on Marlon Wallen, after he saved himself from this week's eviction, spending all of their shopping budget in the process.
Marlon was one of five housemates potentially facing the public vote this week - alongside Ashleigh, Chris, Christopher and Jale - but angered his housemates when he made the decision to take himself out of the running, after being given the opportunity to by Big Brother.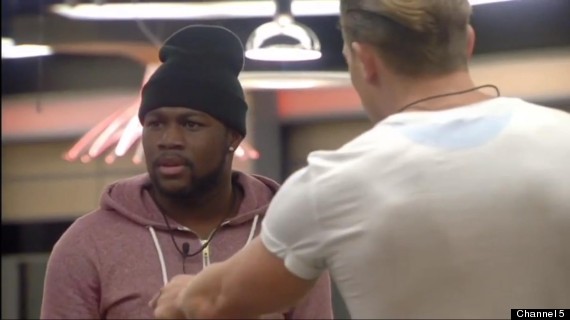 'Big Brother' housemate Marlon Wallen
For this week's shopping task, the housemates must keep a battery "charged" over the course of the week, with various temptations being offered by Big Brother "draining" its power if the housemates accept them.
In scenes that will air in Wednesday night's highlights show, the five potential evictees were called into the task room and told that if they pushed a buzzer in front of them they'd become immune from the eviction.
While initially Christopher urged Ashleigh to push the button, claiming she was most at risk, the group ultimately decided that they would all face their fate without hitting the button and draining the remains of the "battery" - though Marlon clearly had other ideas and hit his button, much to the chagrin of his fellow housemates, who berated him for his decision.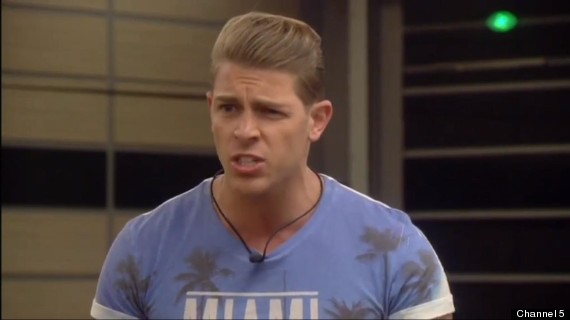 Winston rages at his friend
In fact, Marlon's usually calm pal Winston Showan seemed the most irritated by his decision, angrily telling him he had "f***ed [everyone] over", adding: "I'd rather you faced eviction like a man, in front of four other people. You've actually completely changed how I think of you. Thanks for the rations, mate."
SEE ALSO:
Now just four housemates - Ashleigh, Chris, Christopher and Jale - face eviction this week, with one of them leaving during Friday's live show.
Tune in on Wednesday, 9 July at 10pm on Channel 5 to find out how the rest of the house react to Marlon's decision.
Here's what some 'BB' housemates from past years have gone on to achieve...
Big Brother Contestants: Where Are They Now?
After winning both 'BB2' and 'Ultimate Big Brother', Brian took many presenting roles, the most recent being presenting 'Big Brother' when the show revamped for Channel 5. That is, until Emma Willis took over the role in 2013. However, you can still occasionally catch him popping up on Irish TV.

Whilst Josie has presented for Channel 5's 'OK! TV' and 'Big Brother's Bit on the Side', she's best known for her weight loss and image reinvention. As a trained personal trainer, she has released fitness DVDs and books and is considered to be one of the UK's most successful reality TV stars.

After his incredible single, 'Essex Boy', flopped (sad face), Brian appeared as a regular on the final season of 'Harry Hill's TV Burp'. He also tried to sue ITV for allegedly stealing the idea for 'TOWIE' from him. Brian last popped up on the 2015 series of 'Big Brother', when he returned to the house alongside Nikki Grahame and Helen Wood as part of a 'Timebomb' twist.

In a recent interview with Reveal magazine, Pete admitted to having suffered from from drug addiction, and immediately after leaving the house was embroiled in a whirlwind romance with Nikki Grahame, which unfortunately ended in tears. Since getting clean Pete channels his time between his acting career and working with a music careers magazine. Good on you, Pete!

After their time in the house, everything seemed to be coming up Samanda; they released singles, their own perfume and a fitness DVD. They can now be found judging beauty pageants (if you're looking).

The glamour model and former-Miss Wales appeared in the 7th series of Big Brother and now commonly appears on Welsh-speaking channel S4C. However, she is best known for dating Russell Brand, as well as various footballers; including Ryan Giggs, with Thomas being the subject of his super-injunction.

The self-confessed "most spoilt girl in Britain" now writes a column for Closer magazine, after coming in second place in 2013.

Aisleyne has carried on her glamour modelling, although she briefly changed her image following a 'make-under' on BBC3 show, 'Snog, Marry, Avoid'. She has since reverted to her old ways and launched 'Aisleyne's Booty Camp', a celebrity boot camp, earlier in the year. Oh, and she was briefly engaged to boxer, Mike Tyson.

Since BB6, Derek has furthered his political career; appearing on 'Question Time' and founding his own think tank. He still works as a speechwriter and political adviser for the Conservative party.

Poor Penny; first evicted from the house in BB2, yet the drama teacher still managed to get fired from her job upon return after complaints from parents at her appearing nude in the show. She now works as a waitress.

Some Big Brother contestants let the fame go to their heads upon winning the show; not Sam, who returned to working in Debenhams. However, you can currently see him on S4C reality TV show, 'Cariad@iaith:love4language', learning Welsh.

The show's first female UK winner, Kate had a brief stint modelling for lads' mags until she found her true calling as a radio presenter, working on various Kerrang! Radio shows between 2007 and 2013 before moving to Key 103, where she still presents the midday show.

Everyone's favourite fish-trading virgin is a regular columnist for various Scottish newspapers, whilst appearing in panto in Glasgow and Aberdeen.

After leaving the BB8 house, Chanelle attempted to start a musical career, but these dreams were put on hold when Radio 1 refused to play her single and her request to perform at V Festival was declined. She now runs a cake shop in Wakefield, and still crops up in the showbiz news from time to time.

Newman became something of a gay icon after leaving the house, appearing on the cover of Boyz magazine. He spent two years presenting shows on Gaydar Radio with fellow housemate, Lea Walker, and now works as a freelance journalist for the gay press.

After causing a stir on the show, (in)famously gardening naked, Shell is best known for being the inspiration for indie band Frightened Rabbit's acclaimed second album, having dated guitarist before appearing on the show.

She might have been evicted first in 2013, but somehow Sallie has managed to remain a tabloid staple thanks to her strong opinions and showbiz lifestyle.

After coming second in the first series, everyone's favourite lesbian, Irish, ex-nun made it big; presenting for Irish station RTÉ until 2011, when she began producing TV instead.

Nasty Nick caused quite a stir in the first season but has since changed his ways. Upon returning to the house for 'Ultimate Big Brother', he was nicknamed 'Not-so-Nasty Nick' and has spoken at the Oxford and Cambridge Unions, holds a pilot and racing license and has appeared in multiple pantomimes. (Oh no he hasn't...)

As the first evicted housemate from BB5, everything should have gone downhill for Vanessa. Instead, the self-proclaimed 'flirt' got breast implants, glamour modelled and dated Ben Fogle - fair play to her.

Called 'cocky' and 'self-assured' in the BB3 house; it obviously worked for Smith, who was scouted for modelling upon leaving the house.

After becoming the first non-celeb to win 'Celebrity Big Brother', Chantelle married her fellow housemate Preston, but it wasn't to last. Following their divorce, the two wound up stuck in the house together again during 'Ultimate Big Brother', and since then she's had a baby with yet another 'CBB' housemate, Alex Reid.