This extraordinary image apparently shows the moment a passenger boarding the crashed MH17 flight, saying: "If it disappears, this is what it looks like."
SEE ALSO:
Almost 300 people have died including up to 10 Britons after a Malaysia Airlines passenger jet was apparently shot down near the Russia - Ukraine border.
Flight MH17 - a Boeing 777-200ER travelling from Amsterdam to Kuala Lumpur - was in transit over the war-torn region when it disappeared from radar screens.
Cor Pan, who describes himself as self-employed and a resident of Volendam in North Holland, posted the image earlier today shortly before the flight's scheduled takeoff.
The data on Facebook suggests it is genuine - confirming it was taken at Schiphol Airport near Amsterdam and showing it was taken shortly before the flight took off at 12:15pm local time - 11.15am UK time.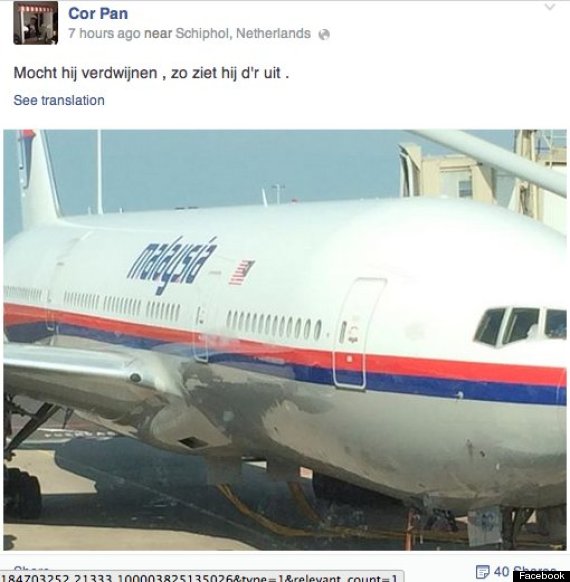 Cor Pan posted this image that suggested he was about to board MH17 before it took off from The Netherlands. It says: "If it disappears, this is what it looks like'
Friends initially posted, wishing him a good holiday.
But when news of the crash emerged, they began frantically posting and asking whether his flight was the one that had gone down and trying to confirm his flight number.
As this story went live, people were posting 'Rest in Peace' in Dutch.
Here is my picture of Malaysia Airlines 9M-MRD taking off from Schiphol today. My thoughts are with pax and crew. pic.twitter.com/zuILsQCzy6

— Tom Warners (@SchipholSpot) July 17, 2014
A plane spotter also tweeted an image of what he said was a photo of the plane taking off.
People took to Twitter, claiming she knew people aboard the flight, describing it as "heartbreaking".
SEE ALSO: 'Attack' On MH17 Is Grim Reminder Of Korean Flight 007
One of the crew member, Shaikh Mohd Noor, was my friend's uncle. Ya Allah the feels even though they weren't my family. Alfatihah. #MH17

— N S (@_nadiaaaaaa_) July 17, 2014
A friend's sister was one of the stewardesses on the flight. Heartbreaking...

— - skygazer - (@gidaryeora) July 17, 2014
Mum's BFF's sister-in-law is a stewardess on that flight. Alfatihah. #MH17

— ♡ Fiekaman ♡ (@FiekaMan) July 17, 2014
Sister's friend is on that flight wtf no this isnt happening.

— andrea mei (@andreameiis) July 17, 2014
MH17 Malaysia Airline Plane
07/25/2014 5:21 PM EDT
AP Journalists Saw Rebels With BUK Missiles Hours Before MH17 Crashed
Associated Press journalists in Ukraine saw a BUK missile system -- the type that the US says downed Flight MH17 -- in rebel hands just hours before the plane was shot down, the news agency says in detailed account of the day's events. AP says that while the rebels officially deny responsibility, "the denials are increasingly challenged by accounts of residents, the observations of journalists on the ground, and the statements of one rebel official." Further, one rebel official told AP that they were behind the plane tragedy.
More from the AP story:
A highly placed rebel, speaking to the AP this week, admitted that rebels were responsible. He said a unit based in the hometown of ousted President Viktor Yanukovych, made up of both Russians and Ukrainians, was involved in the firing of an SA-11 from near Snizhne. The rebel, who has direct access to the inner circle of the insurgent leadership in Donetsk, said that he could not be named because he was contradicting the rebels' official line.

The rebels believed they were targeting a Ukrainian military plane, this person said. Instead, they hit the passenger jet flying from Amsterdam to Kuala Lumpur. All 298 people aboard were killed.
Read the full account here.
SUBSCRIBE TO & FOLLOW UK DAILY BRIEF