The 14-second clip was uploaded to an Instagram account belonging to Malaysian passenger Md Ali Md Salim, the Star reports.
It shows passengers placing bags in overhead lockers and preparing for take off.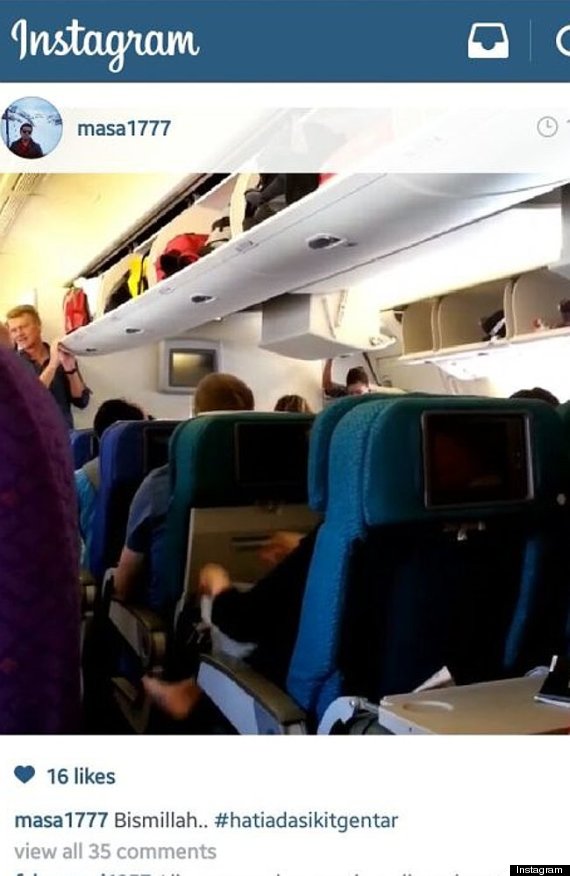 Salim's caption to the clip is: "Bismillah… #hatiadasikitgentar (In the name of God... feeling a little bit nervous)".
Victims of Air Malaysia Flight MH17 in Ukraine
Salim's elder brother Md Zaki Md Salim said his sibling had been flying home for the holidays after preparing his PhD on Psychology at a university at Amsterdam.
SEE ALSO:
He said: "He even managed to ask for our sizes for the items to be purchased."
The plane was shot down by a ground-to-air missile. It is not yet known who fired the weapon however the Ukrainian government has blamed pro-Russian separatists, while the rebels blame the fledgling government in Kiev.
MH17 Malaysia Airline Plane
The disappearance of the airliner from the radar screens as it flew over eastern Ukraine prompted immediate allegations and counter-allegations, with the government in Kiev and the separatist rebels blaming each other.
The rebels insisted that they did not have the equipment capable of bringing down an aircraft which was flying at such high altitude at more than 30,000 feet.
However Ukraine's security services produced what they said were two intercepted telephone conversations that they said showed rebels were responsible. In the first call, the security services said, rebel commander Igor Bezler told a Russian military intelligence officer that rebel forces shot down a plane yesterday.
07/25/2014 5:21 PM EDT
AP Journalists Saw Rebels With BUK Missiles Hours Before MH17 Crashed
Associated Press journalists in Ukraine saw a BUK missile system -- the type that the US says downed Flight MH17 -- in rebel hands just hours before the plane was shot down, the news agency says in detailed account of the day's events. AP says that while the rebels officially deny responsibility, "the denials are increasingly challenged by accounts of residents, the observations of journalists on the ground, and the statements of one rebel official." Further, one rebel official told AP that they were behind the plane tragedy.
More from the AP story:
A highly placed rebel, speaking to the AP this week, admitted that rebels were responsible. He said a unit based in the hometown of ousted President Viktor Yanukovych, made up of both Russians and Ukrainians, was involved in the firing of an SA-11 from near Snizhne. The rebel, who has direct access to the inner circle of the insurgent leadership in Donetsk, said that he could not be named because he was contradicting the rebels' official line.

The rebels believed they were targeting a Ukrainian military plane, this person said. Instead, they hit the passenger jet flying from Amsterdam to Kuala Lumpur. All 298 people aboard were killed.
Read the full account here.
SUBSCRIBE TO & FOLLOW UK DAILY BRIEF