Josie Cunningham In 'Eurovision Song Contest' Bid? Pregnant NHS Boob Job Mum Hopes To Represent UK In 2015
It sounds like Josie Cunningham is hoping to win over some new European fans, after it's been claimed she's hoping to represent the UK in next year's Eurovision Song Contest.
Josie first gained notoriety after getting a £4800 boob job on the NHS, and saying she would have an abortion so she could make an appearance on 'Big Brother', which she later changed her mind about.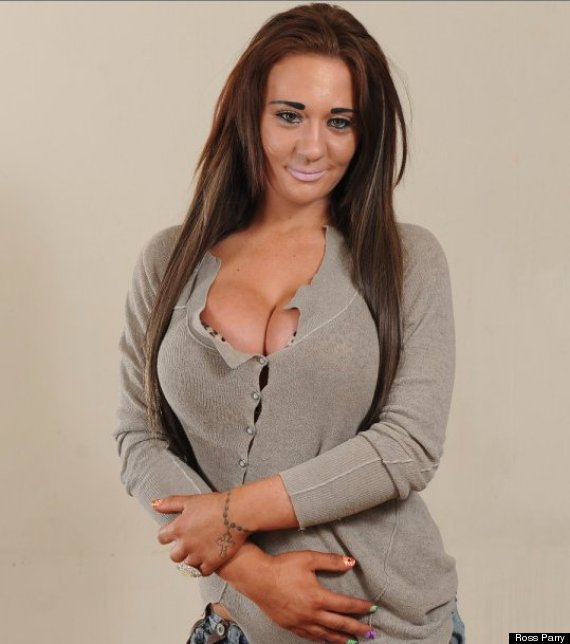 Josie Cunningham
However, after taking to her Twitter page earlier this week to reveal that she wouldn't be making an appearance on the celebrity version of the series this summer - unless producers are willing to cough up £150,000, that is - it sounds like she's now hoping to try a very different kind of TV show altogether, Eurovision.
A source told The Sun: "She's on a mission to capitalise on her notoriety. Since her book deal, she realised being hated has rewards. Her dream is to represent the UK in Eurovision."
That said, we don't think much of her rumoured song choice - a re-written version of The Cheeky Girls hit 'Touch My Bum'.
The source added: "Josie's had her heart set on doing a cover of the Cheeky Girls 'Touch My Bum' - but adapt it to 'Touch My Bump'."
We don't exactly think she's on to a winner with that one, Conchita Wurst probably doesn't have anything to worry about…
Josie recently revealed that she was still drinking and smoking despite her pregnancy, claiming that she was disappointed when she found out she was carrying a boy.
She said: "Deep down I know I wouldn't be smoking or drinking if I knew I was having a girl."
Rumoured Celebrity Big Brother Contestants 2014
The 'X Factor' winner reportedly turned down a "life-changing" amount of money to appear on 'CBB', but there's no denying he'd be an interesting housemate.

The former 'TOWIE' star is thought to spill the beans on her recent sex tape scandal if she makes an appearance in the 'CBB' house.

Owner of the 'UK's most controversial boobs' (her words, not ours), fame-hungry Cunningham controversially announced that she would have an abortion to go into the 'CBB' house, but is now insisting that she'll 'sell DVDs of the babies birth' to get famous instead.

The BAFTA-winning 'Misfits' actress has expressed an interest in appearing on the show in the past, with many suggesting it could improve her image, following an attack against a taxi driver in 2012.

The posh (as if her name alone didn't give it away) violinist has only just finished her time on 'Britain's Got Talent' after making it to the final, but has expressed a real interest in the show. Speaking to TellyMix, Lettice stated that she would 'love [to go into the house] so much' and that it would be a 'hilarious' experience.

Is our favourite Eurovision contestant going to keep rising like a phoenix and enter the CBB house? As this season's favourite to take part, we hope that Conchita will spread her message of tolerance and identity across the country!

It's been reported that David, one of the most hotly tipped 'CBB' housemates for this summer, has even postponed his wedding to Kelly Brook so he can appear on the Channel 5 reality series.

After squealing, pouting and running around the 'I'm A Celeb' jungle back in 2012, Flanagan has set her sights on another reality show, stating that she would give the 'CBB' house a try, though it's since been reported her footballer boyfriend Scott Sinclair was against the idea.

The Boyzone singer and Australian 'X Factor' judge was one of the favourites to enter the house earlier this year, but has since taken to Twitter to deny his involvement. Incidentally, his bandmate Keith Duffy was one of the participants in the first ever 'Celebrity Big Brother', alongside Anthea Turner and Vanessa Feltz.

It seems that the 'Gogglebox' gang are in high demand! Posh B&B owners Steph and Dom (pictured) are wanted by the CBB execs, whilst 'Squeaky' George Gilbey has been linked with an appearance too.

The 'Benefits Street' queen has been strongly linked to 'CBB' 2014, but suggestions that this would interfere with her unemployment benefit have suggested otherwise. Still, anything that will infuriate Katie Hopkins even further is good enough for us..

'Big Brother's Bit On The Side' presenter Rylan Clark says he'd love Joan Collins to enter the house. While we do think the TV veteran would make a great housemate, we think he might be chasing a lost cause with that one...

Often considered to be one of the most polarising men in Britain, Morgan's odds of entering the house fell dramatically following the canceling of his CNN show, due to low ratings. Still, maybe he'll attempt to revitalize his career with a stint in the 'CBB' house? (if he can stand the booing...)

Stephanie Pratt could be following in the footsteps of her reality star brother Spencer and joining 'CBB' this summer.

The Daily Star have reported that Michael wants to show 'CBB' viewers he's a 'new man' after his stint in rehab earlier this year.

Katie Price says her cheating husband Kieran turned down mega cash to appear in 'CBB', claiming he wants to be there for the birth of their daughter.

Despite telling The Sun they'd be down for some saucy shenanigans in the 'CBB' house, Paul later took to Twitter to reveal they wouldn't be taking part due to "personal reasons".

After her much-publicised court case earlier this year, Tulisa was reportedly "inundated" with TV offers, including 'Celebrity Big Brother'.