A Tory MP received tickets to the Wimbledon Men's final worth £1,600 from a tobacco company.
Conservative Mark Field watched Djokovic triumph over Federer while enjoying hospitality paid for by Imperial Tobacco.
The donation to the MP for Cities of London and Westminster was part of more than £13,500 worth of tickets declared by MPs for this summer's tournament.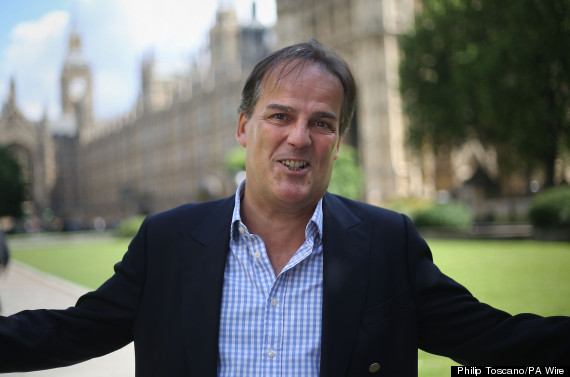 Mark Field
House of Commons Speaker John Bercow, Labour's deputy leader Harriet Harman, shadow sports minister Clive Efford and Labour's Chris Bryant were also among the beneficiaries at SW19, according to the latest updates on a register of interests for MPs.
Donors offering a chance to watch some of the biggest stars in tennis from seats in the prestigious royal box included the Lawn Tennis Association (LTA) and the All England Club, while a tobacco company also provided men's final tickets between Roger Federer and Novak Djokovic.
Keen tennis fan Bercow was given seats in the royal box on Centre Court on two occasions.
Story continues after slideshow...
12 Things The Tobacco Industry Doesn't Want You To Know
1. Smoking-related health conditions are a leading cause of death in the United States, accounting for nearly one of every five deaths annually. Source: The Centers For Disease Control

2. Every year, tobacco use kills more Americans than HIV, drug and alcohol abuse, suicides, murders and car accidents combined. Source: The Centers For Disease Control

3. Secondhand smoke accounts for approximately 50,000 deaths in the United States every year. Source: The American Lung Association

4. Cigarette smoke emits nearly 8 billion kilograms of greenhouse gases annually. Source: Examiner.com

5. Tobacco farming also contributes to deforestation, destroying more than 500,000 acres of forest a year. Source: Examiner.com

6. If tobacco farmers around the globe were to grow food instead, they could feed more than 70 percent of the world's 28 million malnourished people. Source: Examiner.com

7. In 2012, cigarette companies spent nearly $27 million lobbying government agencies and members of Congress. Source: OpenSecrets.org

8. Big Tobacco companies market covertly to teens, despite publicly stating that youth should not smoke. Source: U.S. News & World Report

9. Each year, the industry spends more than $400 per customer on special promotions, coupons, mailers and other direct marketing efforts to make sure current smokers don't kick their addictions. Source: Stanford University

10. Now, companies are pushing expensive and unregulated e-cigarettes. A "starter kit" -- which includes an e-cigarette device, batteries, nicotine cartridges and other accessories -- can cost upwards of $100. Source: v2cigs.com

11. What's more, e-cigarettes are offered in a variety of flavors that young children and teens could find especially appealing, like cherry, grape, vanilla and strawberry. Source: Fox 5 News

12. The health effects of e-cigarettes are still unknown. Medical associations and regulatory bodies are concerned that e-cigarettes are nothing more than a "gateway" to a nicotine addiction. Source: The Huffington Post
They were valued at £6,210 and provided by the LTA.
The first donation Bercow received was worth £1,895 and the second £4,315, according to the register.
Bercow, who has also written a book discussing the 20 greatest male tennis players of all time, also declared royal box seats to the Aegon Championships, which is staged at the Queen's Club ahead of Wimbledon.
The tickets for finals day on June 15 were estimated to be worth £1,300, the register shows.
In 2013, Bercow declared two Centre Court tickets at Wimbledon from the LTA worth an estimated £148 and a royal box seat at Queen's Club estimated at £1,070.
Harman received two tickets for the royal box and lunch valued at £3,590 from the All England Club.
She took fellow Labour MP Bryant as her guest.
In his entry to the register, Bryant added afternoon tea was included.
Shadow minister Efford valued his two royal box tickets and lunch from the All England Club at £2,400.
Hospitality and gifts to ministers for the three-month period including Wimbledon is set to be published at a later date.