'Big Brother' evictee Danielle McMahon has spoken for the first time about leaked photos that have surfaced online where she is seen exposing her breasts in a steamy webcam session.
Earlier this week, while she was still in the 'BB' house, her fellow contestants found out during a task that the 'strict Catholic virgin' had taken part in a Channel 5 documentary called 'Webcam Girls: At Your Service'.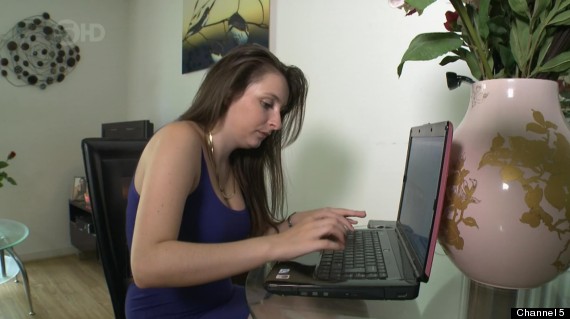 Danielle in 'Webcam Girls: At Your Service'
Despite the suggestive title of the documentary, Danielle - who has also posed for racy photo-shoots in her underwear - was insistent that there was "nothing sexual" about the nature of her webcam sessions, and instead she kept her clothes on at all times and was just spoke to men on camera while hanging around in her stables wearing jodhpurs.
However, photos later emerged where Danielle is seen stripping down to her underwear and exposing her breasts, though she says she's not entirely sure where those pictures came from.
Speaking to the Daily Star, she said: "I've not seen these pictures, but maybe it is something private that leaked out."
Danielle also addressed a photo spread she did for Zoo magazine where - despite her claims that she's against sex before marriage due to her strict religious beliefs - she is seen describing her favourite sexual positions and admitting she'd love to make a sex tape.
She insisted she wasn't lying about being a virgin, explaining: "The lads' mags change your wording. They don't want a girl that doesn't want to talk about sex, the readers want to know these things so it's all over-exaggerated.
"[Being a virgin] is all still true! I'm not bad-mouthing lads' mags but they build you up as a fantasy. I'm just paid to do it, it's my job, but my career and personal life are completely separate."
Danielle left the 'BB' house in a shock double-eviction during Friday's live show, as did Essex-born stripper Biannca Lake, who flashed her boobs to the crowds outside as she walked through the famous doors.
Since then, former Playboy nude model Kimberly Kisselovich has also left the house for health reasons.
'Big Brother' Contestants: Past Appearances Before Entering The House
If you thought Biannca's face looked familiar, you might well have seen her appearance on 'This Morning' a few years ago, when she claimed to have slept with over 200 men. Apparently she's also decided to start spelling her name differently since then...

Under the guise of Jazzi P, Pauline featured on this Kylie Minogue track back in 1991, and even told the Australian pop princess she thought her music was 'sh*t'. That probably explains why they never collaborated again.

Prior to her 'BB' debut, Helen's name was in the papers after she engaged in a threesome with Wayne Rooney while she was earning money as a sex worker. At the time, Wayne's wife Coleen was pregnant with their son, Kai, which didn't exactly make Helen a popular woman at the time...

As well as appearing on 'Shipwrecked', Mark auditioned for the 'X Factor' back when Tulisa and Kelly Rowland were still judges and gave this less-than-tuneful rendition of Rihanna's 'Only Girl (In The World)'. Good hair, though.

After finishing fourth in 'Pop Idol', Zoe released this 10/10 pop gem. Unfortunately soon afterwards she was dropped by her label, depriving the world of music of a follow-up to this total anthem.

We all know Chris is an actor - this is just one of the short films he's appeared in - but did you also know that in addition to acting, he sells art constructed with a biro over the Internet? What a talent.

He's been in scenes on 'TOWIE' before, and earlier this year Winston worked as an extra on 'EastEnders'. Here he is showing off his massive acting talents... carrying a tray. Get that man an Oscar, quick.

Ashleigh became a local celebrity in her hometown before joining 'BB' , winning the Miss Derry pageant in 2013.

As well as her 'lingerie modelling', Danielle's webcam work put her at the centre of the documentary 'Webcam Girls: At Your Service', despite her strict Catholic beliefs.

Before joining 'Big Brother', Toya was a YouTube beauty and lifestyle vlogger who'd accrued thousands of views on her videos. She is also a TV presenter on African television. Here she is listing her 2013 obsessions...