James Garner, one of the first actors to be successful in both film and television, has died at the age of 86, it has been reported.
Though no cause of death is yet known, TMZ say that an ambulance was called to the star's Los Angeles home at around 8pm on Saturday evening, though James was declared dead when it arrived.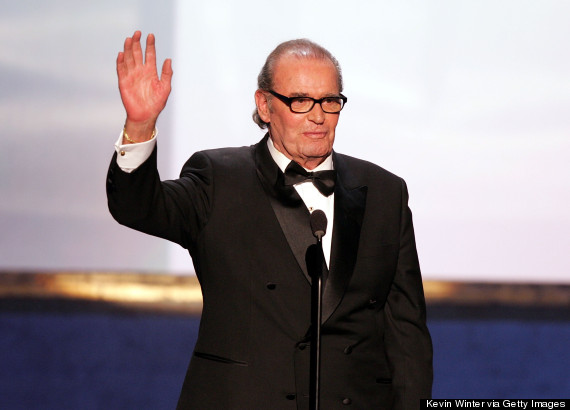 James Garner in 2005
Throughout his film career he appeared opposite huge stars including Julie Andrews, Sally Field and Debbie Reynolds, he will be best remembered for his leading roles in the TV western 'Maverick', and the 1970s detective drama 'The Rockford Files'.
In 1994, he reprised his role of Bret Maverick for a movie adaptation of the series, starring alongside Jodie Foster and Mel Gibson, whose character went on to be revealed as Bret's son.
Later in his career, he landed a recurring role in the TV comedy '8 Simple Rules', and played the older version of Ryan Gosling's character in the heartbreaking romantic film, 'The Notebook'.
Over the course of his career, James scooped two Emmy awards and was even nominated for an Academy Award, in the category of Best Actor in a Leading Role, for his starring role in 'Murphy's Romance'.
In 2005, he was also honoured with the Lifetime Achievement Award by the Screen Actors Guild.
James is survived by his wife, Lois, who he married in 1956 just two weeks after first meeting. The actor had one daughter with Lois, Greta 'Gigi' Garner, and one half daughter from his wife's previous marriage, Kimberly.
RIP: Celebrities We've Lost In 2014
After a lengthy battle with cancer, the actress and 'Loose Women' panelist died at the age of 66 in October.

Comedy legend Robin Williams took his own life in August 2014.

Controversial comic Joan Rivers died in hospital at the age of 81 in September.

The actor and comedian Rik Mayall died at the age of 56 in June.

Actor Roger Lloyd Pack died on 15 January 2014 at the age 69 following a battle with pancreatic cancer.

'Dynasty' star Kate O'Mara died at the age of 74 on 30 March 2014.

Peaches Geldof was found dead at her Kent home on 7 April 2014.

L'Wren Scott, fashion designer and Rolling Stones frontman Mick Jagger's longtime girlfriend, was found dead in NYC on 17 March 2014 of an apparent suicide.

HR Giger, the artist who created the 'Alien' movie monster, died at the age of 74 on 12 May 2014.

Bob Hoskins died on 29 April 2014. After his death, his daughter penned a touching blog detailing lessons she learnt from her father.

'EastEnders' actress Edna Doré died age 92 on 11 April 2014.

Mickey Rooneyv died in his sleep from natural causes on 6 April 2013. He was 93.

House music DJ Frankie Knuckles died at the of 59 on 31 March 2014.

Clarissa Dickson Wright died on 15 March 2014 at the age of 66.

Comedy legend Harold Ramis died on 24 February 2014. He was 69.

Iconic child star Shirley Temple died on 10 February 2014 in California. Her cause of death was not released. She was 85.

Actor Philip Seymour Hoffman was found dead of an apparent heroin overdose on 2 February 2014 in New York City. He was 46 years old.

Musician Phil Everly, of the Everly Brothers, died aged 74 in California on 3 January 2014.

Richard Attenborough died just five days before his 91st birthday in August 2014.

Legend of both stage and screen, Elaine Stritch died in her sleep at her home in Michigan in July 2014. She was 89 years old.

The 70s rocker died not long after being diagnosed with prostate cancer in October.

Star of 'The Notebook' and 'The Rockford Files', James died in July 2014.

Simone Battle, of US girl group GRL, died as a result of suicide in September. She was 25 years old.

Actress Clare Cathcart, known for her role in 'Doctors' as well as appearances in 'Call The Midwife' and 'New Tricks', died at her home in Brighton at the age of 48 in September.

Fashion icon Oscar de la Renta, whose designs were worn by Jennifer Lopez, Sarah Jessica Parker and Naomi Campbell, died at the age of 82 in October.

The legendary actress died at the age of 82, in December 2014.

Joe died in December 2014, following a battle with lung cancer.