David Cameron has been so busy touring the studios to trumpet today's economic growth figures that when speaking to BBC Radio Tees, he seemed to forget where he was.
Cameron decided to tell BBC Tees presenter Lisa McCormick about how much the government was doing to help the economy flourish in the Tyneside region, near Newcastle, forgetting that was not where he was at the time.
Even more awkwardly, McCormick picked him up on the error, snapping: "You keep mentioning the River Tyne. That's not our region Prime Minister. I'm sorry, we are the River Tees."
Cameron hurriedly apologized and scrabbled to point out that the government was investing £90 million in the Tees Valley, but that was not enough to appease the BBC Tees presenter.
Pointing out to the Prime Minister that the government was pouring £470 million into Greater Manchester and £440 million into the South East, McCormick branded the £90 million a "drop in the ocean".
This is not the first time that Cameron has seemed not to know where he was when doing a local radio interview, as he had to apologise in April during a BBC Essex interview in Colchester after appearing to suggest he was in nearby Chelmsford.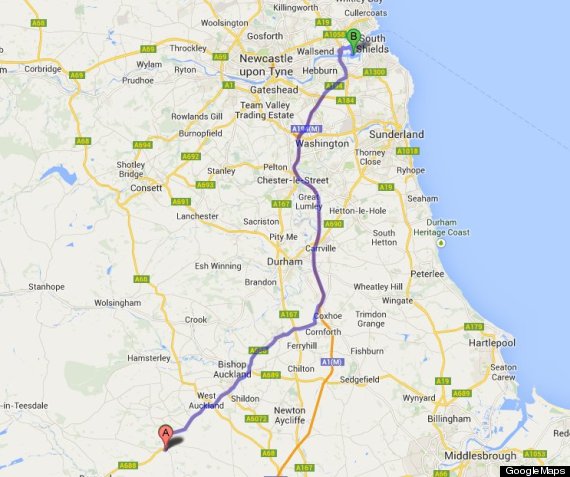 To help the Prime Minister, here is a map showing where the River Tees (A) and the River Tyne (B) are
Labour MP Tom Blenkinsop, who represents Middlesborough South and East Cleveland, seized on Cameron's slip-up as proof that he was "out of touch" with Teesside and "completely disinterested".
He pointed out that local Tories had previously misspelt "Teesside", mockingly quipping: "Cameron shouldn't feel that bad".
Cameron shouldn't feel that bad, even South Tees Tories can't spell #Teesside in their own leaflets @labourpress pic.twitter.com/RzZPY2Pmhe

— Tom Blenkinsop (@TomBlenkinsop) July 25, 2014
The Prime Minister's radio Tees gaffe may have been embarrassing, but it was nowhere near as chaotic as Ukip leader Nigel Farage's LBC radio chat which his spokesman tried to shut down to help save face.
David Cameron's Top Apologies
Cameron was "very sorry" for causing confusion over whether he had ridden Rebekah Brooks's police horse Raisa, and also was sorry that the horse had since died.

Cameron told MPs in 2012 that he was "profoundly sorry" to the bereaved families of the victims of Hillsborough footballing tragedy.

David Cameron said the Tories were "sorry" in 2009 after a deluge of stories about MPs abusing expenses, adding: "The system we had and used was wrong".

Cameron told MPs in 2010 that he regretted the UK's role in the "unjustifiable" 1972 "Bloody Sunday" massacre.

Cameron said in 2011 that he had "screwed up" and was "not one of the lads" after telling Labour MP Angela Eagle to "calm down, dear" and dubbing Tory MP Nadine Dorries "extremely frustrated".

David Cameron said that the error that saw a South Korean flag wrongly shown instead of North Korea was an "honest mistake".

Cameron admitted in 2006 that Margaret Thatcher and the Tories had been wrong to brand Nelson Mandela's African National Congress (ANC) "terrorists" during their struggle against apartheid. He said: "The mistakes my party made in the past with respect to relations with the ANC and sanctions on South Africa make it all the more important to listen now."

Cameron apologised in 2009 for the Tories bringing in section 28, the controversial item of legislation which banned the "promotion' of homosexuality in schools, saying: "Yes, we may have sometimes been slow and, yes, we may have made mistakes, including Section 28, but the change has happened".

Cameron said sorry this month for the passport shambles that meant Britons' passports were delayed, with a spokesman saying: 'If people have been inconvenienced, of course the Government is sorry for that."

Cameron said he was "very sorry about any way people have suffered" during the floods as he led the government's response to the events in February.

Cameron said he was "sorry" soon after getting elected for breaking an election promise by withdrawing child benefit from 1.2 million higher-rate taxpayers.

Cameron said he was "sorry" for making "mistakes" in 2008 after being snapped ignoring red lights and cycling the wrong way up a one-way street.

Cameron admitted he was "absolutely wrong" after being taken to task by an angry member of the public late in 2010 after saying Britain was the US' 'junior partner' against the Nazis in 1940.

In 2012, Cameron said he was sorry after saying that listening to shadow chancellor Ed Balls during Prime Minister's Questions was like listening to someone with Tourette's Syndrome.

Cameron apologised in 2009 after using the word "twat" during a breakfast radio show interview, after saying: "The trouble with Twitter, the instantness of it – too many twits might make a twat." He explained: "You always have to be careful what you say. If I've caused any offence I obviously regret that."